Linda Sarsour, a well-known Brooklyn-born, Palestinian-American Muslim activist, spoke at the Skirball Center for Performing Arts Monday night to discuss initiating social change and governmental reforms in the U.S.
Addressing her background as an "unapologetically Muslim American," Sarsour spoke about how she redefined what patriotism meant to her. She said criticizing the actions of the U.S. and recognizing its faults can create a better country.
"Just because my family came here to this country, I don't forget that this country has caused a lot of horror and trauma against many communities," Sarsour said. "A real patriot loves their country so much that they push their country to be better."
Currently, Sarsour is closely following the upcoming 2020 presidential election. She sees the election as a potential turning point for the U.S. at which citizens can choose to support leaders and candidates representing disenfranchised communities.
"Why not follow people of color?" Sarsour said. "Because people of color are the most directly impacted by injustice. So guess who wants justice first? The people impacted by injustice. So I want to follow the people who are trying to get to the justice first, and that is going to be the people who are the most pained and traumatized and broken in our country."
Steinhardt sophomore Sarah Patt said that she felt Sarsour's emphasis on intersectionality should be applied to activism in general.
"Talking about intersectionality in movements, that's something that I think that's been a difficult topic to talk about lately, and I'm really glad that she was very forward about it," Patt said. "It's a lot of what I want to see in activist movements going forward."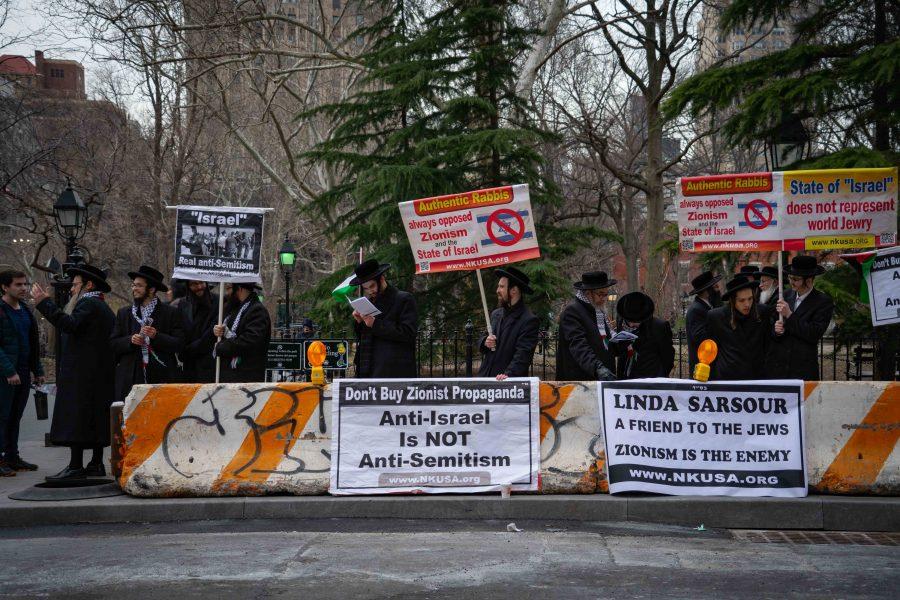 Not all in attendance were inspired by Sarsour's lecture. One such audience member was NYU alum Karys Rhea, who thought Sarsour's points were "hypocritical but smart."
"At the end of the day, [she] is a hypocrite because, in her mind, everyone has a right to their point of views and to be helped and protected, except for the people that really disagree with Linda Sarsour," Rhea said.
Before the lecture, a handful of middle-aged members of the Jewish Defense League entered Skirball to protest Sarsour, calling her an anti-Semite. Some of them left shortly after while others stayed for the entirety of the talk. Despite this and frequent interruptions from hecklers in the audience, the crowd's overall reaction to Sarsour was positive, ending with a standing ovation.
Tisch first-year Tia Simone said she enjoyed hearing Sarsour's advocacy for universal human rights.
"I thought she handled herself very well," Simone said. "I think her idea of unity in general and not unity based on your political beliefs or religious beliefs, but unity of everybody to fight for a common cause [of] just basic human rights resonated with me the most."
Email Lachlan Hyatt at [email protected]