Frederick Anderson experiments with texture and color at NYFW
Working with his classic bases of tweeds and mixed silhouettes, designer Frederick Anderson incorporated metallics, tassels and other vivid ornamentations to bring his designs to life.
Showcased on the main floor of a Hudson Square building complex, the Frederick Anderson Fall/Winter 2022 collection breathed electric vibrance into the paneled, sprawling architecture. The collection was set up in a traditional runway and featured interspaced interior columns that were programmed to flash vivid animations of cascading purple flowers as the backdrop.
Building on Anderson's demonstrated flair for tweeds and diverse silhouettes — from soft, flowing dresses to crisply constructed bottoms falling neatly off at the edges —  there was a wide array of garments. Sensually appealing sheer lace pieces were woven across the body, contrasting with thick crochet sets; there were even combinations of the two. The constant interaction between the designs and their textured fabrics, such as sparkling satin and muted fringing in all sorts of combinations, laid the base for textural experimentation. The audience could always anticipate this element amidst the excitement of off-the-shoulder sheer tops and plunging necklines.
Such aesthetic modernity, including the landscape and texture of the clothes, grabbed the audience's attention while the DJ played upbeat, funky hip-hop and pop beats. 
Attendees remarked upon the "modern and fashion-forward" designs and setting and noted the uncommon combination of colors, metallics and knitwear. 
Anderson also provided a range of experimentation with color scheme and intricate ornamentation. The collection portrayed a vast sea of mixed teals, fuchsias, crimsons and mustard yellows alongside classic black and white. But despite the colorful spectrum, the textured items, such as the clunky, dangling gold-chain purse, remained the highlights of the show.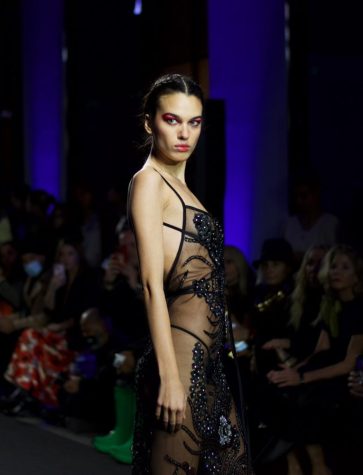 The crowd-pleaser of the night was a stunning, sheer, bedazzled black gown draped delicately across the model's body, made of a fabric so thin that it resembled subtle waves with each step the model took. Complementing the dramatic look was the equally exciting eyeshadow brushed brazenly across the model's eyes with thick mascara and eyeliner to match, a stylistic choice common to almost all looks of the night. 
As the model sashayed across the runway, audience members whispered and turned to express their approval. 
"Now this one I really like, it's just utterly stunning," whispered one audience member.
As the models walked down the runway one last time for the closing ode of the night, Anderson himself came out, sprinting across the runway in visible joy — waving, laughing and calling out to various audience members, barely able to contain his wide grin. It was a gleaming end to a gleaming collection, seeing the intimate vibrancy of a designer's fulfillment spring to life amid a dynamic swirl of designs and crowd of guests as the end of Anderson's fall 2022 showcase came to a wrap.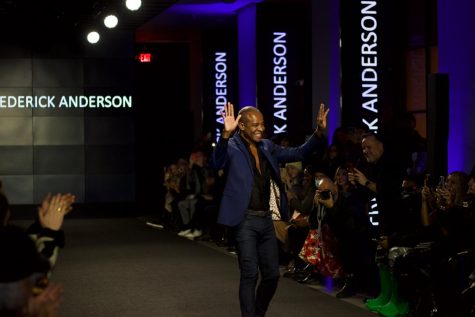 Contact Michelle Han at [email protected].