After lining up for Fonda's raved taco booth at Food Network's New York City Wine & Food Festival on Oct. 14, I knew I had to go to its brick-and-mortar restaurant in Tribeca. The Carnitas de Fonda tacos at the outdoor event were piping hot and warmed me up in the chill autumn night — and my recent visit to the festive, papel-picado-and-piñata-decorated location was just as comforting.
Fonda, named in OpenTable's 2022 Diners' Choice list, is a restaurant chain serving elevated Mexican cuisine, a welcome contrast to much of New York City's mainstream Tex-Mex fare. As soon as I stepped foot into Fonda's Tribeca location, I was surprised to see the amount of older clientele inside, and assumed everyone was there for business or after-work drinks.
However, the posh atmosphere is deceiving — Fonda is for everyone. From the cordial service to the happy hour strawberry and mango margaritas, it's ideal for a spirited-yet-reliable dining experience.
After I sat down to eat, I was taken by surprise when my server asked, "How spicy would you like your guacamole?" I never even knew spicy guacamole existed before this, but after having mine with medium spice, I realized I've been missing out.
Paired with perfectly salted hand-pressed tortilla chips and tangy pasilla de Oaxaca salsa, Fonda's guacamole is made-to-order by spice preference and served in a molcajete so heavy I couldn't even pick it up from the table. The stone of the molcajete preserves seasoning well from previous uses, giving the guacamole an extra kick. I was thoroughly impressed by how the spice only stuck to the throat for a pleasant aftertaste and didn't attack the tongue, which would've otherwise left me gasping for water. It also had great consistency — not too thin and not too chunky, but fluffy enough to easily scoop onto a chip.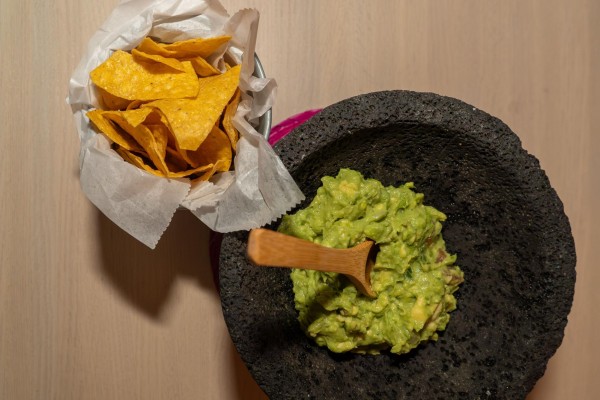 It's no surprise that Fonda is able to innovate on Mexican classics. Chef and owner of Fonda's Manhattan and Brooklyn restaurants, Roberto Santibañez has curated a menu that "blends care and authenticity with the creative urban flourishes that distinguish the food of his native Mexico City." The chef studied at Le Cordon Bleu in Paris, and served as culinary director for Rosa Mexicano for five years. He also spent four years as executive chef of Fonda San Miguel, in Austin.
With its unique menu, Fonda does an amazing job at uniting tradition and modernity — and the Filete taquitos are the best example. The dish starts off with three open-faced, soft corn tortillas topped with luscious beef tenderloin, bacon and white onions. Then comes a holy hot trio consisting of poblano peppers, chihuahua cheese and spicy habanero sauce. These taquitos are not for the weak — if you're a fan of food with a kick, you'll be chowing on these with no problem. I enjoyed the sear on the beef tenderloin chunks.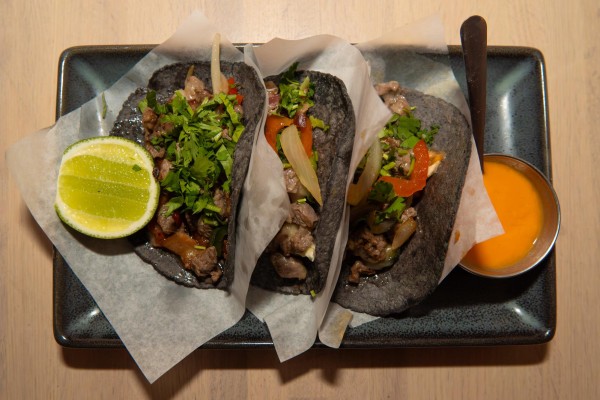 I had high expectations from this dish based on my previous trial at NYCFF. The presentation alone exceeded my expectations, definitely beating the flimsy cardboard tray from the festival.
The menu also lets you get creative with a build-your-own-tacos section. I put together a taco with meat and mastery, piling on braised pulled pork shoulder, pickled poblano peppers, charro beans and salsa verde onto a delicate black tortilla. Then, it was time for the moment of truth. As I made my first chew, I couldn't help but notice the meltiness of the pulled pork shoulder. I've always known pulled pork to be stringy — sometimes dry — but these tacos were like pillows for my mouth. I could tell the pork was grilled in a cast iron skillet as it retained moisture and fat incredibly well. The tacos could even go without the extra fillings, because the pork was the real star of the show.
Although I'm not vegetarian, the highlight of Fonda's menu is the vegetarian section. I tried the enchiladas vegetarianas verduras, and who knew that a combination of onions, carrots, zucchini, corn kernels and pickled jalapeños could open my eyes to a world I've been missing out on.
The enchiladas were sauce heaven. With crema, queso fresco, tomatillo serrano sauce and chihuahua cheese, the dish was a hearty, sloppy mess, in the best way possible. The cool crema and queso balanced out the tart tomatillo and the sweet vegetables.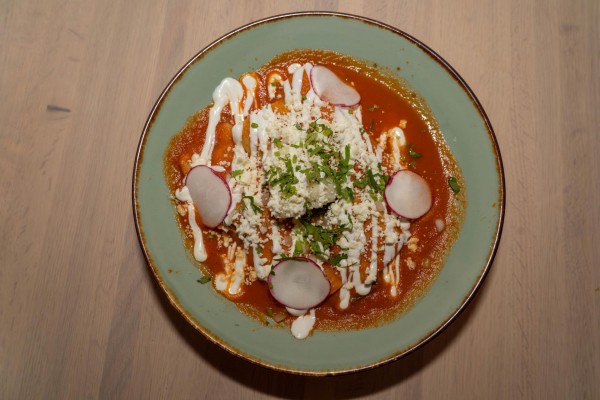 Whether it's an end of year celebration with your club's executive board or date night with your partner, Fonda has everything you need for a fancy-yet-fun evening.
Best of all, make sure to come in after a long day of classes for its happy hour to de-stress with margaritas and more.
Contact Andrea Lui at [email protected].