On Saturday mornings, at 8 a.m. sharp, NYU junior Julia Li makes her way through New York City's streets for her weekly pierogi-making duties. A blue sign in yellow letters reading "СТРIЧА" greets her as she ventures into the basement of Streecha, a hidden hub for Ukrainian comfort food in the East Village. 
Streecha gives the feel of a Soviet-era movie, with its interior of crisp plastic flower-printed tablecloths, an abundance of Christian icons and wooden dough-rolling machines. By the time Li enters, dozens of volunteers are already buzzing around the restaurant setting up their pierogi-making stations. Their mission is to craft 3,000 potato dumplings, or pierogi, in three hours that Streecha will serve throughout the next week. The first team rolls out thin sheets of dough and cuts it into hundreds of circles. The next set of volunteers place tiny portions of warm mashed potato onto each circle. The majority of volunteers are in the last group, which completes the gourmet masterpieces by carefully pressing the potato filling inside each dumpling and securing the edges.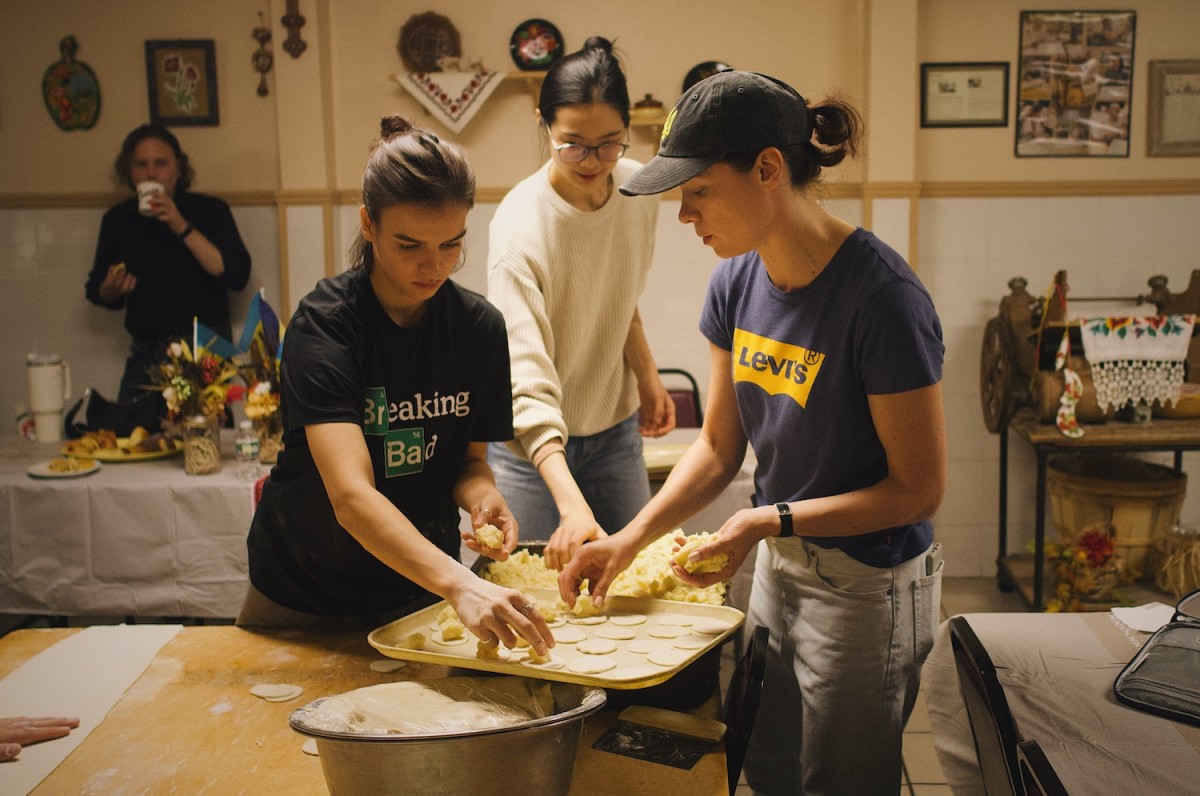 Li discovered Streecha's volunteer pierogi-making opportunity on TikTok. She initially joined to fulfill community service requirements for her sorority, but she stayed for the sense of home she found at Streecha. In New York City, where human interactions often feel transactional, Li said the community of volunteers has fulfilled her longing for genuine connections. 
"People come here because they love the community, because they want to make good food without getting anything in return," Li said while molding pierogi. "In the end, we all sit down and share a plate of homemade pierogi, and it's something so special that I can't really get as an immigrant living by myself."
The luncheonette at 33 E. 7th St. opened 50 years ago to feed the visitors of the St. George Ukrainian Catholic Church across the street. The restaurant's revenues go to support the community. The pierogi-making tradition has helped the restaurant overcome its staff shortage and provide food at lower prices compared to other Ukrainian cafes in the East Village. While crowds line up outside of Veselka to pay $9 for four pierogi, Streecha's team serves six for $6 just a few blocks away. 
Ukrainian-native NYU senior Misha Nosenko said he prefers Streecha over Veselka. He is drawn to Streecha's exclusively Ukrainian homemade recipes and authentic feel. The team serves a limited number of dishes, but the consistency of menu offerings, staff members and decorations are a part of the charm for regulars. 
"It feels like home in a lot of ways: the overly exaggerated decorations, tablecloths, scarves, pictures of Shevchenko on the walls everywhere and you know, borscht," Nosenko says.
For decades, a team of elderly Soviet women from the George Ukrainian Catholic Church were the only volunteers showing up for the Streecha's pierogi-making. Now, the same volunteers are joined by many young adults, including Li. The tedious, yet collaborative process of pierogi-making often gives rise to multi-generational and intercultural table conversations that allow young New Yorkers to reflect on their roots and connect with other cultures. 
"A lot of [elderly volunteers] have been through big challenges in life that I don't think I can ever survive through, but they still are willing to help other people," Li said. "That helps me see that even though I'm stressed in school, doing a lot of exams, everything's gonna turn out well in the end, as long as I give a lot of my love to other people."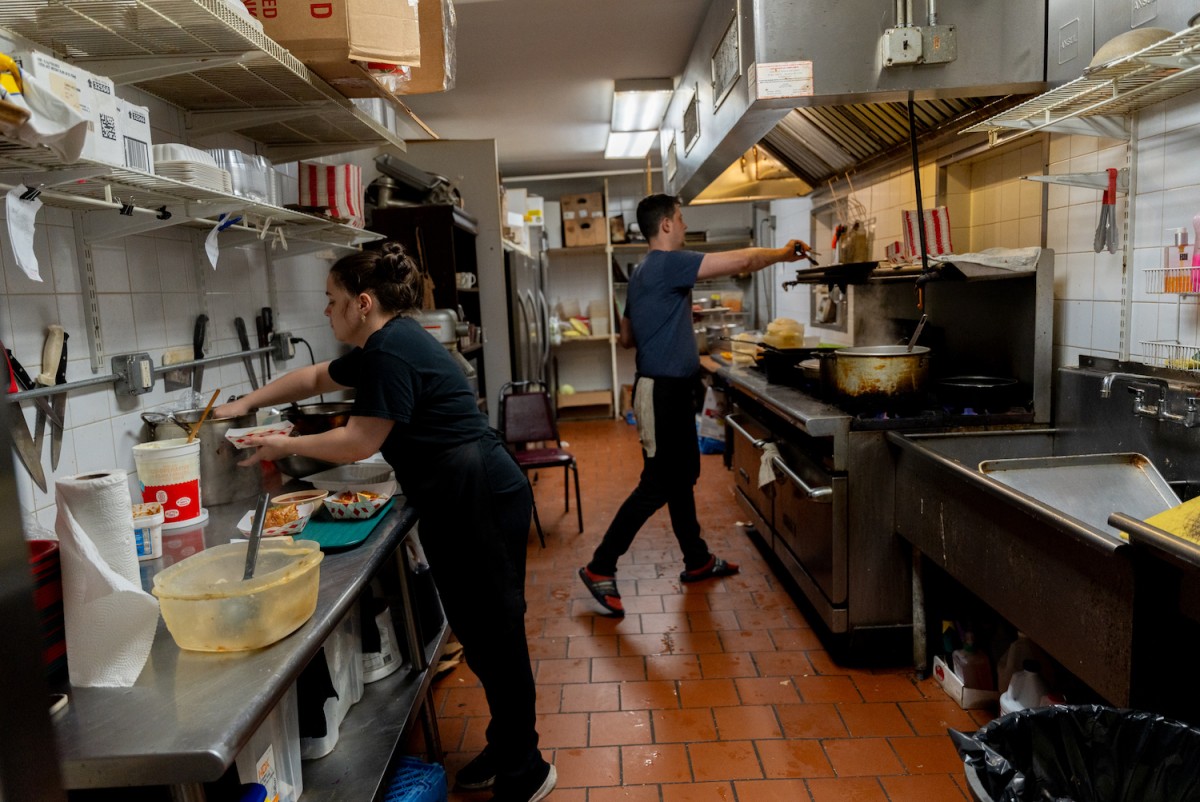 Streecha chef Dmytro Kovalenko played a major role in expanding Streecha's visitors by growing the cafe's social media presence while maintaining its authentic style.
A former financial director of a Ukrainian corporation, Kovalenko joined the non-profit luncheonette in pursuit of a more fulfilling career. Since his first Instagram post in 2017, Streecha's page has accumulated over 10,000 followers and attracted a growing number of NYU students. Li's first impression of Kovalenko was one of an "extremely strict dad," cruising between tables to pick up trays of freshly made pierogi and disappearing behind the kitchen's walls to boil the potato dumplings. But Kovalenko's passion for cooking helped them bond quickly. The chef longed for Sichuan peppercorns, and when Li brought some back from her trip to Beijing, his face lightened up. 
"I don't think I've ever seen a man this happy before about Sichuan peppercorns," Li said.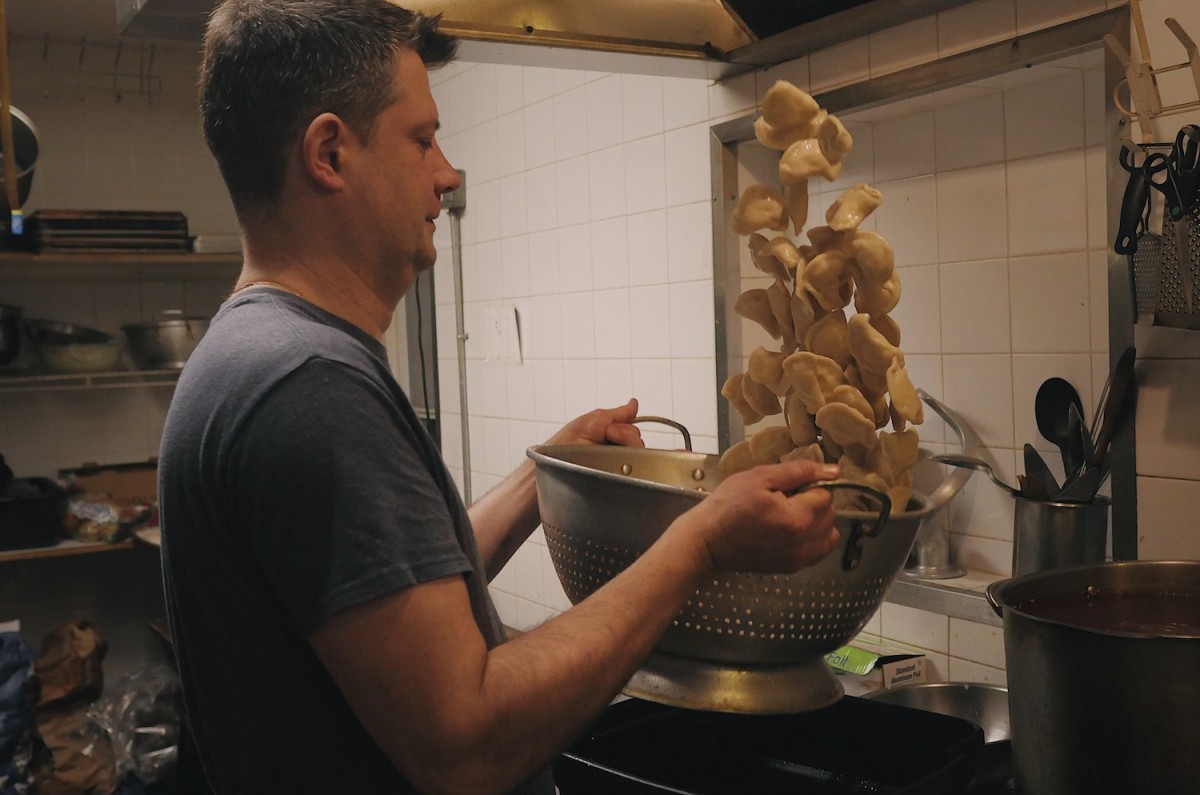 Prior to working at Streecha, the restaurant chef lived in Dnipro, Ukraine. There, Kovalenko fervently fought for Ukraine's integrity, attending numerous political rallies. He collected supplies for Ukrainians defending the border in 2014, when Russia annexed Crimea following the Maiden Revolution in Ukraine. For helping the Ukrainians, Kovalenko received threats and was brutally beaten up by a pro-Russian group. Shortly after, he and his wife Olga packed two suitcases and left Ukraine with no plans to return.
The Kovalenkos received asylum in the United States and moved to Westchester, New York. Pursuing his dream of cooking, Kovalenko went from mopping floors at a seafood restaurant to substituting for the chef in one year. He then switched to cooking for kids at a Ukrainian summer camp and eventually applied for an open position at Streecha in 2017. 
In February 2022, Streecha saw overwhelming numbers of customers as New Yorkers looked to support Ukrainian businesses at the start of the Russian-Ukraine war. Overwhelmed by the increased demand for Ukrainian food, Kovalenko set up a pierogi-making station at one of Streecha's tables, and volunteers have been coming in and producing Ukrainian dumplings on the weekends ever since. 
Dmytro said that for Streecha, orders started slowing down around the time he made his first Easter cakes last year. Now, the stream of Streecha's customers fluctuates depending on its social media presence. With a recent feature by Secret NYC reaching one million views on Instagram, the three-person team of the luncheonette has seen a surge in customers. Simultaneously, the luncheonette continues to welcome the church community and all regulars craving Eastern European homemade food. 
Meaning "meeting" in Ukrainian, the luncheonette has certainly lived up to its name, fostering an environment where East Village residents of different generations and walks of life can immerse themselves in authentic Ukrainian tastes at affordable prices and make friends at a Saturday pierogi-making.
Contact Alyona Uvarova at [email protected].