The Red Pavilion is the future of NYC nightlife
Teahouse by day, club by night. Who knew traditional Chinese medicine pairs well with Shanghai jazz?
Being newly 21 means that I am a nightlife novice. I'm trying to figure out which clubs work for me and which don't — which quickly led me to realize that being surrounded by sweaty people is not for me. As we continue to grapple with how COVID-19 has radically altered our lives, people are seeking out different experiences when it comes to nightlife. 
Enter The Red Pavilion, a Chinese apothecary and teahouse by day and an Asian pulp-noir nightclub by night, located at 1241 Flushing Ave. in Bushwick. Formed by creative director Shien Lee and NYU alum and chef Zoey Gong in response to increased violence against the Asian American/Pacific Islander community, Red Pavilion prioritizes forging lasting connections with its guests and aims to provide an immersive Chinese cultural experience for its patrons. The founders also intend to provide a safe space for fellow queer individuals, especially those from younger generations. When you walk into the space, you're immediately welcomed by the warmth of red lights and the sounds of Chinese jazz, which transport you to 1930s Shanghai.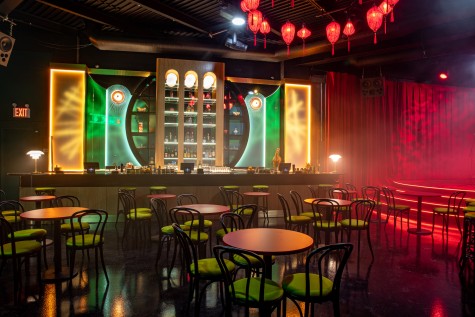 "It fuses a really special culinary experience with immersive entertainment in a very cinematic setting to present our culture — everything from food to music and performance art — in a way that is really accessible and interesting to younger people," Lee said.
The Red Pavilion's food and drinks are all inspired by traditional Chinese medicine, a system of health and wellness that has been used for thousands of years. Ingredients like ginger, goji berries and Buddha's hand are the stars of Red Pavilion's drink menu. Many of the ingredients used at the venue are sourced directly from farms and vendors in China.
I tried the Red Dragon, a tequila-based drink with tamarind, blood orange and Sichuan chili powder. Despite its punchy flavor profile, the drink was smooth, balanced and definitely a highlight of my night. In addition to delicious cocktails inspired by traditional Chinese medicine, Red Pavilion offers non-alcoholic drinks. I tried the Mystical, an oolong tea-based drink that was floral, citrusy and refreshing.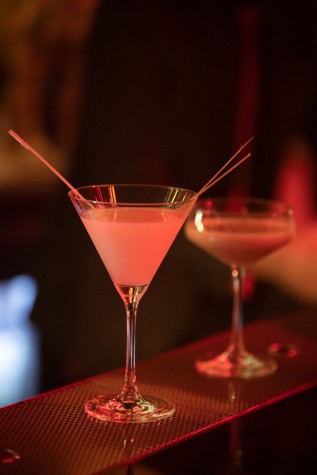 "It's not for everyone — I think it's an acquired taste but it's super good for you," Lee said. "We want to be innovative. There's nothing else like this. I can't tell you how many people come up to us and tell us, 'We've been waiting for this, a TCM-centered place that is not for old people.' Of course you can go to Chinatown and there will be some grandma happy to serve you something, but it won't be in such a beautifully curated environment."
I saw older Chinese couples enjoying the TCM treats alongside younger patrons throughout the night. Attracting people of all ages, gender expressions and cultures, Red Pavilion serves as a community space that bridges gaps between different groups of people.
"It's really a place where a lot of different communities from all walks of life can come together," Lee said. "It's not just a nightclub where you get crazy drunk. Building community and sharing culture is really at the heart of what we do."
To come to Red Pavilion is to seek out a good time. You don't have to go out Friday night and regret it all the next morning. My night out was filled with great drinks and better conversation. The best part about it all was that I was in bed before midnight.
"I really feel like creating spaces [where] people can ignite conversation, whether it's through the food, the drinks or the space itself," Lee said. "We want to create more opportunities for human connections to happen and to make lifelong memories."
Delivering the elevated nightlife experience I was looking for, Red Pavilion might well be my cup of tea.
Contact Sasha DuBose at [email protected].