Boarding on a budget: How to craft a charcuterie board at any price range
Charcuterie boards are a great addition to any gathering. Here are some ideas to both cut costs and build a beautiful board for your guests.
Charcuterie boards are like my children, I'm afraid to say how much time I spend thinking about them. They consume my Pinterest, TikTok and even Instagram feeds. If I'm going to an event, a charcuterie board is coming with me. But, the costs of meat and cheese can really add up! After spending a week scouring my local Trader Joe's, I've discovered the essence of every charcuterie board, and how to create one at virtually any price point. With budgets of $20, $40 and $60, here are my best charcuterie boards.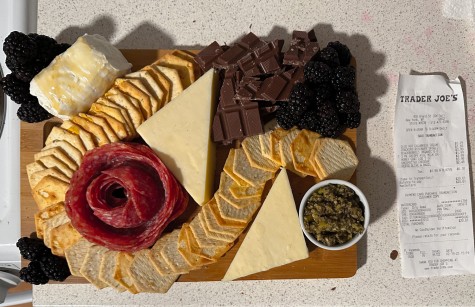 Board 1: $20
Ingredients: Cheddar cheese, goat cheese, sliced salami, crackers, blackberries, dark chocolate, and olive pesto.
This is a board where you really get into the four food groups of a perfect charcuterie board: meat, grains, fruit and cheese. You need at least two cheeses — this is practically law. By doing this, you create a variety of flavors, even if there is only one type of meat, grain and fruit. I typically go for one hard cheese and one soft cheese, giving guests a choice in their charcuterie consumption. I recommend a classic cheddar for the hard cheese and goat cheese for the soft. I was nervous at first about inviting goat cheese to the party, but we had that block scraped down to the board by the end of the night. Perfectly accompanied by a cracker, a blackberry and a drizzle of honey, goat cheese creates an incredible bite. If you're feeling indulgent, replace the cracker with a dark chocolate square, and you've just made dessert.
I chose to be basic with the savory parts of this board, but some basic salami and crackers will take you a long way. Once I finally figured out how to form salami into a rose — my life changed and my board game was infinitely elevated. You just fold the salami over the rim of any glass, then let it solidify in the fridge for a little while. With the remainder of my budget, I added in olive pesto, an extra I'd highly recommend. The olive flavor isn't too strong, so the olive haters can still enjoy it when paired with a cracker and a slice of cheddar.. For a chill Sunday night in, this board was cheap and easy!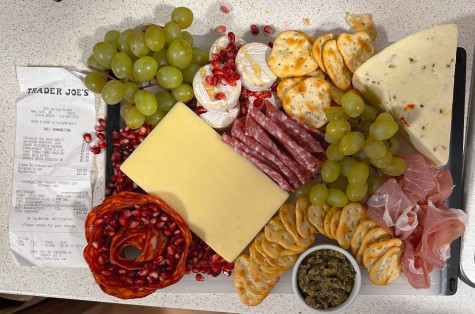 Board 2: $40
Ingredients: Cheddar cheese, Monterey Jack, Trader Joe's Mini Brie Bites, sliced salami, sliced prosciutto, sliced Calabrese, green grapes, pomegranate, olive pesto and madeleines.
As you can see, the four main food groups for a good board are still here, but I upgraded the meat, fruit and cheese sections. I added another basic cheddar, this time with a spicy Monterey Jack to offer a new flavor. I opted for Brie instead of goat cheese, but I have found that a wedge of Brie never gets finished when it is served on a charcuterie board. Trader Joe's Mini Brie Bites were cheaper than any other Brie option at the store, and they were honestly much more functional, as well as being really cute. Add a drizzle of honey and you're in charcuterie board heaven.
If you're trying to find a bougie bestie for your salami, prosciutto can fit into both sweet and savory flavor profiles. Trader Joe's carries a three-meat snack tray for about $5 with the big three — salami, Calabrese and prosciutto. That's called balling on a budget.
For fruits, I always find that grapes make everything look so pretty and pair perfectly with Brie. I also love pomegranate seeds for their nice crunch, and they go incredibly well with cheddar. My total was about $33 at this point, but bringing in the olive pesto from the previous board bumps our total to just under $40.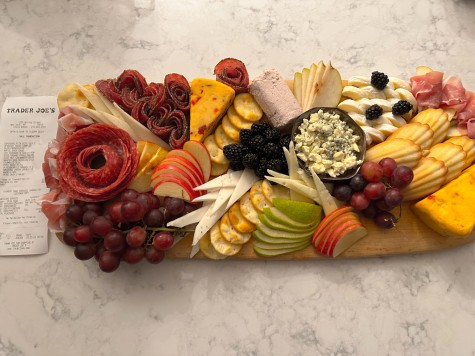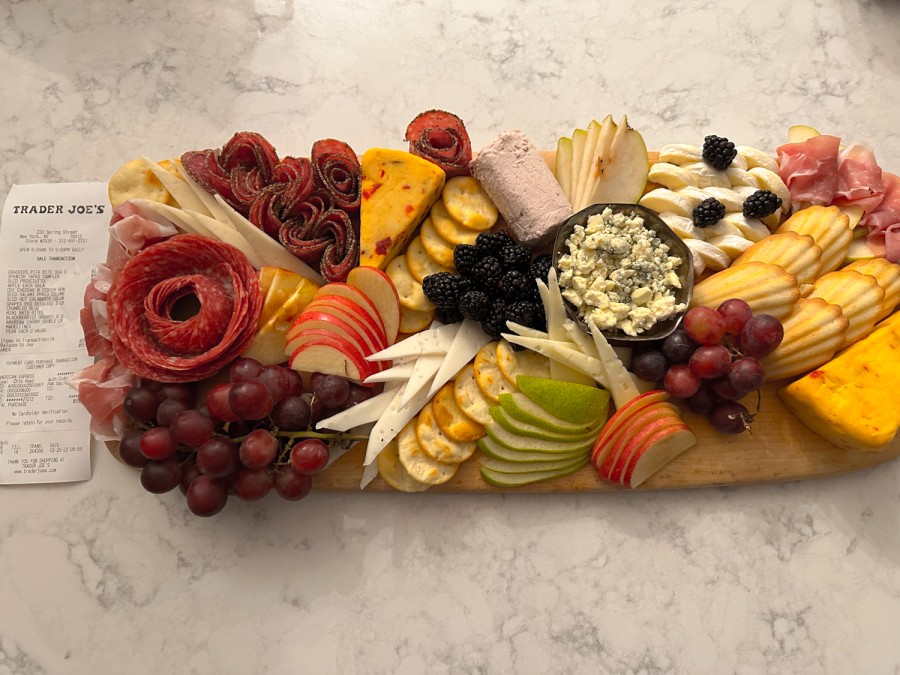 Board 3: $60
Ingredients: Sliced pear, sliced prosciutto, blue cheese, crackers, sliced apples, manchego cheese, Gouda, pepper-crusted salami, spicy cheddar cheese, blackberries and red grapes.
To prepare for this board, I spent way too much time in Trader Joe's. I went at 9 a.m. and  without the after-work rush of people, I was actually able to see the store and revisit some aisles with ease. The thought process that went into this was incredibly intricate — but my guests deserve the best.
This board is my first-born child and is dedicated to a casual night in with the girls. The prosciutto-wrapped pear "peared" perfectly with the Brie. If you're feeling less extravagant, a plain slice of pear with blue cheese and a cracker will do. The apples went with all of the assorted manchego or Goudas, which came in a pre-sliced pack for around $5. 
The next food pairing came with a little inspiration from the first board, consisting of cherry goat cheese, crackers and blackberries. The pepper-crusted salami with spicy cheddar cheese had my nostrils flaring from the strong flavor — my whiteness even has me weary of pepper by itself most days. Lastly, the madeleines look so pretty and add a nice sweetness and soft texture to contrast the crunchy crackers.
Contact Jules Hasler at [email protected]