Forsyth Fire Escape serves up fiery fusion at Olly Olly Market
Forsyth Fire Escape's signature burritos celebrate Caribbean and Southeast Asian cuisine.
Nestled in a sea of pop-ups in the Olly Olly Market, Forsyth Fire Escape restaurant is bringing a fiery revival of a Chinatown favorite to Chelsea. When you walk through the food hall and up to Forsyth's colorful station, you'll be greeted by an assortment of little black-and-white buckets, strung together with red ropes that dangle from the ceiling. This decor is an homage to the brand's origin story: a mid-pandemic scheme to serve food in a bucket, from the balcony of a Chinatown apartment. 
Back in 2020, while many across the world were newly in quarantine, Forsyth owners Isabel Lee and Luis Fernandez cooked up a storm while they were stuck inside their apartment. As their respective ingredients meshed in the kitchen, a fusion cuisine was created — and with it, their signature Chinese-Thai-Dominican fusion burritos. To adhere to social distancing guidelines, the duo had the idea to start serving their burritos — Dominican pernil topped with queso frito and wrapped in a scallion pancake — out of a bucket contraption through the window of their apartment. 
"I had spent an afternoon just up and down Chinatown at the hardware store looking for buckets, looking for rope," Lee recalled, describing the haphazard feel of their original store. "That first weekend, I think it was like 13 people coming — all friends and family, except for one person who was a total stranger. And he happened to be the first person."
The experiment was a hit. Regardless of how the burritos were delivered, customers kept returning for more, proving that Lee and Fernandez's concept was a success. Through posts on apps like TikTok and Instagram, what started as a makeshift venture in the middle of a pandemic flourished into a full-time business.
"Every time we lowered it, anybody walking on the street was automatically looking up," Lee explained. "And then they're always filming or looking up, right? You're walking down the street and you see one person looking up, what do you do? You look up too."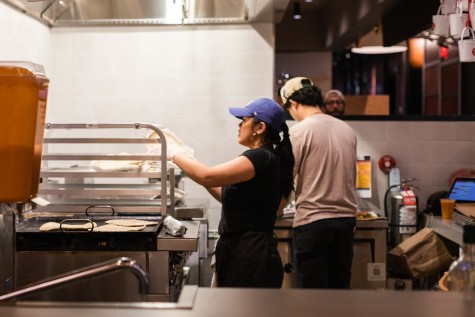 Lee's family is Chinese and Thai, so growing up, she was always cooking scallion pancakes — which now serve as the tortilla in Forsyth's burrito. Lee hopes that she will be able to continue sharing this piece of her family's cuisine with the rest of Manhattan. 
"I grew up eating them, you know," Lee said. "It's great to be able to share this food, or this part of my culture, with different people and have them experience it, and just start that conversation." 
The restaurant's pernil — crispy, pulled strands of slow-roasted pork shoulder — comes from Fernandez's side and is the Dominican part of the fusion. Forsyth also sells jars of homemade sauces, which complement the burritos perfectly. They're all individually jarred and made by Yojany, their friend from the corner store down the street from their original location. And with a friendly staff that'll give you extra cheese and guacamole on your burritos, Forsyth is fostering nothing but a welcoming space. 
"It's community," Lee said when talking about the sauces. She said Yojany started his local hot sauce brand to raise funds for an organization he started to honor his late son, Elmer. "It was important to bring people together."
Contact Timothy Fraher at [email protected].