Let Spot Dessert Bar become your new go-to dessert spot
Conveniently located on St Marks Place, Spot Dessert Bar brings the desserts of Thailand to the streets of New York City.
Cousins Chatchai "Chai" Huadwattana and Ace Watanasuparp first opened Spot Dessert Bar in 2009, at 13 St. Marks Place in the East Village. In the 14 years since, the duo have melded the influences of Thai and American cuisines, bringing innovative desserts rooted in tradition to the Village, and expanding to a secondary location in Queens.
Signature desserts include the Matcha Lava Cake, a dark chocolate delicacy filled with a luscious matcha ganache, and the Golden Toast, a large, crispy, honey-buttered toast topped with strawberries and condensed milk ice cream. The eatery's cookies and pastries also feature flavorful fillings like caramel miso or Nutella. The flavors are sweet and distinct, but subdued enough that they aren't overpowering. The menu is adjusted seasonally, combining what's popular in New York with Thai tastes.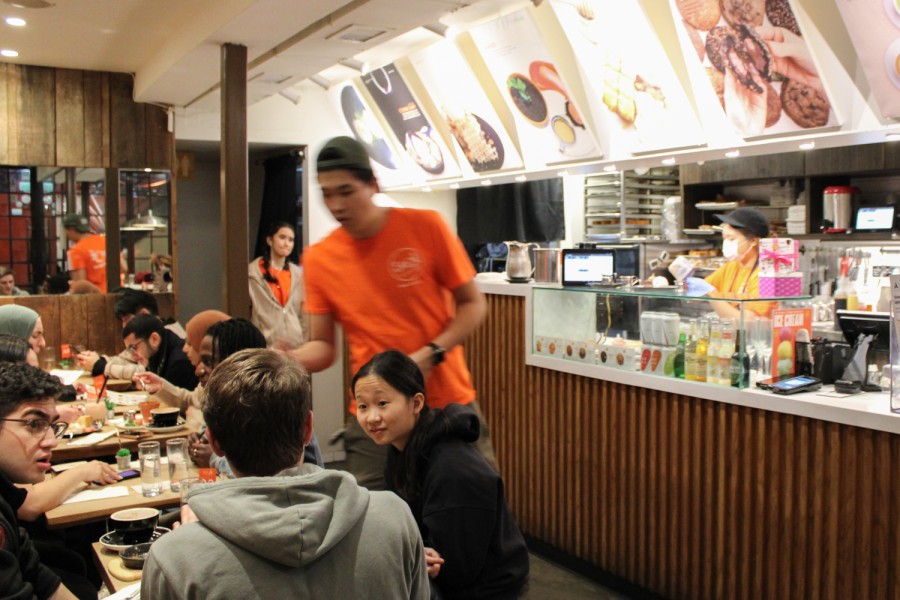 "This season we have our Mighty Malt, our Chestnut Butterscotch, and our vegan friendly Coconut Monkey Bread," said Andy Gwon, who manages the St. Marks location.
The artist behind all the recipes is award-winning chef Ian Kittichai, who has appeared on a number of televised cooking shows, including MasterChef Thailand and Iron Chef America. He lives in Bangkok, but plans to visit Spot Dessert Bar's Queens location in early March. He'll be debuting new artistic desserts and participate in staff training. A special, ticketed meet-and-greet experience for fans is also planned. 
For Gwon, a favorite dish is the Mango Tango, a mango sticky rice dessert. Being a seasonal dish, it is no longer on the menu, but he believes it reflects the ethos of eating at Spot. 
"We spread out two banana leaves, we got coconut puree and we would splash it on the table," Gwon said, describing how the Mango Tango was plated.
The spattering of the coconut puree was reminiscent of a Jackson Pollock creation, Gwon recalled, while the banana leaves reminded him of how sticky rice is served in Thailand. The dish has scoops of mango sorbet and freshly diced mangoes, along with cocoa, sticky rice and other assorted toppings. 
"It would just be like a piece of art on the table," Gwon said. "Tastes amazing — it was just the experience that customers get. If you don't get to travel to Thailand, we bring Thailand to you."
Many patrons have created their own traditions involving Spot and their dynamic desserts. One of Gwon's favorite customer memories is of a little girl and her babysitter who visited every few weeks to enjoy The Harvest, a cheesecake in a flower pot with Oreos to look like soil and a cilantro leaf placed to represent a plant sprouting.
College students form the backbone of Spot's customer base, due in equal part to its location and atmosphere.
"Obviously, NYU is where NYU is, we're in NYU's backyard," Gwon said. "Whenever they finish class, they come here for a coffee, they'll come here for dessert."
Every dessert at Spot has its own story that keeps you wanting more. If you're finding yourself worn out by midterms, check out Spot Dessert Bar for a pick-me-up to keep you going.
Contact Montserrat Pagan at [email protected]