Eating with your eyes: Reviewing NYC's most extravagant restaurants
New York City's most over-the-top restaurants that never fail to amaze.
When I moved to New York City in the summer of 2021, I immediately began searching for the best places to get food, sorting through endless lists and carefully curated posts on Instagram. I soon found that the restaurants everyone seemed to rave about somehow missed the mark. The prices were too expensive, the portions were too small and the reservation systems were impossible to navigate. 
Nonetheless, I found establishments whose completely extravagant and insanely gorgeous interiors made up for any other shortcomings. Whenever I feel down, have out-of-town guests or simply want to eat the plainest burger in the world amid thousands of Christmas lights, I can count on these restaurants to deliver. 
Panna II Garden Indian Restaurant
93 First Ave. #2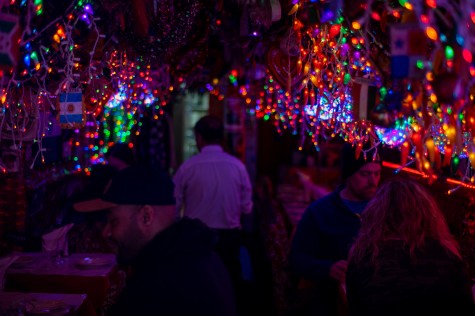 At Panna II — a bring your own beer, cash-only Indian joint in the East Village — holiday cheer operates all year. Panna II is decked out in thousands of tacky, glowing Christmas lights. It's a mesmerizing visual display that will make you forget you came to order food. 
Maybe that's for the best, as Panna II's menu has inspired quite questionable reviews on Yelp. But in an establishment that offers a coconut soup described by one reviewer as "just warmed coconut milk with shredded coconut and some salt," the atmosphere fully makes up for the subpar food. Panna II's ambiance is perfect to snap lots of pictures and twirl amidst the lights on your way out. 
Ellen's Stardust Diner 
1650 Broadway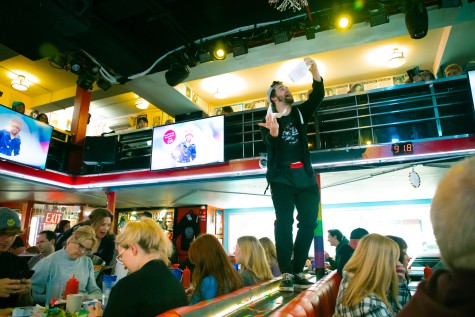 Ellen's singing waiters and waitresses can be heard all the way around the block, which is where the line to get into the diner extends on most days. Ellen's, established in 1987, is pure 1950s retro-themed heaven, not only for its patrons but also for its staff. Much of the staff has sights set to sing on the nearby Broadway, providing guests impressive entertainment. For an authentic diner experience, choose anything from Ellen's all-day breakfast menu — its challah french toast is not to miss. Pair any food item with one of the old fashioned shakes and linger long enough to hear your own waiter perform a solo or two from the balcony seating area. 
If belting out Broadway isn't really your style, maybe try the adult shakes or other alcoholic drinks to get in better spirits for the song-and-dance vibe at the diner. The atmosphere at Ellen's is sure to warm even the coldest of hearts and please even the pickiest of eaters. Both the songs and menu selections are unforgettable. 
Rolf's German Restaurant 
281 Third Ave.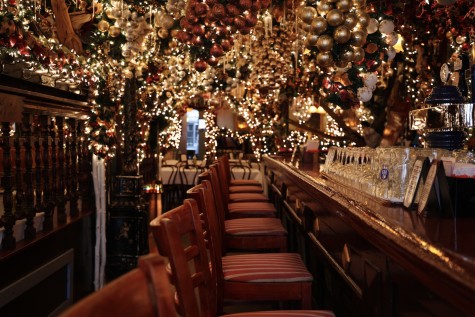 Rolf's is infamously hard to get into during the holiday season. Luckily, its flamboyant Christmas lights are up all the way through May. Eating at a Christmas-themed restaurant in the spring might feel kitsch — just like the random dolls strung up on the ceiling at Rolf's — but once the waiter brings out samples of German bread and pours you a stein of beer, you'll feel confident in having made your reservation. Rolf's menu spans many pages, with high prices to match the extravagant decor. Fear not, though, the portions are massive and the decor makes everything worth it. Order the Smoked Bratwurst or Wiener Schnitzel, paired with the restaurant's Beet Salad or Soup of the Day. When you're finished and it's time to pay the bill, be prepared to plow through your winter savings. The holiday cheer will last you through the year.
Serendipity3
225 E. 60th St.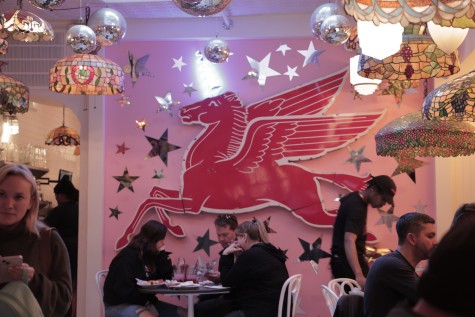 This famed restaurant, practically a New York City institution, is co-owned by Selena Gomez. Its luxurious menu of cakes, desserts and "Frrrozen Hot Chocolates" have attracted A-listers like Marilyn Monroe, Andy Warhol, Cher and Kim Kardashian. Everything at Serendipity is bling, unicorns, Tiffany lamps and mismatched decor. They've been known for doing everything in big and bold ways. In fact, it holds Guinness World Records for the most expensive burger ($295), the most expensive fries ($200) and the most expensive sundae ($1,000). These three items are considered "specialty" and must be ordered ahead of time. For the B-listers among us, however, Serendipity's Truffle-Parm Fries, paired with an Outrageous Banana Split, are just as indulgent, and don't break the bank. 
Contact Stacia Datskovska at [email protected]