Spice up your date night with these restaurants around NYU
If you are looking to take your special someone on a date, here's your guide to the most romantic restaurants near campus.
First date? Anniversary? Just your typical date night? Though planning date nights can be intimidating, they are an exciting part of any relationship. Even the most low-key date nights should feel special.
The question of where to go on a date can get a lot more complicated when considering food preferences, dietary restrictions and a romantic atmosphere. Whether you're looking for a simple change of routine or a special night out, here's a rundown of the best restaurants near NYU for your next date night.
255 Bleecker St. New York, NY 11101
(646) 964 5984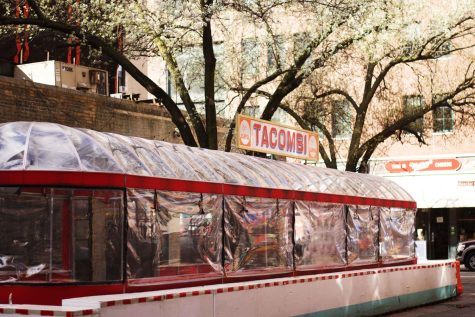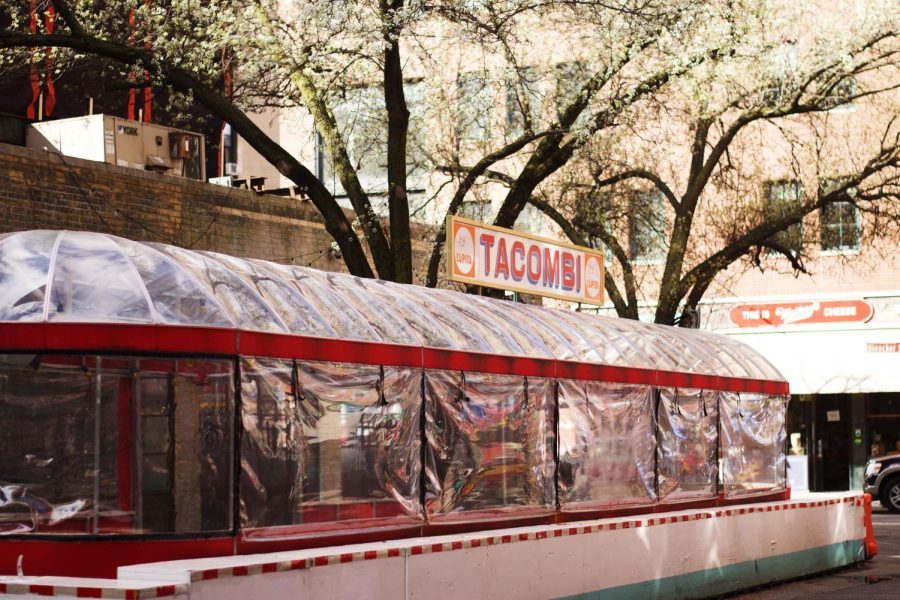 Owner Dario Wolos started what would later become Tacombi by selling tacos out of his Volkswagen. Wolos took his passion to the next level by starting a lively Mexican restaurant in Greenwich Village, which would eventually expand into a multi-city chain. Tacombi's laid-back atmosphere is welcoming and the upbeat music makes for an entertaining vibe. The simple menu makes it easy to order just the right amount of food. Tacos are around $5, quesadillas range from $6 to $9, and burritos are around $13 depending on your choice of protein. To top off your meal, order one of the Aguas Frescas for $3.95. These traditional Mexican flavored waters are made fresh daily from a signature blend of fruits.
231 Sullivan St. New York, NY 10012
(212) 777 2188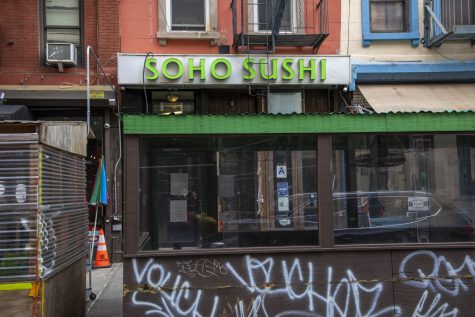 If you and your date are craving sushi, walk a block south of Washington Square Park to SOHO Sushi. Many sushi places in the city can be quite pricey, but SOHO Sushi is certainly on the more affordable side. Popular appetizers include miso soup ($2.95) and seaweed salad ($6.95). Individual rolls are around $6.50 depending on your choice of raw fish or vegetarian rolls. Udon, tempura rolls and other noodles are great for those who enjoy Japanese cuisine but are not fans of raw fish. The spicy mayo is only 50 cents — which may be an odd thing to note, but if you've eaten at other sushi restaurants in the city, then you probably know a side of spicy mayo can go for around $5.
469 6th Ave. New York, NY 10011
(646) 863 2027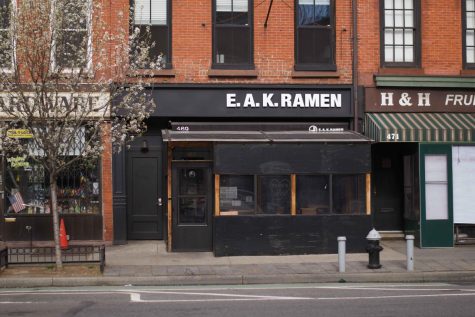 After a long day, there is truly nothing better than relaxing with a bowl of warm ramen. The flavorful, slow-cooked broth and perfectly slurpable noodles will never let you down. E.A.K. Ramen in the West Village keeps ramen simple, serving five different options per bowl ($17 – $19). E.A.K Ramen gives you the freedom to add or remove anything you please, unlike most places. This option makes the restaurant perfect for picky eaters who want to get out of their comfort zone. The large portion sizes are great for leftovers. They also serve amazing fried rice and gyoza ($10). Keep in mind that the restaurant is always busy, especially during weekends, so definitely make a reservation if you can.
114 Christopher St. New York, NY 10014
(646) 609 2911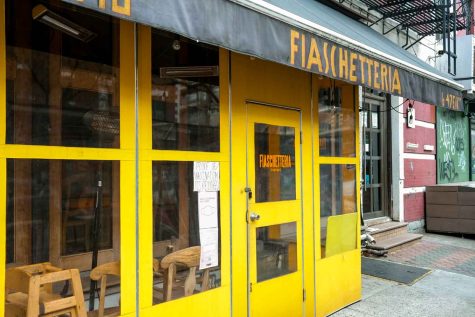 Located in the West Village, Fiaschetteria is the perfect spot if you and your date want to try an interactive dining experience. Fiaschetteria offers guests the opportunity to see the process of making pasta from scratch through front-window seating. Meat eaters can enjoy the Pappardelle Al Ragu' ($22), which is a slow-cooked beef dish served in a bolognese-style sauce. There is one other Fiaschetteria location in the city, and it is important to note the West Village location does not accept reservations. Surprisingly, this is not a problem because the wait is usually not more than 20 minutes at most. If you get a sudden craving for Italian cuisine, the West Village location might be your best bet for a spontaneous Italian meal without a reservation. 
210 6th Ave. New York, NY 10014
(212) 994 9821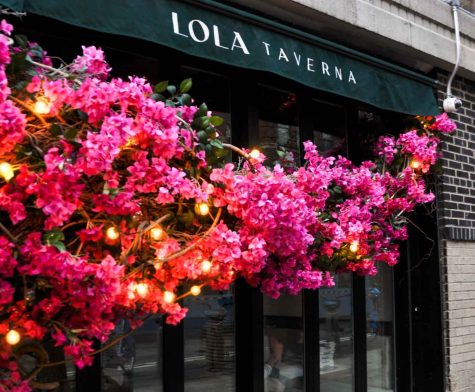 Looking to escape the city on your night out? Lola Taverna, a Greek restaurant located in SoHo, is covered in purple flowers and twinkly lights, reminiscent of a luxury vacation in Santorini or Mykonos. For appetizers, the spanakopita spring rolls ($16) are a must-have. The impossible meat kebabs and the mousaka, a Greek eggplant lasagna, are the perfect main courses for any vegan or vegetarian diners. 
183 West 10th St. New York NY 10014
(917) 675 6272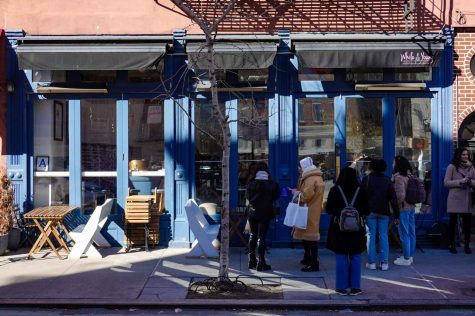 While We Were Young is a charming and cozy restaurant in the heart of the West Village, encompassing comfort and luxury by virtue of its beautiful interior. For my cheese lovers, the burrata starter is definitely your pick. It is served with pesto, tomato and pine nuts. Main dishes include grilled wild salmon, braised short rib, tortellini and a signature burger that comes with crispy onions and chipotle aioli. For my 21-plus crowd, the restaurant is known for its creative cocktail flavorings from vanilla bean to pear vodka. 
174 Elizabeth St. New York, NY 10012
(646) 998 4999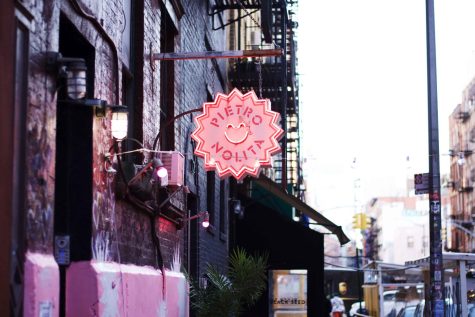 Looking for the perfect restaurant to make your Instagram feed pop? The Italian restaurant Pietro Nolita is based on the owner Pietro Quaglia's favorite color: pink. Everything from the food to the furniture is pink. Their heart-shaped butternut squash ravioli is just the right amount of cheesy for a Valentine's Day-themed date all year round. If you feel like having breakfast for dinner, they offer an entire "Breakfast All Day" menu. The "Pink As Fuck" pancakes are quite literally pink as fuck.
3 Greenwich Ave. New York, NY 10014
(212) 243 6546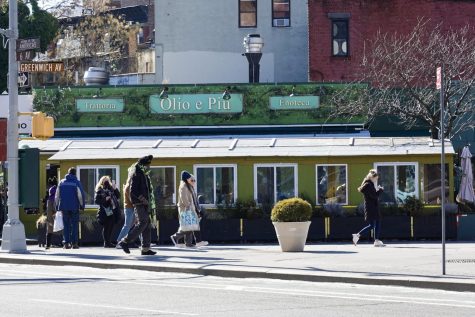 For a more traditional and authentic trattoria in Greenwich Village, Olio E Piú is your go-to. The shades of green, little plant details covering the exterior and the not-so-subtle rustic interior contribute warmth and tenderness to the overall dining experience. The greenery covering the restaurant is refreshing in a city where everything is industrial and concrete. As this restaurant is more on the expensive side, save this one for indulging on an anniversary. The fresh handmade pastas are so worth it. One of the dishes they are known for is the "Spaghetti Chitarra Alla Carbonara" ($27), which comes with a raw egg on top. This may sound unappetizing, but mixing the egg into the hot pasta cooks it completely. For vegetarians, the Vegetariana ($23) is unparalleled, loaded with the perfect balance of mozzarella, grilled eggplant, caramelized onions, mushrooms, grilled zucchini and basil.