Cafe 181 & Crave NYU cook up crowds at the Paulson Center
The new cafe and innovative dining hall offer caffeine and conceptual cuisine.
In recent years, NYU has seriously upped its dining hall game. A revamp of Upstein last year introduced two new concepts — a vegan stall and an international food stall. NYU has broadened its horizons, and is no longer limited to serving cold, Grubhub-sponsored takeout pizza. This semester's opening of the Paulson Center at 181 Mercer St. brought with it the launches of two new dining locations, Cafe 181 and Crave NYU. In the week since these two opened, large crowds of students took to the Paulson Center, eager to try the new dining options.
Cafe 181 at NYU, located on the second floor of the Paulson Center, is open Monday through Friday, from 7:30 a.m. to 5:30 p.m. It offers a variety of beverages including coffee, lattes, espresso and cold brew, all brewed using BLK & Bold coffee, which was selected by NYU students in a coffee tasting in November 2022. BLK & Bold is a Black-owned business that donates 5% of proceeds to organizations that support youth in need across the U.S.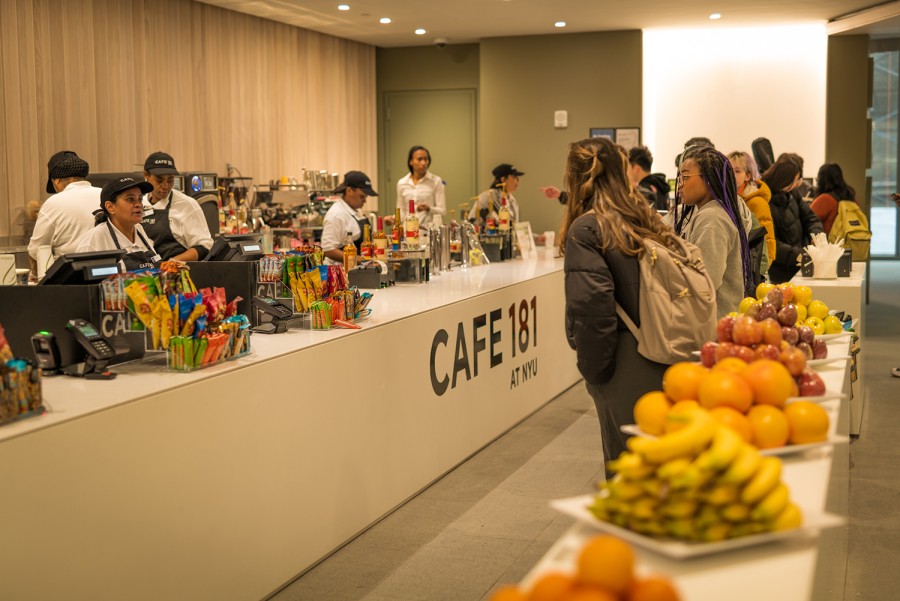 The cafe also offers several on-the-go food options including bagels, croissants, donuts, breakfast and lunch sandwiches, salads, and acaí bowls. I ordered a cappuccino with oat milk, a chocolate croissant and an everything bagel with cream cheese. The coffee was amazing. The oat milk taste was not overpowering in the slightest, and the coffee had a rich, creamy taste. The warmed-up chocolate croissant rivals the much-loved Starbucks chocolate croissant, with its flaky and buttery texture. The everything bagel, in classic New York style, was only $2.50 and definitely worth it. Only the baked goods are available with meal swipes — drinks only take Dining Dollars and cash.
The wait time at the cafe varies throughout the day, and the space is surrounded by a lounge-like seating area, which does not have nearly enough seats for the everyday crowd. There's also a refrigerated section that offers a wider variety of salads and wraps. Certain drinks are a bit on the pricier side, with smoothies starting at $10, so if you're trying to save your Dining Dollars, get something from the supermarket across Mercer Street instead.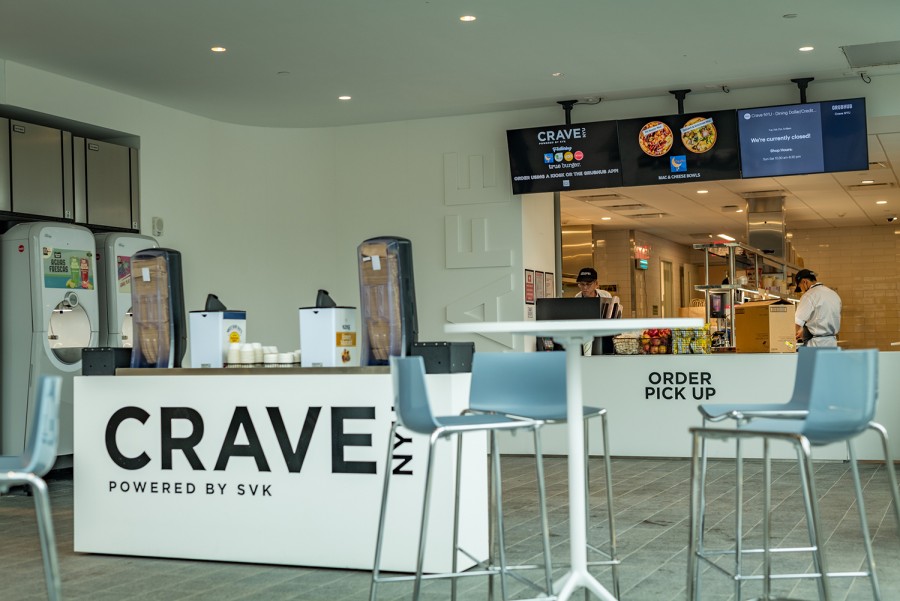 Crave NYU, located on the building's sixth floor, is open every day from 10:30 a.m. to 8:30 p.m. Alongside True Burger, which specializes in hand-smashed burgers, it features Sous Vide Kitchen, a virtual food hall with four brand offerings that also serves other colleges. Veg 23 offers plant-based bowls and sandwiches, BONMi carries Vietnamese-inspired sandwiches and bowls, Eso Latin features Latin American-inspired bowls and burritos and City of Mac cooks up customizable mac 'n' cheese bowls.
Students can order through Grubhub or order in person at one of three stationed kiosks. But be warned — there's barely any seating around this dining hall location, and there's usually a large crowd waiting for orders. I tried the Spicy Cheetos Dusted Mac & Cheese, which was lusciously cheesy, with the crunch of the Spicy Cheetos creating the perfect pairing. The cheese pull was average, but definitely worth waiting in line for. 
As promising as the menu sounds, a few items were disappointing. When Steinhardt junior Navya Kuma picked up her Southwest Bowl on Grubhub, she found it wasn't cooked properly.
"The cauliflower rice was too salty and the sweet potato was not cooked properly," Kuma recounted.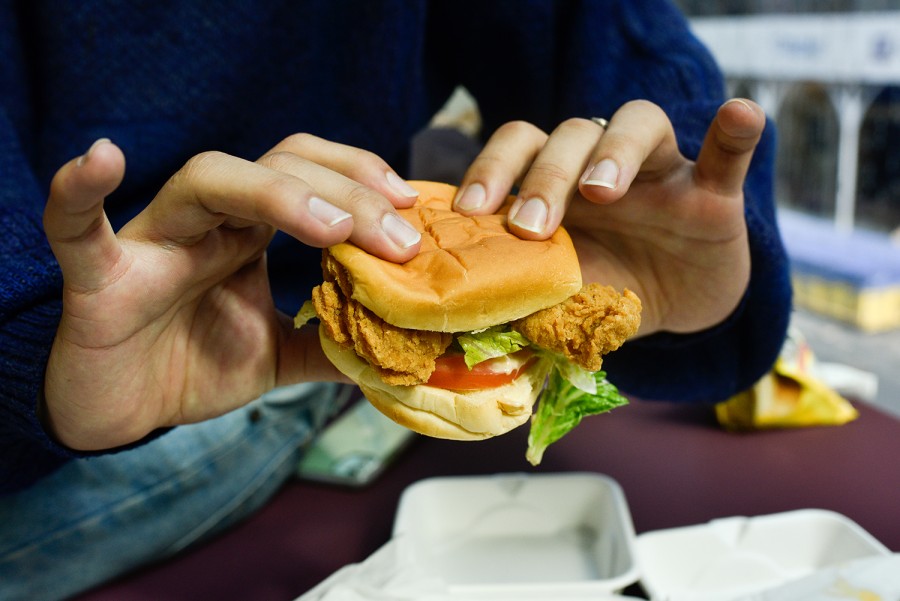 Despite certain missteps in orders — which, considering the massive influx of orders, is understandable — most offerings are pretty good for dining hall food, with the falafel sandwich and mac 'n' cheese popular among students. The Crispy Chicken Sandwich is a stand out too, on par with the chicken at the Marketplace at Kimmel — and we all know Kimmel has the best chicken. 
So before you make your next trek over to the Paulson Center, tap in a Grubhub order. If you can skirt the wait time, getting a Banh Mi for one meal swipe isn't too bad of a deal. 
Contact Mitali Sapra at [email protected].