Another Year, Another (Straw)berry Good Festival
Students braved the brisk weather to enjoy Program Board's annual Strawberry Fest on Friday.
Live music, free food, games galore and the oxymoronic "longest strawberry shortcake." Despite the cloudy skies and light drizzle, NYU students flocked to West Third Street behind Bobst Library on Friday to indulge in Program Board's annual Strawberry Fest.
The fair had a bouncy house, free T-shirt raffles, live music and an abundance of strawberry food paraphernalia: the stretching shortcake and individual strawberries. Live performances from Triathlon, Inner Wave, Slow Pulp, Bathe, Huck and Human Girlfriend filled the street with sound, performing on a stage edging the shortcake line.
There also wasn't a shortage of lines — lines for raffles, lines for the cake, lines for all the clubs booths there, such as Future Fashion Group, Coffee Club and Inter-Residence Hall Council. Even Red Bull had its own booth, handing out cans of Red Bull in time for finals.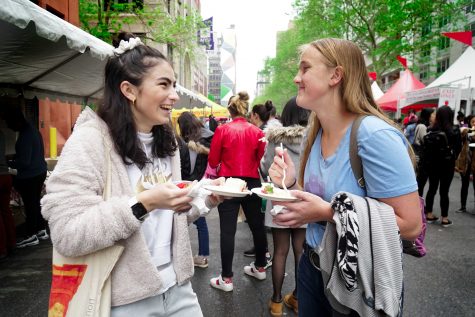 According to the Facebook event, nearly 6,000 people indicated that they were 'interested' and almost another 1,000 marked 'going.' Aside from the students, NYU's beloved mascot, the Bobcat, danced to the beat of the DJ as well as someone dressed in a strawberry costume.
For Stern junior Christina Hur, it was easy to feel lost at her first Strawberry Fest experience.
"There are a lot of people in line who don't even know why they're in line," Hur said. "There are huge lines everywhere and they just end with groups of people not leading anywhere."
CAS sophomore Joe Tuano, who works for the Center for Student Life, enjoyed this year's Strawberry Fest more than in previous years.
"I think I like this one better because it feels like there are a lot more people and everyone is hyped," Tuano said.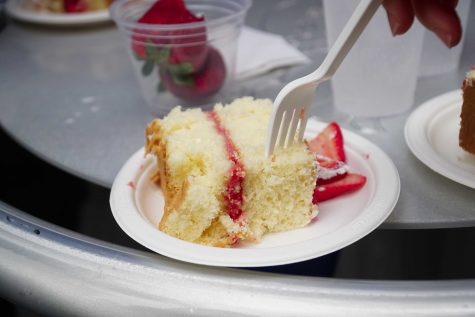 Onto the main attraction — the famous 150-foot long strawberry shortcake. The incredibly delicious and beautifully decorated cake is the longest in New York City, according to NYU. Program Board also provided vegan and kosher options at the end of the table to make the event more inclusive for people with dietary restrictions. Though the lines were long, the relatively short wait was worth it.
SPS graduate student Janiece Morton works in the Center for Student Life with NYU Program Board, and helped plan and run the event. She spent the day running from vendor to vendor and handling any and all last minute disruptions.
"Strawberry Fest is pretty new, but still such a popular event," Morton said. "It's a lot of communication with different departments, we work with student volunteers, employees and staff — it's an all hands on deck event."
Correction May 5: A previous version of this article stated that Janiece Morton is an SPS senior. She is a SPS graduate student. The article has been updated.
Email Ria Mittal at [email protected]