The Fat Radish Freshens up Food
Enjoy the Earth's bounty with the simple dishes at The Fat Radish.
When my waiter first introduced himself at The Fat Radish — a veggie-centric restaurant in the Lower East Side — he emphasized that it was a great night for business, as everyone was ordering wine and tequila. His optimistic demeanor reflected that of the restaurant, which buzzed with lively conversations. 
The mood was surprisingly upbeat, one of care-free enjoyment, when I entered. Friend groups, couples and families sat at intimate wooden tables in the dimly lit space, exchanging gossip and life updates. 
It is no secret that a restaurant's atmosphere can either completely enrich or ruin a dining experience, regardless of the quality of the food. Luckily, The Fat Radish excels in both departments. Its menu offers plenty of variety without being overwhelmingly long.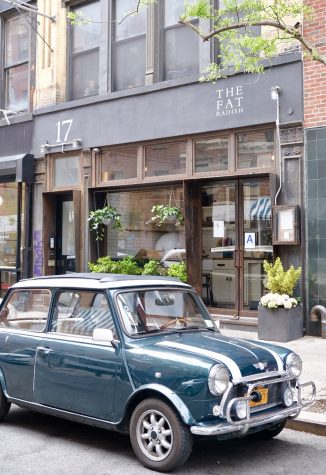 Dishes such as grilled asparagus with pecorino cream and olive oil ($15) or grated sunchoke with celery and fennel ($16) welcomed spring's bounty, highlighting the kitchen's focus on seasonality. Simply reading the menu is enough to understand The Fat Radish's focus on celebrating vegetables. 
The simple green salad ($12), for instance, though a bit too salty, was indeed simply refreshing. The greens did not require any adornments or accompaniments because the crispness and freshness spoke for themselves. Equally memorable were the ingredients of the grilled broccoli rabe ($16), which came dressed in a spicy and earthy 'nduja vinaigrette.
Grilled trout ($24) paired with delightfully tender sauteed greens and buttery avocado and The Fat Radish Plate ($20), a daily plant-based selection of rice, beans and assorted vegetables, was nourishing and incredibly delicious. 
It is easy to forget the art of simple food and that simplicity does not necessarily denote banality at The Fat Radish. Simple, unpretentious dishes remind guests that truly good cooking is about quality ingredients.
The restaurant masters simplicity in a city where many of its counterparts are obsessed with fleeting cuisine trends. While its rivals just end up distancing themselves from the idea that cooking is a celebration of the harvest, The Fat Radish roots itself in its appreciation for the fundamentals. It's exactly what New York City needs.
A version of this article appeared in the Monday, April 29, 2019, print edition. Email Matigan King at [email protected]