Immerse Yourself in a Bevy of Boiling Broths at Tang Hotpot
Stir, simmer and boil your own broth at Tang Hotpot where the lunch special makes your mouth water and wallet breathe easy.
Decorated with delicately rolled raw meats, bright leafy vegetables and freshly chopped onions and mushrooms, our table looked like a neatly curated selection of ingredients taken from a MasterChef kitchen. In the center of this spread was the piece de resistance: a large, bubbling brass pot of deep-red Sichuan broth, bobbing with red spicy peppers, and another smaller pot in the center containing a simmering, milky pork bone broth with leeks, dates and chunks of corn.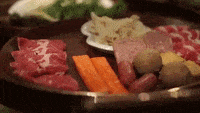 Hotpot is a traditional Chinese method of cooking raw vegetables and meats together in a boiling soup stock. Tang Hotpot began serving a new lunch special in March in which you can get this spread on Thursdays and Fridays from noon-3:30 p.m. for $25 per serving. It comes with a broth of your choice, an appetizer, noodles and two platters of meat and vegetables. The meat platter consists of five slices of round steak, five slices of lamb shoulder roll, a small bowl of omasum beef tripe, two beef meatballs, sliced spam, pork sausages, fish cake and crab sticks. The vegetable platter comes with cabbage, crown daisy, wood ear and shiitake mushrooms, tofu skin and rice cakes.
Our waiter, Jason Liu, patiently explained each dish to us hotpot novices and — for good measure — also handed us an illustrated pamphlet labeled "Your Guide to the Ultimate Hotpot Experience: a step by step guide on how-to hotpot." It described each dish and how long they take to boil. For example, the thinly sliced meats take 10-15 seconds while the vegetables take around three minutes.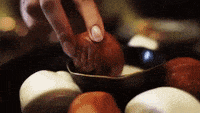 Our platters were wheeled out on circular rolling carts, as our table was already overflowing with small bowls of seasoning, dipping sauces and our appetizer. We chose the chicken thigh marinated in chili sauce followed by a bowl of rice noodles, both topped with sesame paste. The rice noodles tasted fresh and had a pleasantly chewy texture, but the chicken was slightly bland and it remained untouched as we decided to set aside our appetizers and save our appetite for the main course.
For the broth, I ordered the Tang Pot (Mother and Son Pot) — $23 without platters — the son being the smaller pot of pork bone broth and the mother being the larger pot of the spicy Sichuan beef tallow broth surrounding it.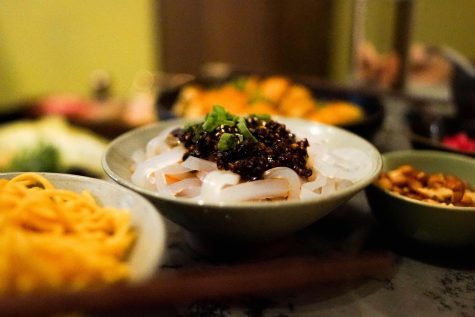 Though I requested medium spiciness, my cheeks began prickling after just one sip of the Sichuan broth. Soon the sensation reached my nose where the spice seared the inside of my nostrils and tears formed at the corners of my eyes.
Liu said that the medium spice level ranged from around a 4-7 on a scale of 10, which I would dispute. However, he reassured me that it would get less spicy over time, and it did after he took out some of the peppers and added some pork broth to dilute it. Otherwise, the broth was flavorful with peppercorn seasoning.
The center pot with the pork bone broth was much deeper than I expected and I lost a few of my sausages in its depths. I had to go fishing once or twice for a few slivers of beef tripe that had slipped through my chopsticks but eventually found them at the bottom, albeit overcooked.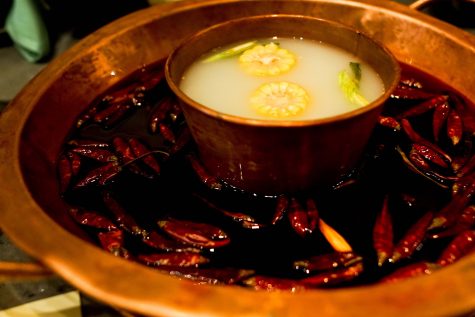 However, the meatballs were a literal explosion of flavor. There was a pocket of soup lining the inside of each ball that gushed into my mouth after the first bite. To finish the meal off, we had sweet rice cakes dipped in condensed milk.
One serving is definitely too much for one person. However, if you don't feel like sharing and can afford not to split the check, one serving will be more than enough to satisfy a hungry stomach.
Hotpot is definitely time consuming, as you are cooking your own food. In total, I spent two hours there, during which the servers replenished our broth three times and refilled our water a total of five times. But at Tang Hotpot, the cooking time is part of the experience.
I became a MasterChef in my own right, tossing thinly sliced chives and diced garlic into the bevy of boiling broths in front of me, putting my new knowledge to the test and making my own fare to suit my taste.
A version of this article appears in the Monday, April 22, 2019, print edition. Email Arin Garland at [email protected].