Tailored bodices and flowy silhouettes alike took the floor at Victor de Souza's Spring/Summer 2024 New York Fashion Week show, in an ethereal collection that showcased the designer's signature melding of contrasting but complementary shapes and fabrics.
De Souza featured the collection at Midtown's elegant 3 West Club, a venue that mirrored his refined designs. The cream wall paneling, glimmering crystal chandeliers and golden draped curtains in the space complemented de Souza's pieces without being distracting.
Models wore tops with exaggerated long sleeves, micro-shorts, maxi-skirts, large romantic gowns, bodices that flared at the hip, and sheer lace dresses and skirts. Florals and ruffled textures decorated the whole collection, giving it a Rococo vibe across the board.
De Souza said the collection was inspired by the sea, and featured more revealing pieces than his Fall/Winter 2023 designs. Last year's collection also took inspiration from baroque details and silhouettes, but was more reserved overall. 
"My women do evolutions," de Souza said. "Sometimes I want to show myself more, sometimes I want to dress more demure, that's how it goes."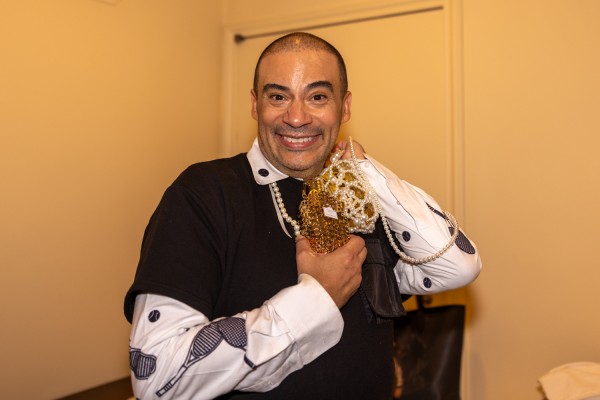 Dustin Lujan, de Souza's partner of 10 years, said that the collection began with de Souza's dream of a parallel universe where sirens took the place of coastal merchants. The siren motif inspired the glossy hair and makeup as well as the sheer lace designs that resembled tangled seaweed. 
Lujan said he has worked with designers such as Marchesa, Oscar de la Renta and Reem Acra, but that de Souza stood out because he designs everything — down to patterns and grading — from scratch. Lujan also added that the entire collection was made in New York, and de Souza received a sustainable practices certificate from the city for his work.
"Victor never really does 'trendy,' and I am very proud of him too, because he seems to be at the forefront of what's happening," Lujan said. "A lot of things that he does you'll see in other designers and even big houses years later, so he's the little big designer that actually makes trends happen."
De Souza also said the collection was partly inspired by his love for luxury furniture. The striped and floral prints he used evoked images of Renaissance-era curtains and upholstery, while other more structured pieces resembled wearable French furniture. 
Jadis Byers, a model in the show, said the de Souza's designs are meant to be high-end vacation wear with a romantic feel.
"Victor has a more unique taste when it comes to the fabrics that he uses. Usually, with other designers, they'll focus on one type of fabric, and they'll just try to work their way around that," Byers said. "He will create one piece out of one fabric and then do the next with another fabric, and it all just comes together with his collection."
Semi-reflective gray silk, a navy-blue print with silver-toned florals and multicolored botanical prints were among de Souza's designs. Despite the variety of textures, the smaller details de Souza included throughout the collection, such as bows, tailored bodices and gold and pearl accents, allowed it to still feel cohesive.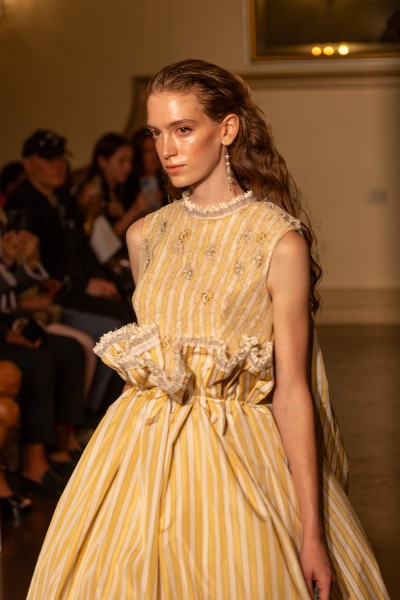 The highlight of the collection was a pair of baroque floor-length gowns constructed from a simple and elegant striped print. The first gown, which had a light yellow-and-ochre striped print, featured a high collar lined with lace and a train draping down from the bodice attached to the skirt. The look screamed modern-day Queen Elizabeth I. 
The second gown was a pink two-piece ensemble with a similar print. The model wore a crop top with a high back and a large pink bow, while the skirt sat low at the model's waist. Both designs featured jeweled accents and appliqués on the front bodice, adding to their regal appearance.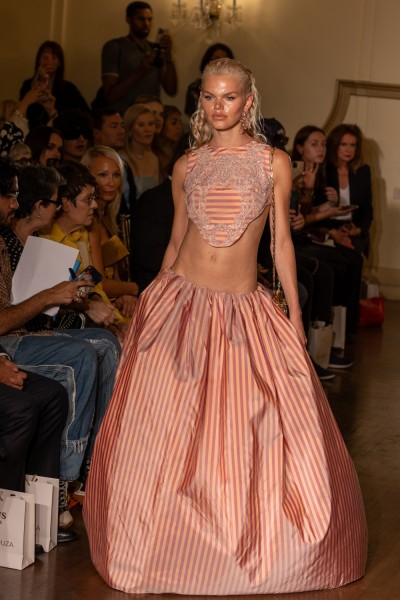 Beauty and fashion influencer Katya Bychkova said she has been watching de Souza's brand for years, and that this collection was one of her favorites. Bychkova said she especially liked the pairing of trailing sleeves with micro-shorts in some of the looks.
"I love the floral detailing and also the use of bows and the overall color scheme of the collection," Bychkova said. "It's very fresh. It's summer in the Hamptons. It could be summer in Europe, a special occasion or just your average day if you're as colorful and fun as Victor is."
Contact Carmo Moniz at [email protected].