Victor de Souza brings the past to the present at NYFW
At his New York Fashion Week show, Victor de Souza proved that fashion is not a set of decisions, but a "quest for what everyone's not doing."
Feb 13, 2023
Victor de Souza unveiled his Fall Winter 2023 collection on Feb. 9 at Room and Board, an artisan furniture store in the heart of Chelsea. Though childhood memories of the bright colors and tapered silhouettes of Schiaparelli, Chanel and Dior in his grandmother's closet heavily inform his aesthetic, de Souza's true passion lies in adding an element of surprise to familiar looks from bygone eras.
As a self-declared adversary to trends and "being cool," he wants his customers to feel "special, and a little afraid that they are wearing something odd." How, then, does Victor de Souza's sartorial identity appeal to his audience?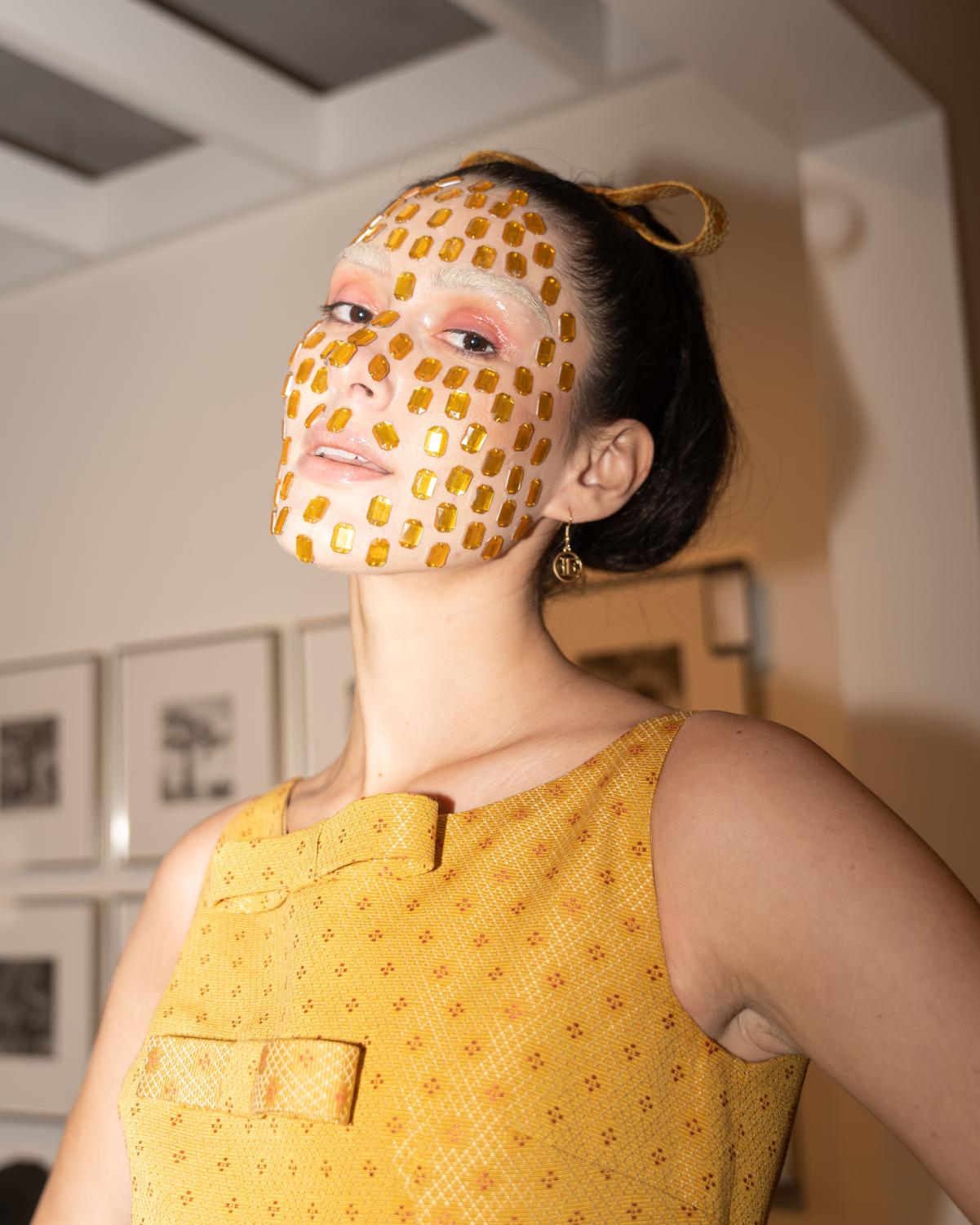 Guests lounged amid mid-century modern pieces, trying to hear each other over EDM. Three other designers were set to be presented just after de Souza which led to a visible clash of audiences, whose efforts to mimic the general style of the designer fell flat. High street, meet high-end. 
Despite a failure to dim the lights to alert the audience that the show was beginning, the music — which faded to a series of soft major seventh arpeggios played on a solo violin — helped ease them into de Souza's ethereal collection. Variations on the typical Chanel suit abounded, with translucent lace replacing the traditional wool, and miniskirts worn in place of longer, knee-length skirts. As the music intensified to include a Philip Glass-esque piano accompaniment, however, the designs became increasingly electric, leading the audience beyond the natural wood accents of the room and into a fairy tale. 
Hooded coats screamed "Little Red Riding Hood," and knee socks met librarian-style glasses and metallic flats in both blue and red iterations of sack-back dresses — combining the mixture of traits that defined the French New Wave with those from previous periods. Flats and stockings were ubiquitous, as were hair ribbons and hairstyles famously worn by the likes of Brigitte Bardot and Audrey Hepburn. Following looks included a double-breasted blazer in muted paisley — with different styles of buttons in each row paired with shorts of the same material — which lent the outfit the air of a page boy in a 1700s opera.
"I feel transported back to being a Victorian child, kinda like Benjamin Button," model Victoria Campbell said. She added that de Souza's innovative designs bring to each show "the firm belief that you could wear a trash bag next season if you wanted to."
The blue paisley pattern reappeared soon after in the form of an oxford shirt — revamped with billowing bell sleeves and bright green flats. The model's expression remained serious, but the London schoolgirl ensemble she wore continued the trend of creating the uncanny.
Other variations of New Wave features included large rhinestones worn in a grid-like pattern on a model's face to echo her rich, ochre evening gown, as well as an Edwardian collar on a 1950s suit for a touch of whimsy, and, for the sake of playing with permutations, an ivory column wedding dress.
Perceived as a set, the designs gave the impression that the viewer was attending the Mad Hatter's tea party in mid-1900s Paris. De Souza's quirk brings back the past while still encouraging curiosity about the future.
"If people ask about [my pieces]," de Souza said during an interview with WSN, "then something's working."