Q&A: Aliyah Salmon on carving her own path in the art industry
The Brooklyn-based artist talked to WSN about her work, her experiences as a Black woman in the art world, and how she engages with the many facets of being a modern-day independent creative.
Textile artist Aliyah Salmon is an emerging voice in the New York City art and design scene, her work engaging with the intersection of Black femininity and the Afro-Caribbean diaspora in America. Through her designs — which primarily consist of Oxford punch needlework — Salmon makes audiences privy to her colorful inner world with displays of exuberant colors, shapes and patterns. 
Having collaborated with the likes of Target and Sweetgreen, Salmon has navigated the competitive art world and made her place as an independent creative, inspiring a new generation of young artists and entrepreneurs. Salmon sat down with WSN to discuss the intricacies of her craft and reflect on the passions and virtues she's gained as a creative and human. 
This interview has been edited for length and clarity. 
WSN: How did you get your start in the industry? 
Salmon: I've always been interested in fiber and craft. I started crocheting when I was maybe 8 or 9, and that kind of laid a foundation for a creative path. I went to art school without really having a major in mind. I ended up in fiber arts, and I kind of let a lot of things fall into place without necessarily having a plan. I think in the creative industry you really have to make your own path, and there are a lot of "nos" before there are "yeses." Breaking into the industry is just a culmination of doors opening and closing along the way until you just arrive at a point where you're opening the doors for other people. I've only ever wanted to be an artist, and I never had a backup plan, so it was this or nothing.
WSN: What were you like as a child? Do you think your childhood influences your work? 
Salmon: I'm still a child. I try to make a very conscious effort to stay very tapped into my inner child at all points. I'm making sense of childhood feelings of feeling inadequate while also having to endure some delusion — of being a young Black child and having the world not validate you. I think a lot of my work is working through that, especially when it comes to hair. 
As a child, my hair was a huge source of trauma because of the layers, because of the straightening and respectability in politics. Thinking about how to present as a respectable young Black child made me feel really constrained. I think a lot of my work and what I do now is for that child. I would argue that my entire practice is just like a big expanded solo plaything for me in color, you know? The child in me is a guiding force for where my practice goes because at the heart of it is that I want to satisfy my inner child. I want to play in color and brightness and deal with these complex feelings that come with it.
WSN: Has expressing yourself come naturally to you?
Salmon: I would say that's the only thing that's come naturally to me. From a young age, I was doing tap dance, jazz dance, ballet. I did acting for a while, I was a singer for a while, and then I moved over to orchestra. I've always had a lot of different outlets for self-expression that I tumbled in and out of growing up. I think visual arts is one thing that really stuck and really made a lot of sense. 
Self-expression is, I would argue, the only thing I have at the end of the day. I feel as though it's hard for a lot of Black women too — not that it's hard for Black women to express themselves, it's just that not a lot of people are listening, or haven't really been listening until recently. So I would argue self-expression is a never ending search for an outlet for that.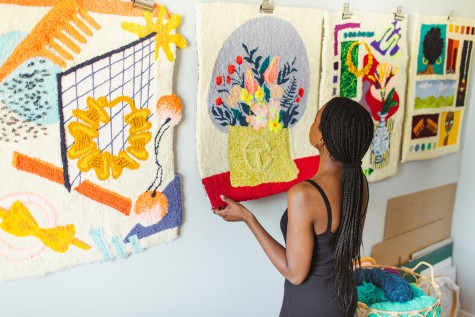 WSN: When did you realize that you could do art, and that there was space for you in the community of artists? 
Salmon: The summer of 2020 — especially after the George Floyd murder, the murder of Breonna Taylor and the Black Lives Matter movement had a resurgence. I think a lot of attention was put into investing in ideas and Black artists, and a lot of my success is kind of the byproduct of that. In some ways, I wish it did not take the murder of multiple Black people to really re-engage America with Black art, Black thinkers and Black thought. I had an open call with Baggu that I won in 2020 and I got to design a bag. That was my first big opportunity, but it was a direct byproduct of those events.
I think I realized that there is space for me, but I cannot let the rise of political and racial tensions that increased attention in my work take me. I have to really plant my flag — take this, run with it, and not just allow myself to be part of a wave to be forgotten. I've always known I could do it, I just didn't really know. Having people notice me and take interest in my work gave me a lot of the confidence to be like, 'I can do this and I can actually be the artist that I've always wanted to be.'
WSN: How did you get your start exhibiting your art in different exhibitions? 
Salmon: Instagram, quite literally, is what gave me a career. I think we forget the value of investing in an online audience, especially over a long period of time. I have been posting my samples and sketches for a very long time, and I'm really open about my journey to sharing where I am. Being excited online allows people to be excited about you to some extent. To this day, I still get opportunities from people discovering me on Instagram, to gallery curators. It is just one of those things where you never know who's watching.
WSN: I see you're on TikTok. How do you engage with the platform? 
Salmon: I was really on the fence about TikTok for a long time. I thought it was not for someone like me, but after being forced to transition to working in my studio at home all the time, I was just on my phone so much more in a different way. I really got to understand the platform a lot more. I feel as though it's important to contribute a positive voice more often than not, and to not sanitize my experience.
A lot of what I do is about discipline, hard work, and trying to appreciate the journey instead of a final outcome. I don't really see a lot of messaging on that, especially when we have really sanitized clips about people's process — you don't really see the nitty gritty that goes into it. I would want to see someone like me, and I think I'm always just approaching my videos from that perspective. 
WSN: Where do you see yourself moving forward with your artwork? What are your goals and what do you hope for in the future? 
Salmon: To have a really peaceful, creative, colorful life. Just zeroing in on my creative purpose. That's what I hope for in the future. Practically, I hope for financial breathing room. I'd really like to have that balance out in the future for me. Doing it on your own is really challenging. It's very rewarding as well, but it's one of those things where you really yearn for that. 
My concrete plans right now are going to Copenhagen and Thailand. I may be doing a residency in France with my alma mater for four months and then, after that, I'll be teaching a class on punch needling at UR Fancy Shop on Irving [in Bushwick, Brooklyn]. Right now, working on three large pieces to be installed in residence halls [at the Savannah College of Arts and Design]. Things are good right now.
Contact Sanam Estakhrian at [email protected].