Fans glow for Glossier's new SoHo storefront
Glossier cements itself as a fresh face in SoHo with the opening of its new flagship store.
Glossier, the "it girl" makeup brand, brightened up a rainy day with its bright, signature pink aesthetic when it opened the doors to its new SoHo store on Feb. 17. Though the brand opened its first flagship store in Williamsburg back in 2018, it had to close in 2020 due to the pandemic, leaving consumers even more excited for its 2023 comeback.
From as early as 1 a.m., a line was forming outside the store. Luckily, for those braving the rain, food trucks with warm gyros, coffee and umbrellas were parked beside the line. Starting at 9 a.m., Glossier employees, clad in pastel pink jumpsuits, bustled about the store in preparation for the grand opening.
At 10 a.m., customers were finally allowed into the store in small batches. The opening drew a diverse range of people — everyone from young children to adults marveled at the product displays.
The store had everything from classic beauty products, to home goods like candles, to embroidered Glossier hoodies. Five dollars of each hoodie purchased went to the Sadie Nash Leadership Project, a New York City nonprofit organization that aims to empower young women and gender-expansive youth of color through education.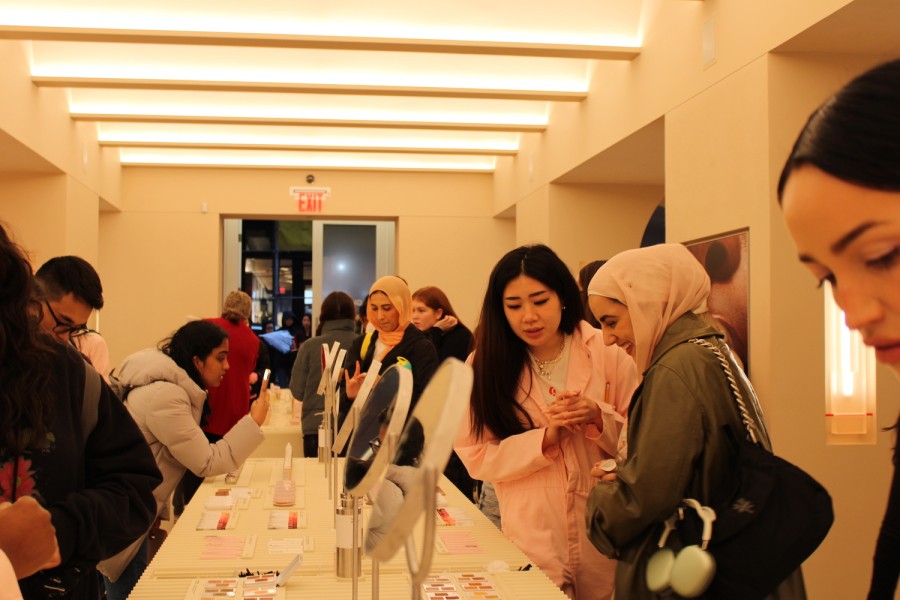 In typical Glossier fashion, most products didn't experiment too much with color. For those who are into the "no makeup" makeup look, Glossier is a great fit, but those who want to experiment more with color may find themselves hard-pressed for good finds. 
Many were testing out the slightly glossy Ultralip and matte Generation G lipsticks, which seemed to apply smoothly across the hand. The colors appeared more sheer than anything though, and are definitely not meant to be used for a full-coverage, glam makeup look. The lipsticks had minimal shade ranges, and there was also little difference between shades.
If you're looking for longer lashes, I'd suggest checking out a different brand. The Lash Slick mascara is $18, and I would stick to the drugstore brand mascaras — which are not just cheaper, but also similar in quality, if not better. The Lash Slick seems dry and likely to leave flakes under your eyes by the end of the day. Though the lipsticks and lashes fall short, you should still definitely check out Glossier's standout product, the Balm Dotcom.  
The Balm Dotcom, which was recently reformulated to be vegan, was one of the favorite products among those interviewed, and it feels like an elevated Vaseline lip balm. The Balm Dotcom is the grown-up version of your childhood favorite, Lip Smackers, with mango, coconut and lavender among the flavors.
While the products were nice, some of them were on the expensive side. With one candle going for $45, certain items can go a bit beyond the budget of college students.
The store didn't have a regular checkout process. Instead, customers ordered on kiosks, and their names were called out when their orders were ready, which left some a bit bemused by the process. 
"It was like you ordered on an iPad and then they called out your name like a Chick-fil-A," said Fashion Institute of Technology sophomore Jax Marie, who was buying a birthday-flavored Balm Dotcom lip balm for their birthday. "It was so weird! I'm like, 'Why can't I just get my chapstick?'"  
The products were complemented by the store's refreshingly colorful yet light interior design, hallmarked by muted pink walls and bright red accents. Curved ceilings and light fixtures set the ambience of the store, and bright red flamingo lilies freshened the space. Out of all the rooms, the white-tiled selfie room, which featured a floral mosaic reading, "You look good," the brand's tagline, was one of the biggest hits. The room was styled like a subway station, complete with a classic wooden subway bench.
If you're looking for a new pink shade of lip balm as spring approaches, or simply a cute place to take selfies to update your feed, the Glossier SoHo store is located on 72 Spring St.
Contact Montserrat Pagan at [email protected].