I Swapped Wardrobes With My Roommate for a Week
Ria vs. Pants: the ultimate showdown.
My roommate, Minori Parelkar, and I are polar opposites in many ways but especially in our personal styles. I dress super feminine and pretty "basic", while she is bold and always on trend. I love dresses, skirts and pretty much anything A-line, while Minori exclusively wears pants and cropped tops. She basically wears all the things I hate on my body, and vice versa. So, as a challenge, we decided to swap wardrobes for a week. 
When I say "we" though, I actually mean me, because Minori refused to wear my girly clothes and decided to just dress me for the week. Her style is so different from mine — not only the clothing itself, but the accessories, the makeup and just the way she carries herself too. I also knew she'd put me in pants and super bold outfits everyday, which would push me out of my comfort zone.
Monday was the first day of our challenge and Minori put me in her staple "comfy" outfit. I never leave the house in my "comfy" looks, so it was odd for me to go out in public in leggings, a very oversized sweater and no makeup. I wear eyeliner every single day and not doing so had me feeling very unlike myself. The weather was also really nice and sunny, warmer than usual, so wearing a thick baggy sweater was not the move at all.
People could tell how unusual the outfit was for me and sense how out of place I felt. My other roommate's friend, whom I've only met a couple of times in person, saw me on FaceTime and noted that this outfit was "an interesting choice" for me. Minori also had me wearing my glasses, platform white sneakers, earrings and a pinky ring. I got compliments on all four, which I usually never wear, but actually didn't end up hating. The pinky ring, in particular, has inspired me to accessorize more.
Tuesday was when Minori decided to put me face-to-face with both of my sartorial arch nemeses: pants and cropped tops. She put me in high-waisted black flowy pants, a striped cropped top, a fluffy teddy jacket and shiny wine-colored creepers. It was a trendy look that screamed fashion, but I was completely preoccupied with the fact that I was in a cropped top. I hate them with a passion and refuse to wear them unless my skirt is high-waisted and my midriff remains completely covered. 
The jacket was such a bold addition to the outfit that I was perpetually worried that everyone around me was judging me because they (and I) knew that I wasn't confident enough to pull it off. Confidence is half the battle, and Minori has that in droves. The outfit without the jacket had me a lot more comfortable and I could see myself potentially wearing it again.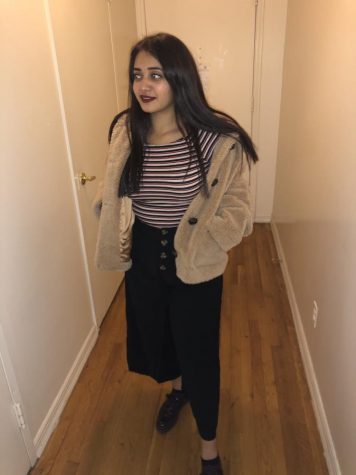 Wednesday was my least favorite outfit of the week, not because I didn't like it, just because it was so far outside of my comfort zone that I had no idea how to act. She put me in one of her signature cool-girl outfits — a striped, silky shirt and tear-away pants. You heard me right, the exact same kind worn by strippers and basketball players. She also had me wear a thick silver chain and hooped earrings. Now when Minori wears this she looks like a cool, edgy e-boy and pulls it off like nobody's business. When I wore it, however, I looked like a nervous single dad on a first date. It was so unlike me, but I forced myself to lean into it anyways. I put on my best RBF and just played "What Would Minori Do" all day. I will give her credit that this outfit forced me to get comfortable with being uncomfortable.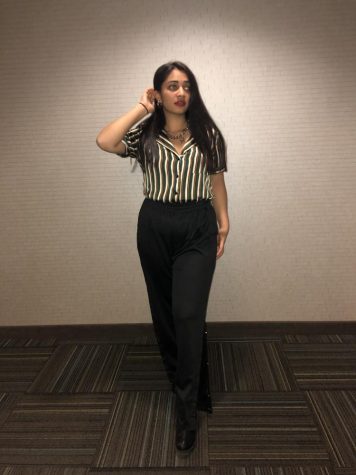 The last outfit of the week was definitely my favorite, as it was closest to something I would normally wear. It was more feminine and cute than the rest of the outfits — a pink, green, white and yellow striped turtleneck sweater with loose vintage jeans. She again put me in her platform white sneakers and gave me gold hooped earrings. It was an extremely comfortable outfit and felt really 80s and fun; I also got so many compliments on the jumper.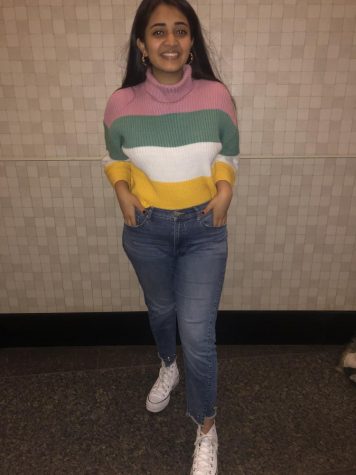 All in all, it was an interesting week that taught me more about Minori and myself. I definitely think I'm going to start accessorizing more and maybe even buy myself a pair of platform sneakers. I also learned that there's a chance pants aren't the enemy after all.
Email Ria Mittal at [email protected]