Meet the CAS Senior With a 1930s Wardrobe
Travel back in time with Jack Dylan Sorensen's collection of vintage menswear.
Walking around campus, you might catch a glimpse of him — wearing a pair of laced up Oxfords, high-waisted trousers, a long-collared button-down shirt, a Windsor knotted tie and a short knitted V-neck sweater vest. You question if you have been transported in time, and you stop for a second to remember what decade it is.
CAS senior Jack Dylan Sorensen is a connoisseur and an avid collector of vintage fashion from 1930 to 1949. Although he has collected some other vintage pieces, his primary focus is menswear from this era.
"I like a lot of features of this era's suits: the high waist, the loose trousers, padded shoulders and just the quality and construction," Sorensen said. "And, I think it's really cool to own something and be like, 'If I was born a hundred years ago, this is what I would be wearing.'"
He began collecting vintage clothes when he was 17 years old after one of his friends, who also collects vintage suits, introduced him to it.
"I just thought it was really cool, and then, it blossomed into me buying a lot of sh-t on eBay," he said.
Sorensen not only collects clothes from the 1930s and 1940s, but he often wears his vintage finds, showing them off in the streets of New York City.
"I alternate between my modern clothes, which are like T-shirts from when I was 14," he said. "Or sometimes, I'll wear vintage stuff every day of the week – it really just depends on whenever I'm in the mood."
According to Sorensen, some of the pieces he owns are too fragile to be regularly worn, so he saves those for special occasions. Though for the most part, he tries to wear his collection more often than not, especially his favorite pieces.
These include a pair of tweed trousers made in England in the late summer of 1940. A high-waisted pant typical for that era, it's Sorenson's most revered feature of the era's fashion.
Another piece that he is particularly fond of is a 1940s long-sleeve seersucker shirt. He said that it is nice to wear during the hot summer months because the material is so thin. The shirt is "almost see-through" as he described it.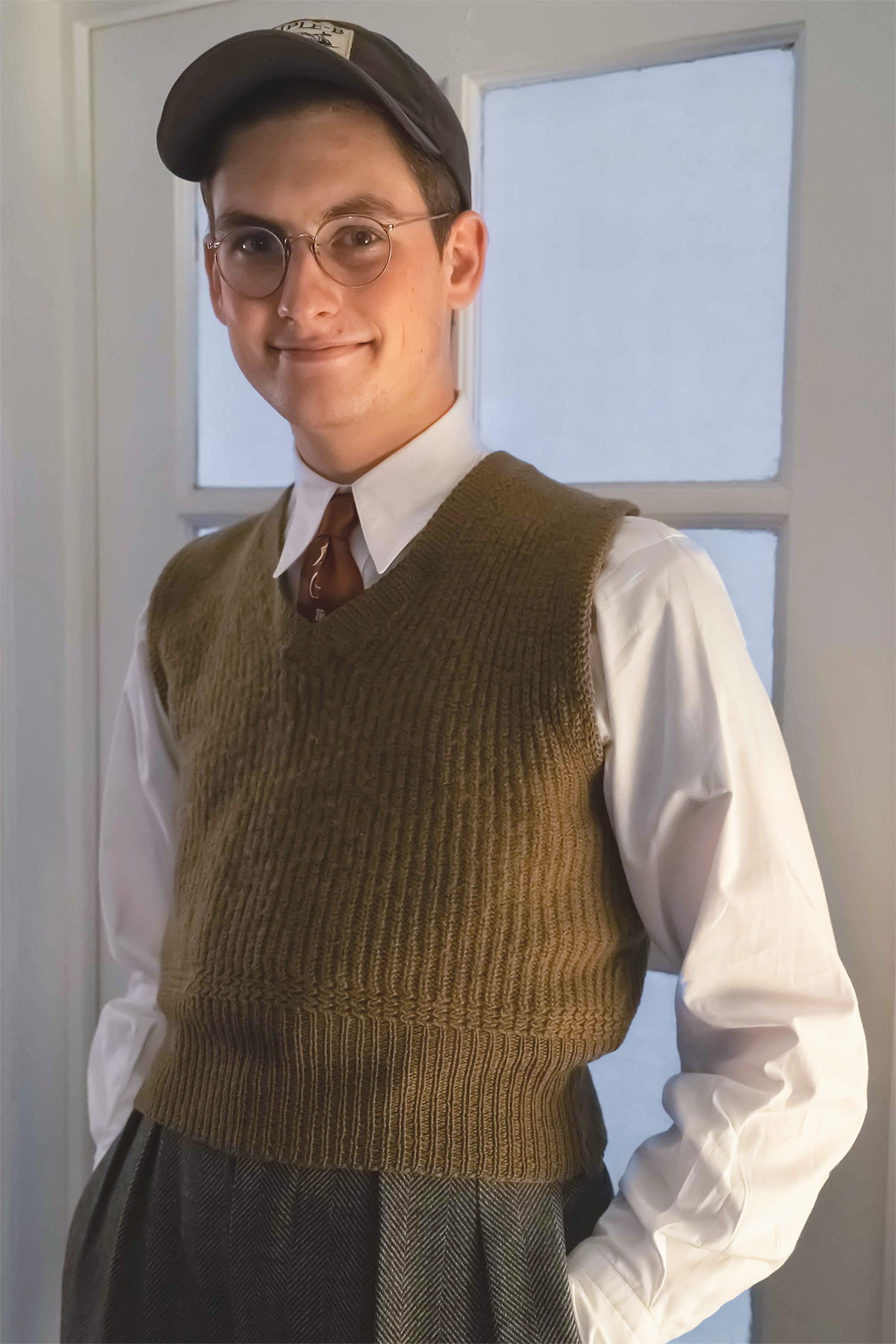 But above either of these, Sorensen is attached to one particular suit in his collection.
"If I had to give everything away but one thing, it would be a late 1942 to early 1943 wartime executive suit," he said. "It's one of the first things I got when I started collecting."
According to Sorensen, clothing manufacturers executed several fabric saving measures during this era for the war effort, which eliminated cuffs from suits. For that reason, the most cherished piece of his collection, his wartime executive suit, does not include cuffs.
Sorensen also expressed his admiration for the fabrics used in clothing from this era.
"My No. 1 [favorite fabric] is definitely tweed — I love really heavy tweeds," he said. "But, I also really like worsted wool and wool flannel."
Sorensen also noted the high quality of the fabric worn in the 1930s through 1940s. He noted — that's why he can wear a suit from 1942.
"Today, you tend to see a lot of fabric that is light-weight and not as durable," he said. "I don't think anyone's going to be wearing my Dickies pants a hundred years from now."
Sorensen said he hunts for pieces anywhere from thrift shops to online dealers. He is also a self-taught tailor and has made some of the pieces himself. Some of his friends, who collect vintage clothes, often swap pieces with him as well.
"Anywhere and everywhere you could feasibly find vintage clothes — I always check," he said. "You never know what you are going to find."
As for the future of his collection, Sorensen plans to keep collecting vintage pieces, especially pants. He confessed that shopping for pants is difficult with his "obnoxiously long" 36-inch inseam. 
"I mean, ideally, I'd love to have enough clothes where I could wear a different outfit every single day and never have to repeat," Sorensen said. "That would be really awesome."
A version of this article appeared in the Monday, September 16, 2019 print edition. Email Tatiana Velasco at [email protected]