Calm amid the chaos: 6 serene city parks to take your stress away
If you need to forget about your never-ending to-do list, here are six parks across the city to check out when you're in need of a quick refresh.
Studying in a busy city like New York can be overstimulating and exhausting, and with finals season upon us, stress runs aplenty. Whenever I find myself overwhelmed, I take refuge in one of the city's many parks, which have become nothing short of a safe haven for me. 
Though we live in the concrete jungle, there are many parks and greenspaces around the city — more than 1,700 of them, to be exact. The last few weeks of the semester can fly by, but it's important to slow down when possible. What better way to do so than to spend a few hours at a park? 
Bryant Park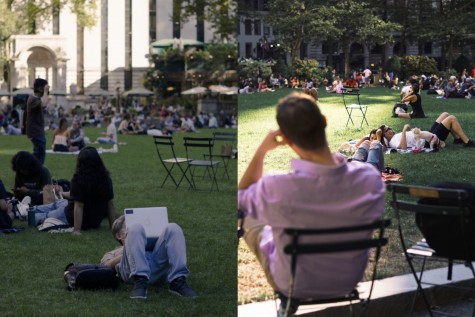 After a long day of classes, I take the subway from West Fourth Street up to 42nd Street, order take-out from one of the many restaurants that surround Bryant Park, and sit on the lawn or one of the tables around the expansive lawn.
Though it can lean a bit touristy, Bryant Park is one of my go-to parks. One of the more lively parks in the city, Bryant Park is the home to many iconic events throughout the year, such as its Winter Village during the holiday season and its upcoming live movie nights series in the summer. 
The park offers many free amenities for visitors, including ping pong tables, chess games and even free board games during the springtime. The main lawn, located at the center of the park, is also open year-round, and is the perfect place to relax and have a picnic. 
The Battery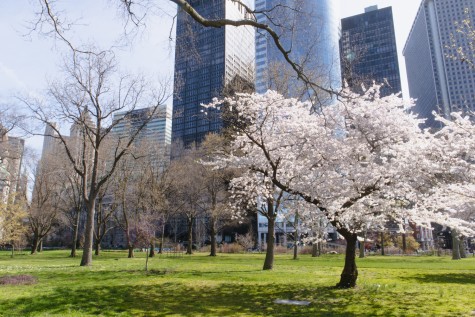 The Battery has the best views of the Financial District, One World Trade Center and the Statue of Liberty. If you've always wanted to watch a sunset by the harbor, this is the place to go. 
The Battery hosts four beautiful gardens that are open to the public, as well as various monuments and statues dispersed throughout the trails. My favorite is the Woodland Gardens, which I once accidentally stumbled upon while trying to make my way out of the park.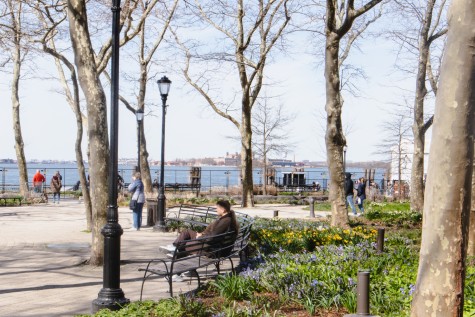 If you're not in the mood to take a walk and would rather bask in the sun, the Oval Lawn has 300 metal chairs and two acres of green space for parkgoers to enjoy. 
Brooklyn Bridge Park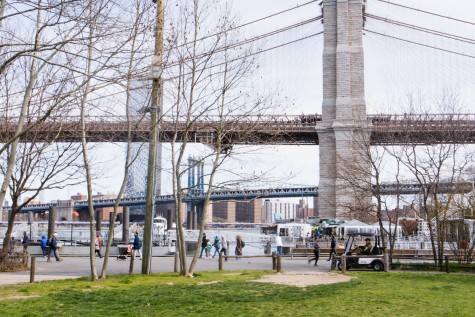 If I have hometown friends visiting, my favorite place to take them is Brooklyn Bridge Park in Dumbo. Not only is this park massive, with many opportunities for activities and sports, but it's also perfect for photoshoots.
My favorite area of the park is Pebble Beach, a rock-strewn area perfect for sunset views of Brooklyn Bridge and Lower Manhattan's skyline. I love sitting here and admiring the view of Manhattan from afar. Near Pebble Beach is the Main Street Lawn, which provides ample green space for picnics or relaxing.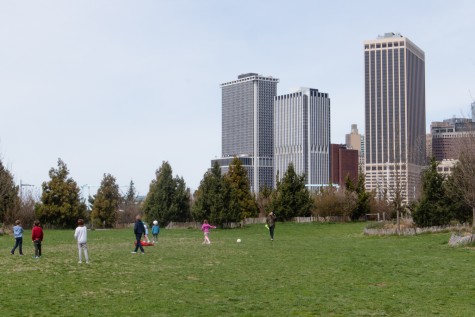 If you're interested in sports and fitness, Brooklyn Bridge Park has several athletic facilities for basketball, kayaking, pickleball, soccer, volleyball and much more.
Domino Park
On a warm and sunny day in early October, I decided to steal my roommate's picnic blanket and take the ferry from our Murray Hill apartment to Williamsburg. I ended up staying for about three hours, just sitting on a bench facing the Manhattan skyline. It felt as if the city was quiet. I felt an enormous amount of peace, which is sometimes hard for me to find in the city.
If you like to run or take strolls along the water, Domino Park is a great place to do so. It's also smaller than the other parks on this list, so it's an easy one to explore. There are many wooden benches and chairs that face the water and have a beautiful view of lower Manhattan.
Pelham Bay Park
Who says you can't hike in the city? From the Washington Square campus, it takes about an hour and a half to get to Pelham Bay, but with a plethora of amenities and places to explore, I promise it's worth it.
Pelham Bay Park is three times bigger than Central Park, one of the city's biggest public parks. Visitors can enjoy the many features that the park has to offer, such as the miles of trails, two golf courses, multiple athletic facilities and even a public beach. The park also has a diverse range of plant life and geographical features.
If you want to surround yourself with nature, Pelham Bay Park in the Bronx may be the perfect day trip to take by yourself or with your friends.
Astoria Park
Take the N or W train all the way uptown to the second to last stop, Astoria Boulevard, and spend a day at one of the most peaceful parks I have ever seen. Astoria Park is one of the few locations in the city that brings me genuine peace. 
Not only is there an abundance of green all over the park, but there's also a running track, a soccer field, a swimming pool, outdoor tennis courts, playgrounds and multiple walking trails that are open to the public. Plus there's a beautiful view of the Upper East Side's skyline. It may take 45 minutes to an hour to get there from campus, but trust me, it's well worth the trip. The Astoria neighborhood feels a little secluded, so if you want to get away from the chaos of Manhattan, a trip to Astoria Park may just be for you.
Contact Liz Lindain at [email protected].