Rachel Main
Telling Stories in Search of Universality
Writing is a cathartic experience. It's a time for the writer to face the blank page, nothing standing between them and what they want to say. It is also a meditative process that allows the writer to distance themselves from reality and enter into a state of creative solitude. I don't think there's any other art form that creates such a space.
For Rachel Main, a second-year MFA Dramatic Writing student at Tisch School of the Arts, writing has been a part of her life since childhood. Main showed an inclination toward storytelling, always engrossed in books and her own imagination. It was her mother who spurred her on and supported her creative drive.
"My Gran always told me that my mum and I were alike," she said. "When my mum was little, she would also spend hours and hours reading books and writing."
Main's mother became her inspiration and continues to be to this day. But at the age of 12, Main was hit with the brute force of reality: her mother was diagnosed with meningitis. While many children her age had yet to hit puberty, Main was thrown onto an expedited track to maturity. Yet, looking back on this difficult time, she regards it not as a burden but rather as an opportunity to see the world through a different lens.
"Since I was 12, I was her caregiver," she said. "That was a very interesting perspective. As a writer, that's something that I integrate into a lot of my work, and I'm very passionate about working-class areas being well represented."
Main came to NYU to study Dramatic Writing from a small town in Scotland called Glenrothes, just 30 miles north of Edinburgh. Her 3,000-mile-long journey to the States began on a whim. In her undergraduate studies at the University of Dundee, Main received a degree in English and Film Studies, where she thrived and explored the depths and intricacies that writing had to offer. Main wrote and produced her first play called "Garden Girl." With a £100 budget and a cast composed of her friends, she took the play to Edinburgh Festival Fringe. It received a modest three-star review, but the entire process was exhilarating for Main and resulted in a revelation.
"At no point before that did I ever think I could be successful in this industry," she said. "That never occurred to me."
Despite displaying a clear passion for the arts and writing, she was uncertain of what to do next — until one trip across the Atlantic changed that.
"My mom and I came to New York and we passed NYU Tisch, and I made it my desktop wallpaper. This is a goal," she said. "I'll apply to one writing school. If it happens, it happens; if it doesn't, it doesn't."
It happened. Now, Main is flourishing and taking advantage of any opportunity that is hurled her way. Just a few months ago, Main was announced as one of 20 students to receive a British Academy of Film and Television Arts scholarship. Aimed at British students studying in the United States, the scholarship offers financial support and mentorship for the brightest and most talented aspiring filmmakers. Main is thankful that the program is not just a monetary scholarship but a chance to connect with industry leaders that will support her in her career.
As a writer, one has the ability to communicate carefully and tell the stories people want to hear. It is a gift that is easily squandered by those who don't realize the cultural and social impact of narrative creation. Coming from a working-class background, Main understands and strives for representation on screen and on stage and seeks to tell stories that aren't always told.
"In British cinema, it's shocking how little diversity there is and the demonization of the working-class youth — the other," she said. "As someone who lived [in the United Kingdom], I often could not see myself represented on screen. It's important to me to hold on to the voice I have and not forget my roots are in the U.K."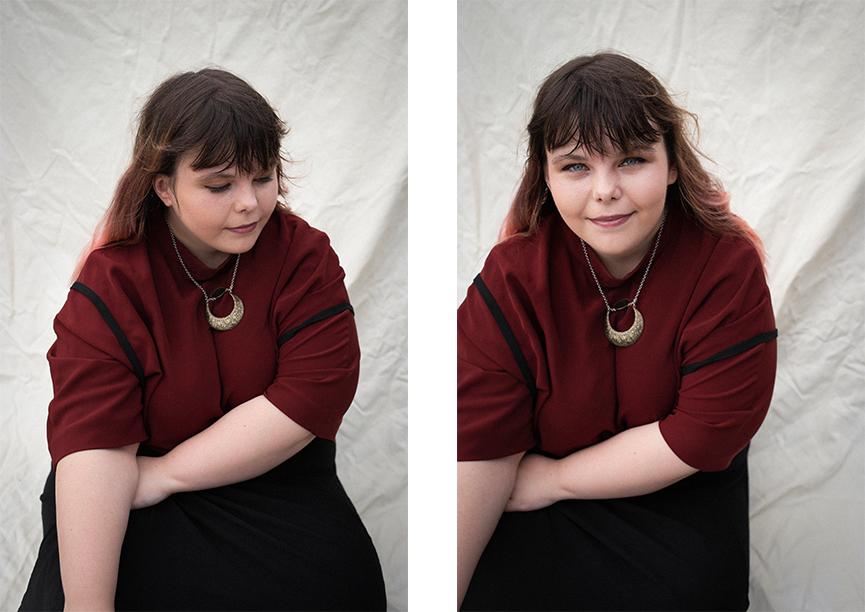 For Main, the opportunity to study Dramatic Writing in New York City was a surreal one. It instilled in her a deeper sense of gratitude and, perhaps most importantly, an aspiration to help others like her realize their potentials and chase down their dreams.
"In 10 to 15 years I'd love to be a mentor to someone like me, a younger kid, using what I learned, my experiences, some of my money, to make someone else's dreams come true and represent another generation," she said.
Main's writing is rooted in emotional exploration — in the dissecting and examining of character traits. Her writing draws on experiences from her own life and how those experiences have shaped her thoughts and being.
"The stories I want to tell all come back to similar truths: mothers and daughters with unresolved issues, people who are in environments they don't necessarily feel they belong in but want to prove themselves or prove to others that they belong there," she said.
Main believes that a story well-told can resonate with anyone. Even a writer's personal account of their life can find itself in the heart and mind of a reader across the globe, from a different background and with a distinct way of thinking. What's most important is for there to be some feeling to latch on to that serves as the simple connection among heterogeneous beings.
"I want to tell stories that people haven't seen and might be very specific," she said. "In specificity, there's something that's very universal."
Over the years, Main has grappled with telling others about her past, but has come to the realization that it is, in fact, her past which has shaped her into the writer she is today. For Main, writing has become an outlet for creative expression and personal reflection. It all circles back to her childhood and coping with her mother's illness.
"I was very lonely and felt like I had lost connection to all of this support I had grown up with," she said. "The only thing that remained the same was that I still had my favorite books and my own imagination — I used my voice in writing instead. At this stage in my life, writing became less of a hobby and more of a necessity."
Main is someone who seizes the chance to share her unique background with others. By bringing awareness to issues of class and upbringing through her screen- and playwriting, Main strives for the artistic representation of those typically ostracized. She hopes that their journeys and obstacles may be understood by those more fortunate because their stories deserve to be told just as much as anyone else's.
At the heart of Main's writing is family. Her connection with her mother runs deep through her veins because it was her mother that infused this passion for sharing challenging stories that need to be told.
"My mum is my real inspiration as no matter what I write, everything seems to return to her," she said. "She is the strongest person I know — her life was suddenly, horrifically transformed, but she fought every part of it, recovered and continues to support everything I want to do."
People want to hear stories, watch theater and see films that are honest. Everyone has moments during their lifetime when hopelessness prevails over hope, and the hole of despair grows deeper and deeper. Main has realized that writing operates as a channel to purge those emotions and to lift an oppressive weight off your shoulders, despite how taxing it may be.
"It can be a draining process," she said. "But I think it has helped me to come to terms with what I have dealt with, and I'm always surprised by how many people with different experiences have told me that they connect to what I write."
What Main has proven is that no matter how singular the act of writing is, the result can be universal.
A version of this article appeared in the Thursday, Oct. 11 Arts Issue on pages 4-5. Read more from the Arts Issue here. Email Daniella Nichinson at [email protected].