All'Antico Vinaio: A taste of Florence in NYC
All'Antico Vinaio is known for paninis made with authentic ingredients straight from Italy. Check out the famous Florentine sandwich shop in Greenwich Village and Midtown.
When my semester abroad at NYU Florence comes to an end, there are many things I'm going to miss about living in this beautiful place — the art on every corner, the lush green hills framing the city — but more than anything, I'll miss the food. Luckily, when I am back in New York City, I won't have to go far to visit my favorite Florentine lunch spot: All'Antico Vinaio.
All'Antico Vinaio was established in 1991 on Via dei Neri in Florence, around the corner from the famous Uffizi Gallery and the Palazzo Vecchio. The Mazzanti family initially opened the store by serving paninis and wine out of a historic wine cellar. In 2014, their son, Tommaso "Tommy" Mazzanti, joined and, between 2017 and 2021, he transformed his family's business into a popular street food spot which expanded far beyond Florence. Today the shop has permanent locations in Milan, Rome, Turin, Los Angeles and New York City.
I first heard of All'Antico Vinaio after the buzzing sandwich shop opened its second New York City location in fall of last year. At 225 Sullivan St., it is just a block away from the Kimmel Center for University Life. When I visited for the first time, the panini lived up to the hype. Knowing I would be in Florence the following semester, I was excited to learn that I could get my favorite panini even while studying abroad. 
Lines typically wrap around the block at both of All'Antico's locations in Florence's city center. Aromas of fresh ingredients greet hungry customers as they step into the panini shop. The counter's glass case is filled with produce, a variety of cheeses and an endless selection of cold cuts, including traditional Tuscan prosciutto crudo. Each sandwich is made with a freshly baked bread called schiacciata, a local version of focaccia.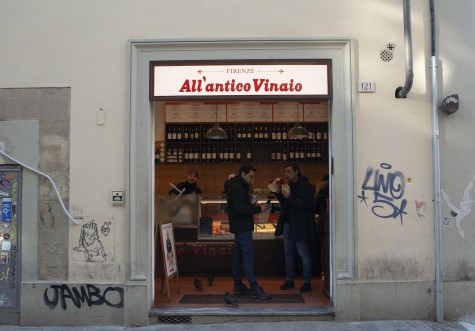 The shop's menu also has endless sandwich combinations for every diet. For a vegetarian option, I recommend the Vegetariana 2 — fresh schiacciata with stracciatella cheese, cream of pistachio, sun-dried tomatoes and basil. However, my personal favorite is La Summer: schiacciata bread with fresh prosciutto, tomato, mozzarella, basil and a balsamic drizzle. You can taste each ingredient in every bite. With authentic Tuscan ingredients, from truffles to pecorino, you cannot go wrong with anything on All'Antico Vinaio's made-to-order menu. 
The expert sandwich makers create a fun and welcoming atmosphere as soon as customers enter. From my experience as a frequent customer at All'Antico Vinaio, which has a location right by my dorm in Florence, I am always impressed when the cashier recognizes me and remembers my order. Each panini is made with a smile and wrapped in All'Antico's red-and-white parchment paper. One can easily spot the shop's signature wrapping when customers take their sandwiches to-go and wander through the streets of Florence. 
The All'Antico Vinaio sandwich has become part of my routine here in Florence. On days I don't have classes, I always find myself wandering there and eating my panini on the piazza steps before heading to the Biblioteca delle Oblate down the street to fulfill the "study" part of study abroad. And thankfully, when I am back in New York next semester, not much will change. 
If you're looking to get a taste of Florentine culture ahead of studying abroad or just want a really tasty sandwich, be sure to check out the New York City locations. Not only is it the perfect lunch spot, but NYU students get a 10% discount. You may not have views of the Duomo, but you'll be able to travel to Florence in one bite.
Contact Roksaneh Salartash at [email protected]