People with disabilities that inhibit oral health treatment now have access to a new center — opened by the NYU College of Dentistry — that is uniquely tailored to their needs.
The Oral Health Center for People with Disabilities aims to create a safe, welcoming environment to treat some of the nearly one million disabled people in New York City. The facility includes an accessible circular front desk, wide corridors for easy access and large bariatric treatment chairs that can accommodate wheelchairs. One of the most innovative technologies used in the center can be found in the multisensory room designed to help anxious patients relax.
Dean of the NYU College of Dentistry Charles N. Bertolami said the dental school has been interested for years in finding a way to provide additional assistance to those with disabilities. Targets for treatment include patients in wheelchairs who cannot get into a dental chair, autistic patients who need special accommodations for scheduling an appointment and those who are negatively affected by noisy and crowded waiting rooms.
"We wanted to design a facility that took all of these things into consideration to expand the quality of service we could offer," Bertolami said.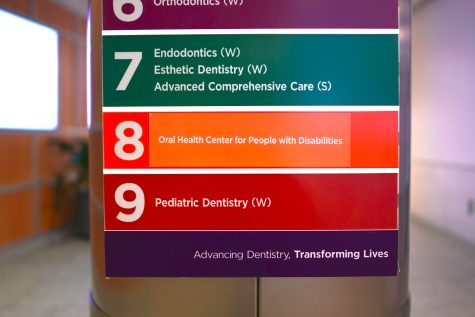 This new center marks a big step forward in the treatment of disabled people whose oral health often is neglected as a result of inadequate accommodations and a shortage of equipped medical workers.
Marco Damiani is the CEO of the AHRC in New York City, the state's largest developmental disability advocacy organization. The AHRC was a guiding partner in opening the center and Damiani said it was a necessary improvement to current services.
"There is a significant lack of access to oral health treatment for people with disabilities," Damiani said. "There's been a history of people with disabilities having their entire mouths of teeth pulled because they can't communicate clearly."
The multisensory room is designed to help anxious patients relax. A projector illuminates the room with lights that change color to hyper-stimulate or hypo-stimulate patients based on their needs. Clinical Director of the Oral Health Center for People with Disabilities Ronald Kosinski said that the room improves the experience for those who may otherwise be uncomfortable in a dental chair.
"We bring patients into [the multisensory room] who may be very hypersensitive, who can't sit in a dental chair, who never have been to a dental chair and don't like the dental experience and need decompression,"  Kosinski said.
The dental school collaborated with students from Tandon School of Engineering and Tisch School of the Arts in developing the new facility, something that Kosinski said was one of the most important elements of the process. Tandon students helped with the development of a new virtual reality app that patients can use to take a tour of the center.
"The Tandon students have really been amazing," Kosinski said. "They're hitting the ground running. Being able to utilize [another] school at NYU and work with them collaboratively is such a pleasure, and it's working so well because the level of excitement is leveled by the students."
While the center is now open, the official ribbon-cutting ceremony will take place on April 18. Executive Vice Dean for Finance and Administration at the College of Dentistry Michael O'Connor further emphasized the need for the center and said he hopes that it is widely used.
"This is very much an underserved population, and dentists are not comfortable with dealing with this population," O'Connor said. "[People with disabilities] get poor — if nonexistent — dental care and we are going to welcome as many of them as want to come and make this their home."
Correction, Feb. 26: A previous version of this article referred to the AHRC by its previous title, the "Association for the Help of Retarded Children." The group now only goes by the acronym "AHRC." The article has been updated to reflect the change.
Email Lachlan Hyatt at [email protected].