Late Night Pancakes Are Clinton St. Baking Co.'s Forte
Forget about brunch … what's for brinner?
It was 7 p.m. and the yellow ceiling lights from inside the Clinton St. Baking Co. were dimmed. From the moment I laid eyes on the quaint corner restaurant at the intersection of Clinton Street and East Houston Street, its striking crimson exterior drew me in. I could hear the low hum of conversation coming from chatty customers as I approached the entrance. A warm glow emanated from the other side of the glass shielding them from the frigid January wind. I stepped inside and the chill that lined my skin immediately melted. I had arrived, cold, hungry and ready to eat brinner.
Brinner, as defined by the dependable Urban Dictionary, is a noun used to describe "breakfast eaten at the time in which you eat dinner." This definition implies that there is a time when you are supposed to eat breakfast and dinner. We have imposed constrictive rules upon ourselves and confined our eating habits to these suppositions. But at the Clinton St. Baking Co., these rules have been ignored.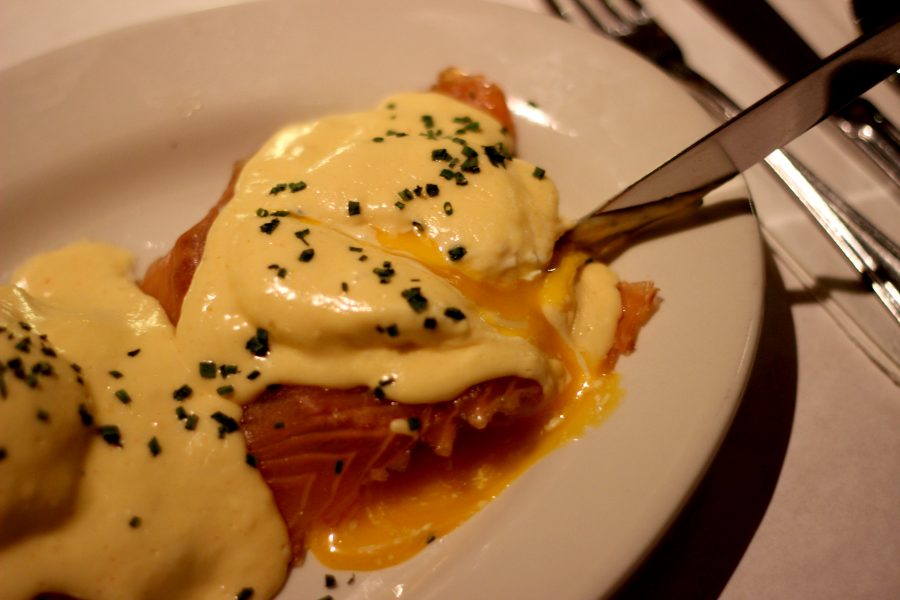 DeDe Lahman opened the restaurant in 2001 with her partner Neil Kleinberg, who has been working as a chef for 40 years in New York City. They serve breakfast throughout the day, which wasn't their original intention.
"We never set out to be a restaurant famous for pancakes or breakfast or brunch," Lahman said. "We set out to just be a wholesale bakery and cafe…but what people were really responding to was our brunch, our egg dishes our pancakes or french toast."
Due to the high demand, she and her partner decided to serve their breakfast all day.
"If they want it, we'll give it to them," Lahman said.
The restaurant radiated a classic yet unconventional atmosphere, from the cushy booths to the electric candles on every table and the bright red metal chairs which were the same shade as the restaurant's exterior. I sat down and ordered the french toast, latke eggs Benedict and their famous blueberry pancakes, acclaimed by the New York Magazine as the best in the city.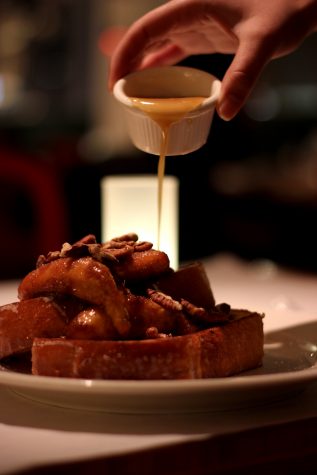 The pancakes arrived first, three steaming, golden brown discs stacked on top of one another, accented by glistening blueberries and dusted with powdered sugar. The tartness of the blueberries blended well with the sweet and airy pancake. Drizzled with warm maple butter, they dissolved in my mouth with the first bite.
Though the french toast was not as outstanding as the pancakes, it was still enjoyable. I personally prefer challah french toast, as the brioche tends to absorb less liquid resulting in a dryer texture, but the dish was saved by the caramelized bananas, roasted pecans and, again, the maple butter.
Lastly, I tasted the eggs Benedict, carefully crafted with poached eggs, smoked salmon, creamy hollandaise and served over crispy potato pancakes. The combination was a savory break from the previous two dishes and one with dense flavors that could have easily been overwhelming but they managed to create a balance that left my palate uncluttered.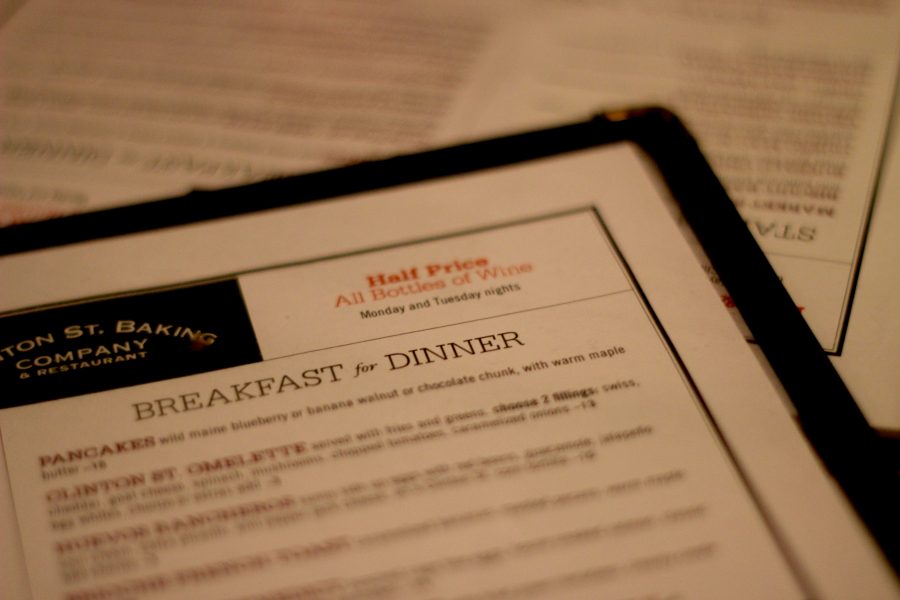 By the time I finished my meal, it was 8 p.m. I left with a warm feeling in my stomach and a yearning for more pancakes.
Clinton St. Baking Co. made my first brinner experience cozy, delicious and unique. There is something singularly pleasant and about eating breakfast for dinner, a sort of innocuous daringness, like I was breaking some unspoken rule by eating pancakes by candlelight rather than daylight. However, my experience having brinner at the Clinton St. Baking Co. proves that sometimes, rules are meant to be broken.
A version of this article appears in the Monday, Jan. 28, 2019, print edition. Email Arin Garland at [email protected].