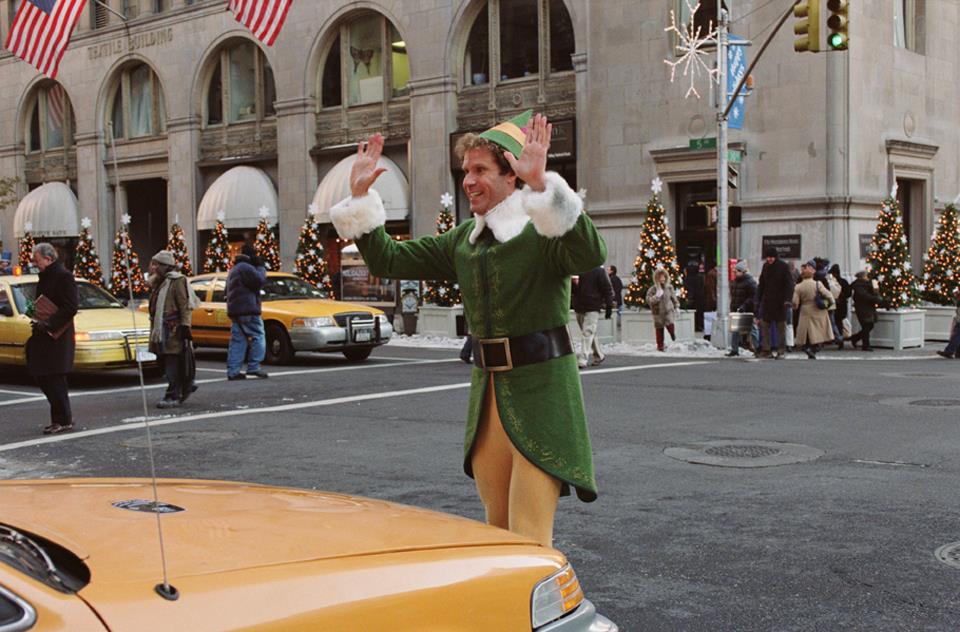 As November comes to an end and we recover from the pounds of turkey, stuffing and cranberry sauce consumed at Thanksgiving, the holiday season begins to close in. Whether or not you call yourself a cinephile, everyone has a favorite film to watch as the temperature drops and the city erupts with holiday cheer. Sometimes it's a film that reminds you of your youth, like "How the Grinch Stole Christmas," or it's an unconventional Christmas classic like "Lethal Weapon." This festive season, add some of these recommendations to your watchlist, courtesy of the WSN Staff.
"Elf"
Ali Zimmerman, Deputy Arts Editor
For me, Christmas Eve isn't complete without eating Chinese food and watching my all-time holiday favorite, "Elf." Starring slapstick extraordinaire Will Ferrell, the story of Buddy the elf's journey to New York City hits close to home. The movie stirs up nostalgia of my family's annual visits to the city almost every December — jumping on the train from New Jersey to admire the Fifth Avenue store window displays and wander through the Rockefeller winter wonderland. In the spirit of a true feel-good holiday film, "Elf" has a happy ending, but the plot provides enough twists and tension that it never gets old. But while "Elf" may have it all when it comes to Christmas classics, I'm still waiting for someone to make a good Hanukkah movie. Or any Hanukkah movie.
"Eyes Wide Shut"
Daniella Nichinson, Arts Editor
What better way to get into the holiday spirit than infidelity, an eerie sex cult and psychological torment? Stanley Kubrick was a master filmmaker whose work is striking and provocative — "Eyes Wide Shut," his final opus, is no exception. The film's Christmas setting is an excuse I use to explain why, of all the cheery holiday films like "Love Actually" and "National Lampoon's Christmas Vacation," I choose to sit through a nearly three-hour escapade into a morally-torn psyche. "Eyes Wide Shut" centers around two doctors, husband and wife Bill and Alice Harford — a then-married Tom Cruise and Nicole Kidman. When Alice shares a sexual fantasy about a man she met on their honeymoon, Bill begins to obsess over the thought of his wife sleeping with someone else. His quest for his own extramarital sexual experience eventually leads him to a mysterious, masked cult and spirals him into the sinister depths of society. Beneath its surface-level intrigue, the film is made even more complex by the abundance of hidden messages which you uncover with each viewing. What I find captivating about "Eyes Wide Shut," like Kubrick's other films, is that I can never fully wrap my head around it. There's a shroud of mystery about the film that always leaves something unexplained, which makes it even more compelling. Like any philosophical musing, there are no answers. Though "Eyes Wide Shut" is rooted in sex and infidelity, there's a surprising lack of both. Dr. Harford never actually has sex, which intensifies the titillating nature of the narrative and generates even more anxiety for the audience. The film is genius in its portrayal of the mental anguish surrounding jealousy and the disturbing impacts of adultery. Dissertations could be, and probably have been, written about "Eyes Wide Shut," so I will leave it at this: it's not your archetypal holiday film, but there is an enchanting quality to it that somewhat suits the warmth of the fireplace and the smell of a fir tree.
"The Santa Clause"
Nicole Rosenthal, Music Editor
In what initiated many other cult Christmas films, "The Santa Clause" is a special kind of holiday picture that audiences of all ages can enjoy. While younger generations may flock to Rudolph or Frosty — as their parents are more inclined to "Die Hard" — Tim Allen's laugh-out-loud comedy is perfect for every age group (if you thought this film is just for kids, keep in mind that the protagonist kills Santa within the first 15 minutes). Weaving the tale of a Grinch-esque man that physically turns into Santa Claus and must learn to be his replacement, the 1994 film is cynical, a little off-beat and a lot of fun to watch. Start your holiday season off right with "The Santa Clause." No need to fight over the remote.
"Grandma Got Run Over by a Reindeer"
Guru Ramanathan, Film & TV Editor
This 2000 TV special is an animated holiday classic, that has enjoyed years of praise and yuletide joy from audiences young and old. Inspired by the Elmo and Patsy Trigg song of the same name, "Grandma Got Run Over by a Reindeer" follows the Christmas-obsessed Jake Spankenheimer as he searches for his missing grandmother after witnessing Santa Claus and his reindeer running her over. Grandma Spankenheimer's general store is also in trouble of being sold to CEO Austin Bucks by Jake's scheming cousin, Mel. "Grandma Got Run Over by a Reindeer" isn't even my favorite holiday film but it's one that I have seen countless times because it aired every year on Cartoon Network without fault and I know every scene by heart. The film ambitiously combines multiple genres to create a rich Christmas underdog story that emphasizes the true spirit of Christmas. It seamlessly transitions between genres from act to act, evolving from a twisted family drama wherein Mel tries to manipulate the general store out of Grandma Spankenheimer's hands into an intricate mystery that Jake embarks upon to find his grandma. The movie executes all of these storylines with a euphoric over-the-top-edness and is tongue-in-cheek in so many brilliant ways.
"Die Hard"
Guru Ramanathan, Film & TV Editor
I'll get the obvious out of the way: John McTiernan's 1988 action classic "Die Hard" is a Christmas film. At the heart of its pulse-pounding sequences is a story of a man down on his luck trying to save his estranged wife (and other hostages) while trapped in a skyscraper on Christmas Eve, thus proving himself as both a police officer and husband. The film is as much about family and self-respect as it is about the action. Though the plot is not strictly about Christmas, by defeating these terrorists, John McClane (Bruce Willis) is certainly saving it! Willis is amazing in his breakout role as McClane, a gruff New York City cop who just can't seem to catch a break. He remains one of the all-time greatest action heroes, not only because of how badass he is but because McTiernan understood how to bring out the human qualities of McClane. Other action films of the era, particularly the Sylvester Stallone and Arnold Schwarzenegger led ones, glorified their heroes, turning the protagonists into demigods whose strength and wit were unmatched. But the first "Die Hard" makes its protagonist relatable and flawed, forcing him to overcome countless obstacles set by a villain as smart and intimidating as he is. Hans Gruber (Alan Rickman) is a fearsome, loathing terrorist who stands with McClane in the echelon of all-time great movie characters. Gruber is cunning, calculated and a far cry from the over-exaggerated brooding forces that dominated '80s and '90s action movies. The film is an intersection of an intense screenplay, great director and charismatic performances. All of these features elevate this action and holiday film into one of the greatest of all time in both genres.
"The Nightmare Before Christmas"
Alex Cullina, Books & Theater Editor
This 1993 stop-motion classic, directed by Henry Selick, is at first glance the quintessential Halloween movie. It follows the travails of Jack Skellington, the King of Halloweentown, home to ghouls, goblins, witches and every other Halloween creature you could imagine. The dreary, spooky aesthetic and the grotesque character design are classic Tim Burton — he conceived and produced the film — and Danny Elfman's sweeping romantic score and delightfully wicked songs are the perfect accompaniment to the late-October chill. But the film takes a turn when Jack stumbles upon a portal to Christmas Town and discovers the magic of the winter holiday. In attempts of introducing his fellow Halloween folk to the joys of gift giving and tree decorating, Jack forces them to change the way they think, transforming Halloween Town in the process. In addition to everything that makes it a perfect Halloween movie, with its emotional openness and heartwarming message, "The Nightmare Before Christmas" is the perfect Christmas movie, too.
Email the Arts Desk at [email protected].