What It Takes to Become an Admissions Ambassador
The Admissions Ambassador application is notorious for being lengthy and competitive — so is it even worth applying?
You see one at least every other day, clad in a violet jacket, marching around Washington Square Park with a flock of wide-eyed students and parents following closely behind — they are the NYU admissions ambassadors. 
Admission ambassadors welcome prospective parents and students to the campus. For many students, this job is a dream come true. Whether it's the bright purple jacket, the prospect of an entertaining on-campus job or the simple fact that you can unabashedly express your admiration for NYU, students swarm to fill out the admission ambassadors application. However, the it's not an easy one. 
The new batch of ambassadors will receive notice that they've been accepted into the program on Nov. 16. These accepted students will have gone through two application phases. The first included the submission of basic information, a resume, two short answers and a YouTube video answering two more questions within two minutes. If they were selected based on their applications, they moved onto the second phase — group interviews — with the Admissions Ambassadors Academy, coined by students as the Triple A.
"The application is extensive because it needs to be," said CAS alumna Jessica Joanne Smith, who worked as an ambassador for the majority of her time at NYU. "The ambassador position receives so many applications that often the acceptance rate for a new class of admissions ambassadors is around 10 percent, so the process of applying is made to weed out those who aren't willing to put in the work for the job." 
Smith cites the video component as one of the most important aspects of the application as it shows the applicant's personality, energy and public speaking abilities. These are important attributes because ambassadors need to be able to sell NYU to prospective students and their families. Though this component may seem intimidating to some, students like CAS junior Liam North, are actually drawn to the idea of creating a YouTube video. 
"I thought that was kind of fun," CAS junior North, a current ambassador, said. "It reminded me of when I tried to do YouTube in the seventh grade and I epically failed." 
While not everyone is a natural vlogger, North said it really comes down to understanding the ability of the candidate's public speaking skills. 
"I guess it was just to get a feel if you like public speaking or not," he said. "I do, and it's something I have a lot of experience in. It's just a personal preference."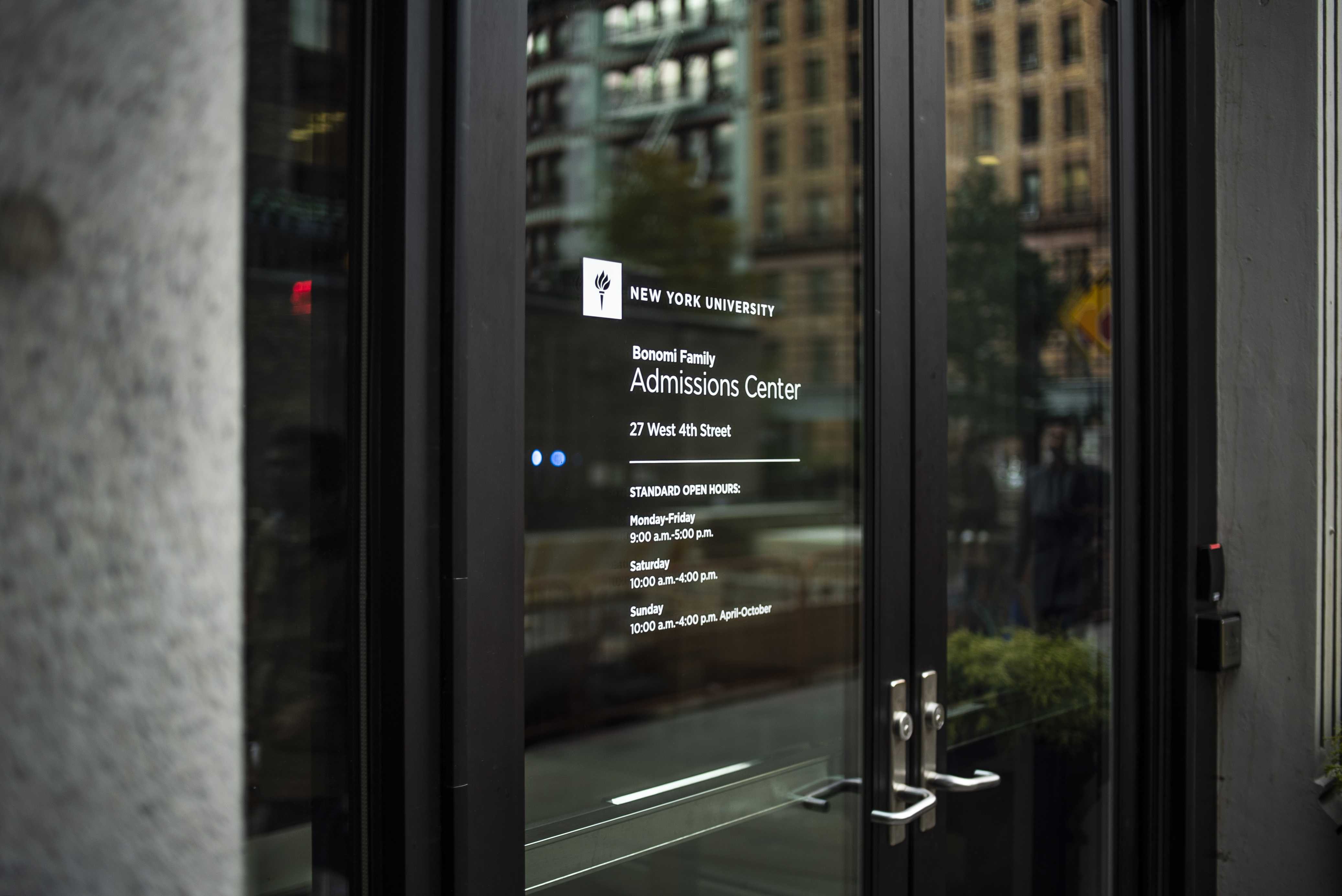 LS first-year Sarah Elizabeth Gajasinghe is currently in the interview stage of the application. Gajasinghe has always been impressed by admissions ambassadors. 
"It's as if they have this NYU encyclopedia in their heads," Gajasinghe said. "It's crazy."
In addition to leading engaging tours of NYU and working at the Welcome Center as representatives, ambassadors also work in the Office of Undergraduate Admissions at the Student Link Center and have the opportunity to work closely with the admissions counselors, visitor relations team and the dean of admissions. 
While the application may seem daunting, those that have been through the arduous process offer this key to success — be yourself. While this may be a frustratingly simple piece of advice, North explained that it's fairly easy to tell when someone is pretending to be someone they're not. 
"We're not looking for like 200 perky-eyed stereotypes — we want to represent NYU as a whole," North said. 
Even though the process is lengthy, Gajasinghe said that it's worth giving the application a shot if you're interested in applying in the future. 
"Although I had to pull together my resume and awards and look back at my Common App [to answer application questions], which brought up bad memories, it was definitely worth it," Gajasinghe said.
Even if you receive a rejection letter, it isn't the end. Smith emphasized the importance of being persistent and considering other options of engagement.
"My advice is even if you apply and you reapply, whatever it is, definitely do it if you're committed about NYU," Smith said and also pointed out that it's a great job to have. "There's also a lot of other ways to get involved at NYU if you're not an ambassador. You can apply to be an RA, which a lot of ambassadors are, and you can also get involved in CAB, which is class activities board. You can take part in the 600 clubs and organizations here."
A version of this article appeared in the Monday, Nov. 12 print edition. Email Anna de la Rosa at [email protected].