Thousands Nationwide Protest Country's New Attorney General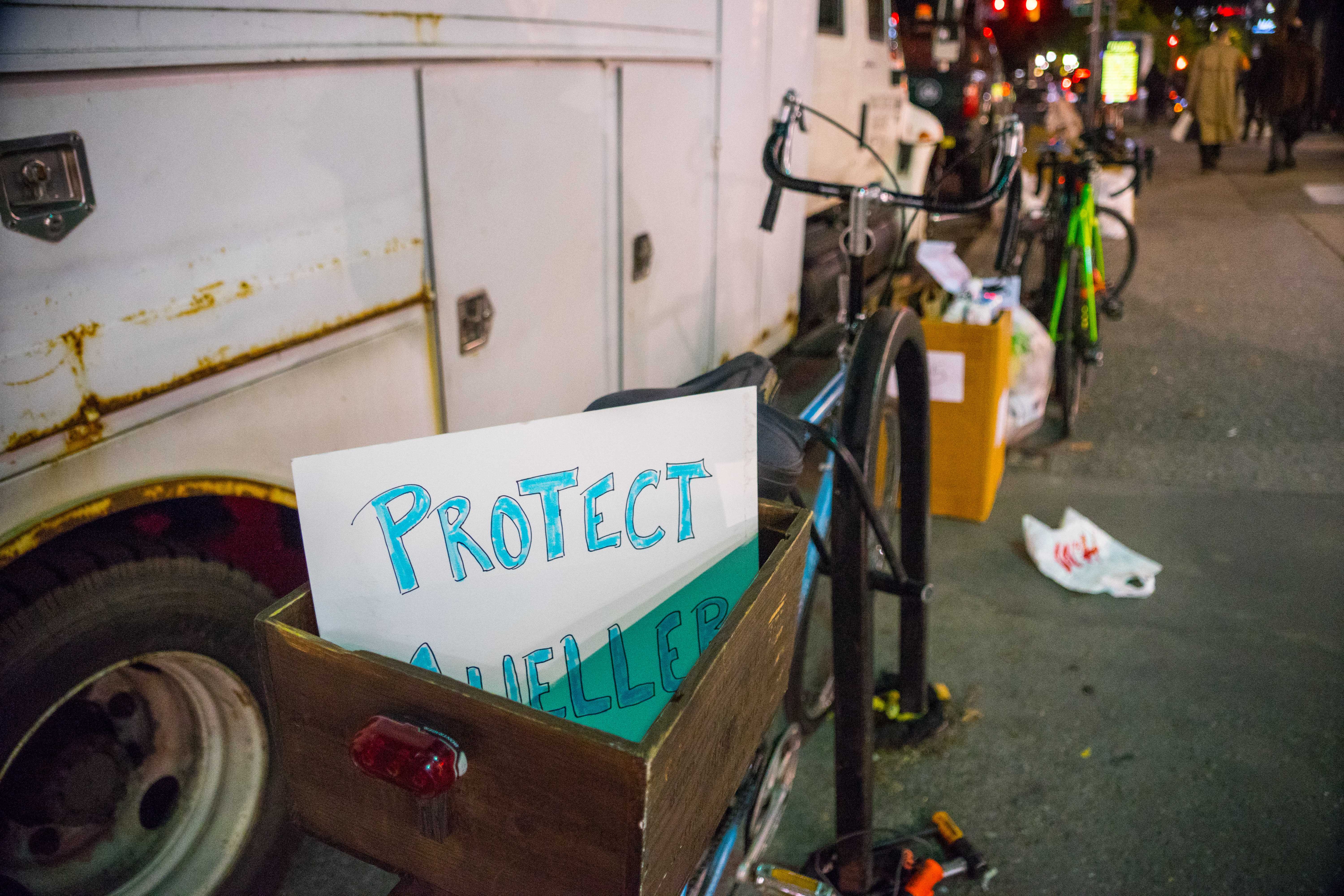 Approximately one thousand people poured into the streets of Times Square on Thursday evening to protest President Donald Trump's appointment of Matt Whitaker, a critic of Special Counsel Robert Mueller's investigation into Russian meddling in the 2016 presidential election, to the position of attorney general earlier this week.
The group marched down Seventh Avenue and ended with a gathering in Union Square, where several speakers, including Congresswoman Carolyn Maloney, took turns rallying the crowd.
"The rule of law is at stake now," Maloney said. "[Mueller] has been successful already, having secured many indictments and many convictions, so we need to preserve his documents."
Maloney said letters have been sent to the White House requesting these documents and other information related to Mueller's investigation.
Trump announced in a tweet on Wednesday that Whitaker, Sessions' chief of staff, would assume the position after Sessions resigned from it at Trump's request. The president took issue with Sessions' decision to recuse himself from oversight of the Russian interference probe in March 2017, saying he regretted appointing Sessions to the position. Acting Attorney General Rod Rosenstein then stepped in to oversee the investigation into whether Trump colluded with Russians to win the election.
Frank Lesser, a writer for "The Colbert Report," also spoke to the crowd at the protest, which was one of many across the country calling for Whitaker's recusal.
"It's clear Trump's scared, and he responded to the blue wave with a yellow puddle," Lesser told WSN. "I think everybody wanted to see Jeff Sessions gone, just not in this way."
Another speaker was Patricia Okoumou, best known for climbing the Statue of Liberty on July 4 to protest Trump's immigration policies. Okoumou is a member of Rise and Resist, one of the groups that organized the protest.
"He needs to recuse himself because we know why he was placed in that position — to protect Donald Trump," Okoumou told WSN. "We are finding out the truth [through this investigation]; those who doubted the process now are believing it. It's not a witch hunt like Donald Trump had his base believe. With the blue wave, I believe that as a country we've come together united to call him out and to allow the process to go forward."
Shannon Stagman, a member of Empire State Indivisible, another one of the groups behind the protest, called Whitaker a "crony" and demanded his recusal from the Russian interference probe.
"Jeff Sessions was fired yesterday in what we believe is a clear precursor to interference in the Mueller investigation," Stagman told WSN. "Matt Whitaker has just a whole long list of conflicts and a very partisan background and we don't believe he will be capable of supervising this probe impartially."
Email Sarah Jackson at [email protected]