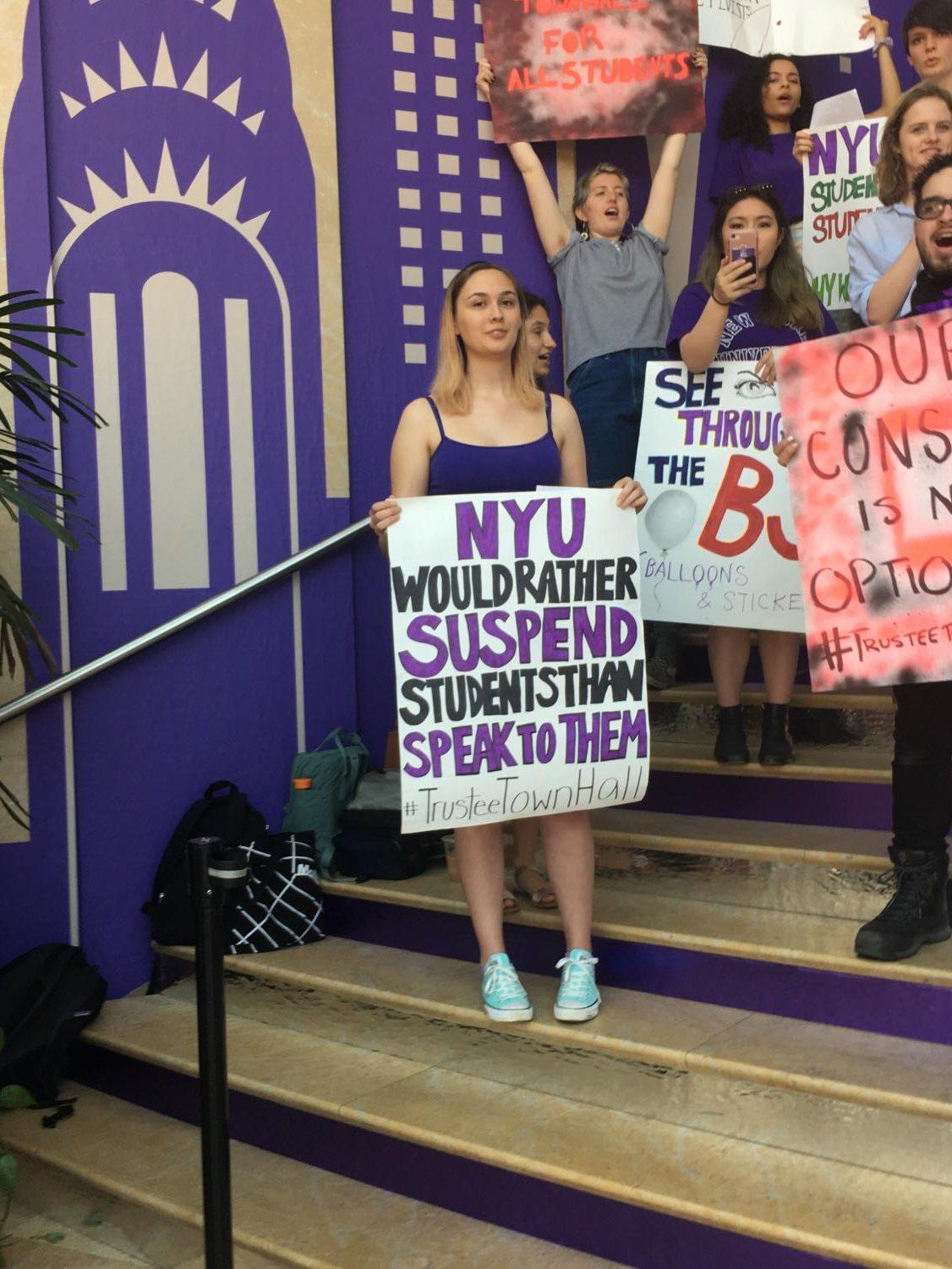 In an introductory meeting Wednesday evening, NYU's Student Labor Action Movement rolled out its plans for a new campaign focused on increasing affordability and reducing student debt.
The campaign, which the group aims to start by October, will be modeled after similar movements on other college campuses. Specific goals may include freezing tuition and reducing student loans, and pushing more NYU schools in the direction of Langone which recently announced that it would eliminate tuition.
"We all spend a lot of money to go to NYU," Liberal Studies sophomore and SLAM member Emma Mahler said. "First of all, we shouldn't be spending that much money. We have the right to know what our money is getting spent on and who's spending it."
After last year's dramatic resolutions for student and faculty representation on NYU's Board of Trustees were struck down by the Board of Trustees, SLAM seems to be shifting gears.
"We were thinking of how to take what we've learned about a fight for transparency at NYU and move towards a bigger goal of affordability and labor justice," Liberal Studies sophomore and SLAM member Shromona Mandal said at the group's initial meeting. "We have to change our tactics, because if you don't change, you become obsolete."
The group did not say it would stage any high-profile protests like last year's overnight Kimmel occupation. The group has also held events such as rallies, political education meetings and Freedom Food, an event offering free groceries to students.
SLAM has fought for administrative transparency at NYU for decades. New York City Mayor and NYU alumnus Bill de Blasio, who campaigned with SLAM in the 1980s, endorsed the group's current student representation initiative last year.
According to Gallatin Junior and SLAM member Stephanie Rountree, conflict between trustees and students goes back 20 years prior to de Blasio's involvement, when NYU administration eliminated student Board members in the 1960s.
"I was kind of disappointed to not get the [resolutions passed]," Rountree said. "But I think this isn't something we expected to automatically get. This has been a long fight."
SLAM's new initiative takes aim at the university's contributing to gentrification in Greenwich Village. NYU is currently one of the top three largest private landowners in New York City.
"The funds that [NYU is] using to buy new buildings are funds that are not going to affordability, CAS and Tisch senior Sebastian Alarcon said. "I think that fighting gentrification becomes an issue, something that is related to affordability."
Although SLAM members are frustrated by student representation being rejected by trustees, its members are encouraged by what it sees as smaller victories. Over the summer, NYU committed to publish Board meeting minutes and to establish email addresses that would allow students to contact Board members.
Despite SLAM's shift in focus, administrative transparency remains a key item on the agenda.
"[The Board] is frustrating and disheartening, but it won't impact how we want to continue being involved in activism," Mahler said. "This year and further on is taking a look at what our campaigns are, what should we be focusing on, and what's the best way to continue pushing forward."
Email Bela Kochkarova at [email protected]