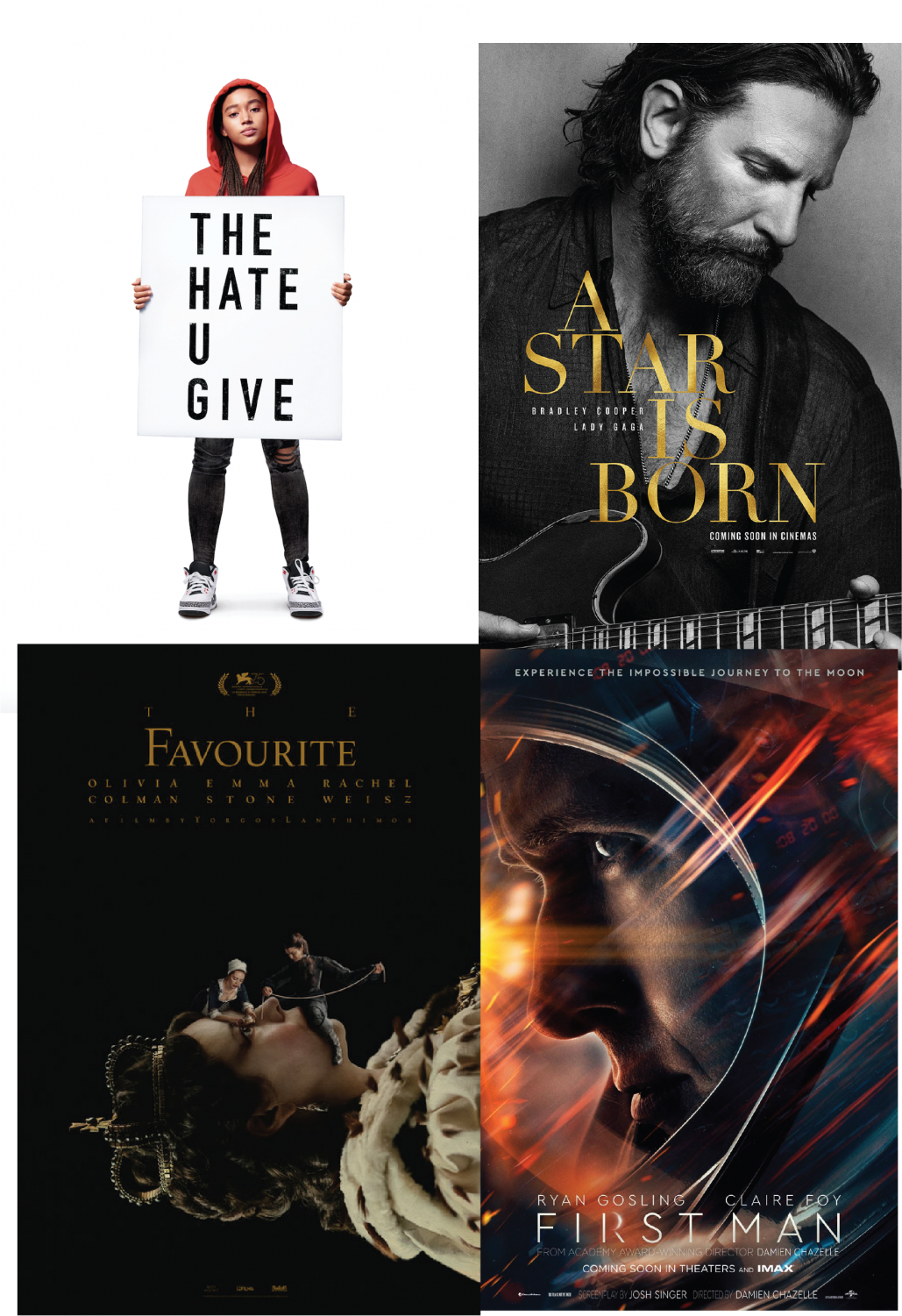 As Oscar season creeps up on us, the fall movie lineup boasts a full roster of promising films. MoviePass may be gasping for air as it drowns in debt, but even if you're paying full price, these films are worth a little budget bending.
The first major film of awards season is the Oct. 5 release "A Star is Born," directed by Bradley Cooper and starring Tisch dropout Lady Gaga. The third rebirth of the classic 1937 film is — after a tremendous response from festivals — expected to find much success among young adult audiences feeding out of Gaga's fan base. The film is riding a resurgence of movie musicals with recent hits like "La La Land" and "The Greatest Showman," and serves as a platform for Cooper and Gaga to explore new branches of their careers.
Still riding the fame of the critically acclaimed "Call Me By Your Name," the ever-popular Timothée Chalamet and everyone's favorite sitcom star Steve Carell take the lead in "Boy," an adaptation of the memoir by David Sheff. Van Groeningen's drama explores Nicholas Sheff's (Chalamet) struggle with addiction and his relationship with his father, David (Carell). The film further solidifies Academy Award-nominated Carell's transition from light-hearted comedies to meatier dramas like "Foxcatcher," and gives fans more time to ogle at Chalamet's beautiful acting talents.
Opening the same weekend is Academy Award-winning director Damien Chazelle's space biopic "First Man." The film stars Hollywood darling Ryan Gosling as Neil Armstrong, depicting the events that led up to him becoming the first man to step foot on the moon. Chazelle, hungry for another Oscar, is going outside of his wheelhouse to deliver a white knuckle drama, giving audiences the same level of tension and heart he established in "Whiplash" and "La La Land," but diversifying his oeuvre all the same.
Everyone remembers the infamous envelope mix up during the 2017 Oscars where Barry Jenkins' "Moonlight" ultimately took the gold over "La La Land." This fall, the two directors may come up against each other once again. Jenkins' "If Beale Street Could Talk" is set to release a month later on Nov. 30. "Beale Street" is an adaptation of the 1974 James Baldwin novel about Tish Rivers (Kiki Layne), a woman fighting to prove the innocence of her fiance and future father of her unborn child. Though comparisons to "Blindspotting" and "BlacKkKlansman" are inevitable due to the similar themes, "Beale Street" projects itself in the awards race as a romantic drama as well as a racially relevant one. Jenkins has also built a cast similar to "Moonlight," now mixing newcomers like Kiki Layne with established actors like Regina King and Brian Tyree Henry.
On Oct. 19, "The Hate U Give," adapted from the critically acclaimed 2017 young adult novel by Angie Thomas, will be released in theaters. The film is directed by George Tillman Jr. and stars Tisch student Amandla Stenberg as the lead, Starr Carter. Starr's two worlds, her school community and her home community, start to close in around her when she witnesses the murder of her childhood best friend Khalil by a police officer. The film has already received rave reviews after its premiere at the Toronto International Film Festival. In contrast to awards' favorites like "Beautiful Boy," "Ben is Back, and Joel Edgerton's "Boy Erased," "The Hate U Give" is a teenage drama with a strong female protagonist who is put right at the heart of an intense racial conflict (a white officer shooting a young black man).
Director Yorgos Lanthimos rose to fame in 2015 with the dark comedy "The Lobster" and his next movie, "The Favourite," sets him up for equal success. The period piece, which premieres on Nov. 23, focuses on the complicated relationship between Queen Anne (Olivia Colman), Sarah Churchill (Rachel Weisz) and Sarah's cousin Abigail Masham (Emma Stone). Lanthimos is nothing short of divisive but is one of the few contemporary international filmmakers to commanded respect in Hollywood. Fans always go in to his movies slightly apprehensive but know they are getting their money's worth because Lanthimos' imagination is wilder than most in Hollywood.
Two blockbuster sequels — bound to bring in college-age audience members who have long been following the respective series — are slated to release in mid-November. The "Harry Potter" prequel-sequel "Fantastic Beasts: Crimes of Grindelwald" comes out on Nov. 16, and "Creed II" the sequel to the Rocky universe film "Creed" hit theaters on Nov. 23. Both films are predicted to put up huge box office numbers and should offer up a small break from cinema's more serious fall releases.
More than just the ones we've recommended, the fall is ripe for innovative, probing film, so keep an eye out when you're headed to the theaters. After all, you don't want to be left behind when everyone is making their Oscar predictions.
Email Sophie Bennett at [email protected]