NYU's Class of 2018 Shines Through the Showers at 186th Commencement
Violet robes and rain dotted the seats of Yankee Stadium for NYU's 186th Commencement ceremony. Friends and families flooded the upper levels of the stadium and came out decked in ponchos, holding umbrellas and bouquets of flowers, ready to see their precious graduates turn their tassels. Their last four years had led up to this: a cold, rainy afternoon spent in Yankee Stadium with Canadian Prime Minister Justin Trudeau.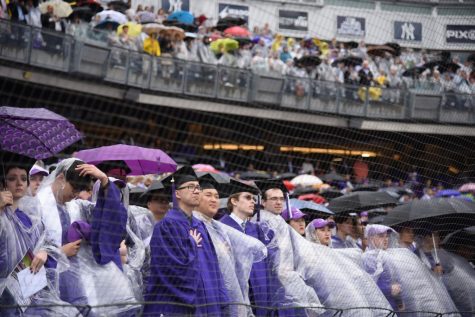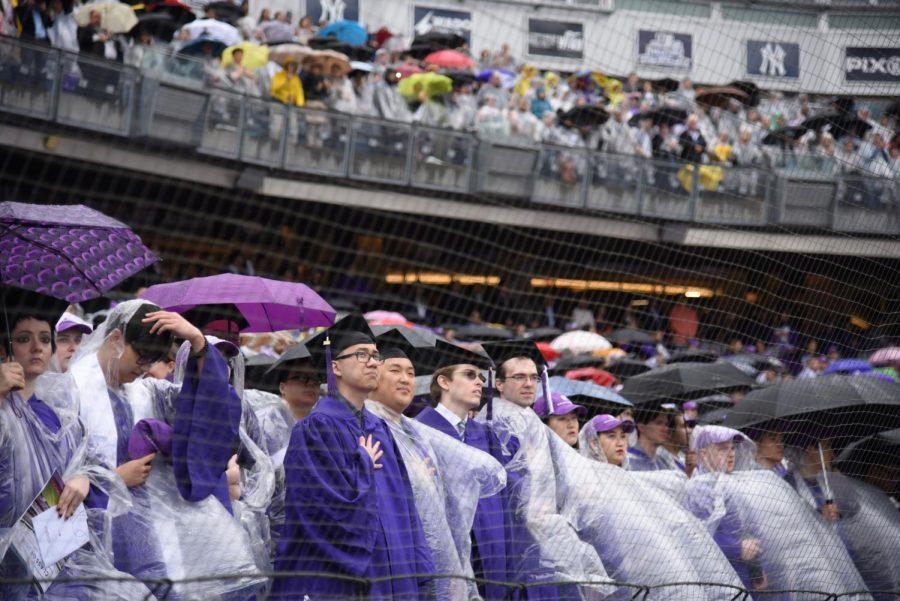 "It's very exciting and very emotional. It's kind of surreal," CAS and Tandon graduate Angie Gonzalez said. "I'm a native New Yorker and I've been a Yankee fan since I was younger, so to kind of end it all here is a little wild."
Other graduates were more concerned with gaining a foothold in the adult world.
"I am hoping that I get a job real soon," said former WSN Music Editor and Gallatin graduate Allison Stubblebine. "I am going to get a margarita pitcher and get ready for Lincoln Center."
Steinhardt Music Business graduate, Martin Luther King scholar and Commencement student speaker Christopher Hearn began his speech by acknowledging that the land New York City and ultimately Yankee Stadium is built on once belonged to native peoples. He paid honor to his ancestors who came from bondage so he could have the opportunities he now receives. He spoke about his own story while at NYU as he knew he couldn't encompass the experiences of over 17,000 graduates in an eight-minute speech.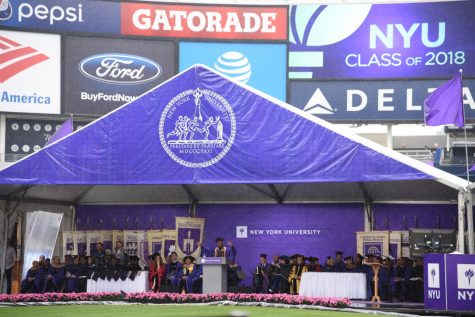 "I know for a fact that I wouldn't have made it here if it wasn't for the ones who have helped me," Hearn said. " I took energy from my teachers, my mentors, from my OGs at the barber shop and, of course, my best friends. They all contributed to my life in so many different ways. But the one thing that they had in common was that they advised me to stay in motion."
Following Hearn's speech, Liu Qing — the president of Didi Chuxing, China's largest ride-hailing app — and Martine Rothblatt — CEO of United Therapeutics and transgender rights activist — were awarded Doctor of Commercial Science degrees. NYU Law Professor and Equal Justice Initiative Executive Director Bryan Stevenson received a Doctor of Laws degree. John Casani, Suzanne Dodd and Edward Stone, who all worked on NASA's Voyager mission, were awarded Doctor of Science Degrees. Finally, Trudeau was awarded a Doctor of Laws degree.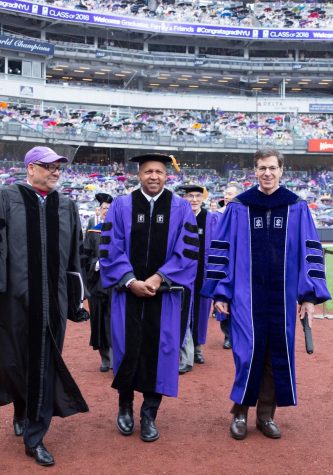 The highlight of the ceremony — judging by the amount of applause — was a speech delivered by Trudeau that derided the dangers borne of tribalism and partisanship.
"The leadership we need most today is leadership that brings people together," Trudeau said. "That brings diversity to a common cause. This is the antithesis of the polarization, the aggressive nationalism, the identity politics that have become so common of late. It's hard work. It's always been easier to divide than unite but mostly it requires true courage. If you want to bring people around to your way of thinking you need to first show them that you are open to theirs."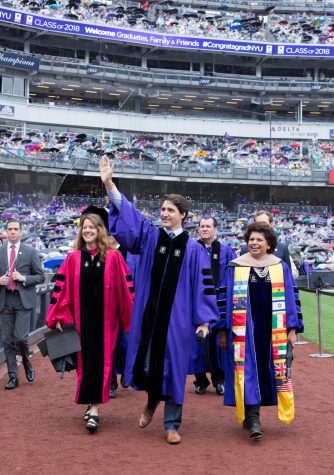 Trudeau also vigorously defended the merits of diversity and cosmopolitanism.
"This group is truly diverse in every possible way and I think that is an extraordinarily valuable and important thing," Trudeau said, noting how approximately one-fifth of NYU students are international and one-fifth are the first members in their families to attend college.
"Diversity doesn't have to be a weakness. It can be our greatest strength," he said.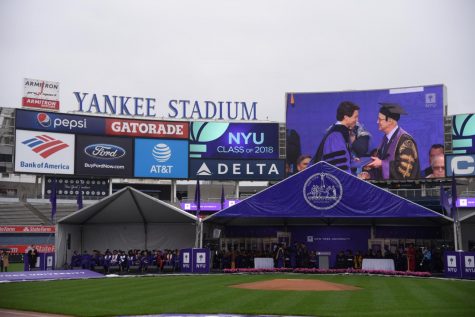 President Andrew Hamilton echoed much of the what Trudeau said while also stressing the importance of higher education in today's world.
"Universities punch holes in the darkness," Hamilton said. "They illuminate the human experience, and they offer insight into the present by examining the past. They light the way toward the future."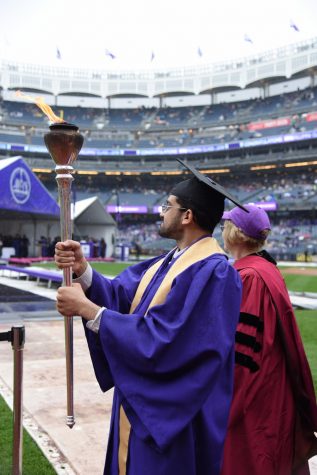 The celebration concluded with the Ceremony of the Torch, in which a senior faculty member passes the torch to the youngest member of the baccalaureate class. This year the Torchbearer was Gallatin Professor Laura M. Slatkin who carried the ceremonial heirloom, which was designed by Tiffany & Company and gifted to the university in 1911 by Helen Miller Gould.
Slatkin handed off the undying flame of the torch to the class of 2018's youngest undergraduate Salah Eldein M. Elkattawy, a 19-year-old graduate of the College of Arts and Science.
The rain deterred many near-graduates from staying for the ceremony's conclusion, but many remained seated to hear Hamilton's final congratulations and turn their tassels as a whole class.
"My words will be lost after today, but you, members of the Class of 2018, you are the proof of the value of higher education," Hamilton said. "As you go on to your next endeavors, you are the best ambassadors for higher learning. Each and every one of you is punching your own hole in the darkness."
Additional reporting by Yasmin Gulec.
Email the management team at [email protected].