NYU Tandon Welcomes Brooklyn's First Cleanroom for Advancing Technology
The NYU Tandon School of Engineering opened Brooklyn's first cleanroom — a laboratory designed to keep particulate matter out so that researchers can develop nanotechnology — on Friday afternoon. Located in Rogers Hall at 6 MetroTech Center, the incredibly sterile 2,300-square-foot laboratory will allow researchers to develop nanotechnology and other electronics so sensitive that even a dust particle could render them defective.
The NanoFab CleanRoom, as it has been named, will be key in the development of solar cells, hack-proof hardware and even devices that can identify cancer at the cellular level.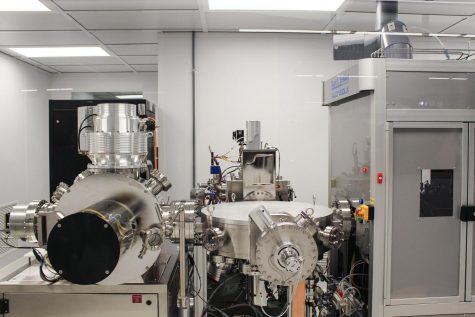 To build the cleanroom, Tandon received a $2.5 million grant from the Dormitory Authority of the State of New York in addition to $1 million in funding from the Office of the Brooklyn Borough President Eric. L Adams.
"Any new young mind who's trying to develop their skills want[s] to go to an environment that's going to cover their development, and there's no greater level of encouragement than showing that you are invested in the technology that is needed to grow," Adams said to WSN. "We just upped the notch on Tandon, what Tandon has to offer, and we're going to be like a magnet. We're going to draw some of those young scholars here to this school."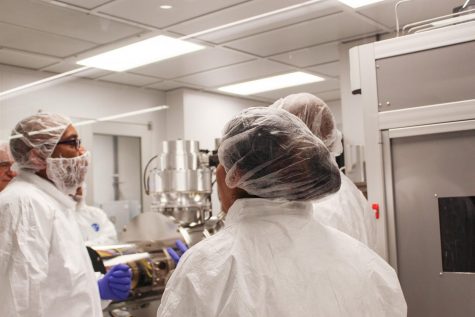 The space is three years in the making, and using it will cost between $20 and $200 per hour, depending on the equipment needed, according to News 12 Brooklyn.
Adams, President Andrew Hamilton, Tandon Dean Katepalli R. Sreenivasan, Chair of Tandon's Board of Overseers Chandrika Tandon, DASNY President and CEO Gerrard P. Bushell and others gathered for the opening of the room on Friday, April 27.
The room is rated Class 1000, meaning the number of particles larger than 0.5 microns must stay below 1000 for every 1 million particles in the room. Typical rooms, for perspective, usually fall under Class 1,000,000.
To maintain this stringent level of cleanliness, the room utilizes high-efficiency particulate air filters. It also has higher air pressure than most rooms, pushing dust and floating particles near doors out of the room into surrounding areas of lower air pressure. Finally, visitors in the cleanroom must wear protective gear such as gloves, hair nets, shoe covers and body suits to reduce the amount of particulate matter they bring into the lab.
James Burnette, Tandon's manager of Cleanroom and Shared Instrumentation Facilities, stressed the importance of keeping even the smallest, most seemingly harmless particulate matter away from the technology being developed in the room.
Dean Sreenivasan, @chandrikatandon, @nyuniversity President Hamilton, @BPEricAdams and @NYS_DASNY President and CEO Dr. Gerrard P. Bushell don clean suits and reveal the instruments and fabrication equipment in NYU Tandon's NanoFab CleanRoom #TechInService2Society #NYU pic.twitter.com/GxxnMDmni4

— NYU Tandon (@nyutandon) April 27, 2018
"If you have a bunch of small particles floating around and you're trying to make an electronic device, say a chip or something like that, those particles are very small, and they're going to stick because of electrostatic interaction between the particles and the surface of whatever you're trying to make," Burnette said. "Once they stick, it's impossible to remove them."
Adams hopes the cleanroom will be the first of many in Brooklyn.
"The goal is to start out with one room and once people see the benefits of it, then you continue the evolution for more cleanrooms and you continue to grow," he said.
Dean Sreenivasan said the fact that Tandon was chosen to be the home of Brooklyn's first cleanroom was only natural.
"NYU is a research university, and a good research university always has cleanrooms," Sreenivasan said. "Now, students and faculty can do things that they were previously unable to do."
The facility is expected to open for full operations by the end of June.
A version of this article appeared in the Monday, April 30 print edition. Email Sarah Jackson at [email protected]