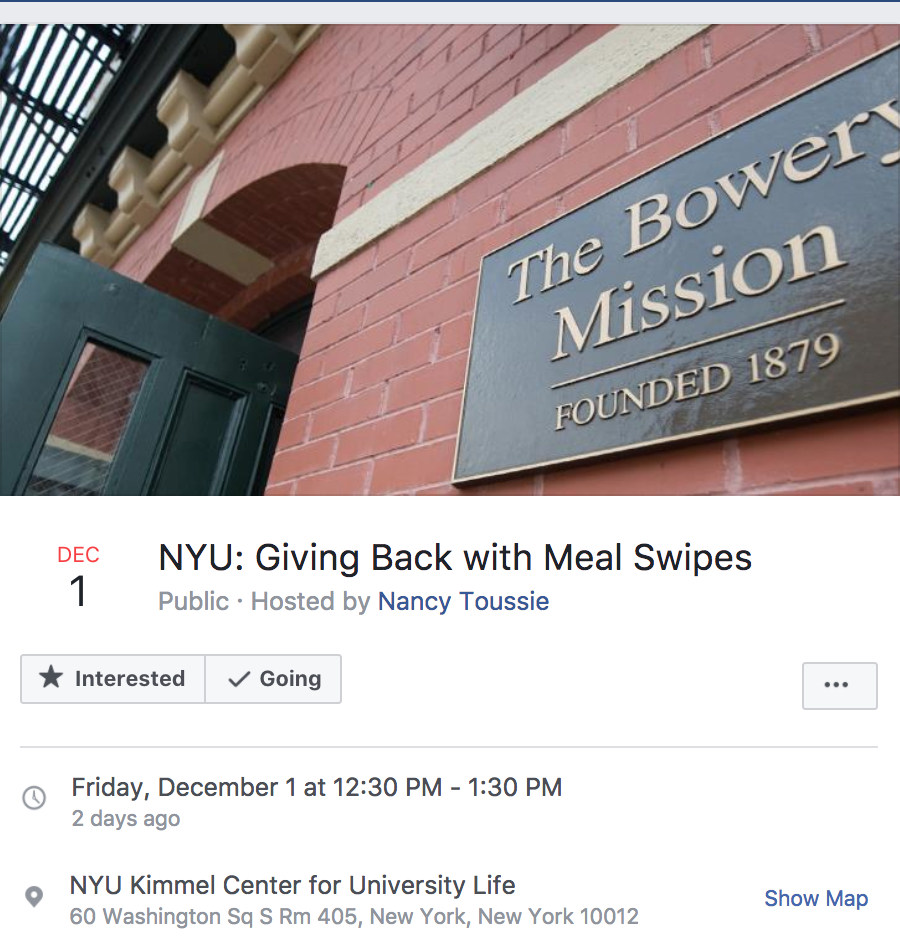 As the year draws closer to the end, many NYU students realized that their eyes were larger than their stomachs, and found themselves with numerous leftover meal swipes. Rather than letting these meals go to waste at the end of the semester, Stern freshman Nancy Toussie found a creative use for her remaining meals.
Toussie organized an event called "NYU: Giving Back with Meal Swipes," where students used their meal swipes to purchase packaged meals and donate them to a homeless shelter. Although she originally created the Facebook event for her friends, the page ended up growing in popularity with 135 people indicating interest.
On Dec. 1, about a week after Thanksgiving, 21 students gathered at the Kimmel Center for University Life with bags full of cold sandwiches, chips, salads, fruits and juices purchased from campus dining halls. Then they marched together to the Bowery Mission, where about 400 meals were donated.
SPS freshman Annie Li was one of the attendees of the event — she donated 10 of her meal swipes.
"I was awed by the number of NYU students willing, on their own terms to just casually get together and take time from their busy Fridays to donate their extra meal swipes," Li said.
Toussie, whose interest for community service developed in high school, talked about the event with passion and enthusiasm.
"Everybody has leftover swipes," Toussie said. "Some people told me that they've always wanted to do this and that I pushed them to do it. I think this made them realize just how easy it is."
Toussie said that the idea came from seeing homeless people on the street, and subsequently realizing that a great number of meal swipes go to waste.
"Besides even the meal swipes, we should all go out and do anything that can help others."
This is not the end for Toussie, who said that she plans to organize more events of this nature.
"I definitely plan on doing it again," Toussie said. "I figure in December when people realize their meal swipes will expire soon is a good time to do it. Hopefully we can make it a regular program at NYU."
Email Kenneth Jung at [email protected]