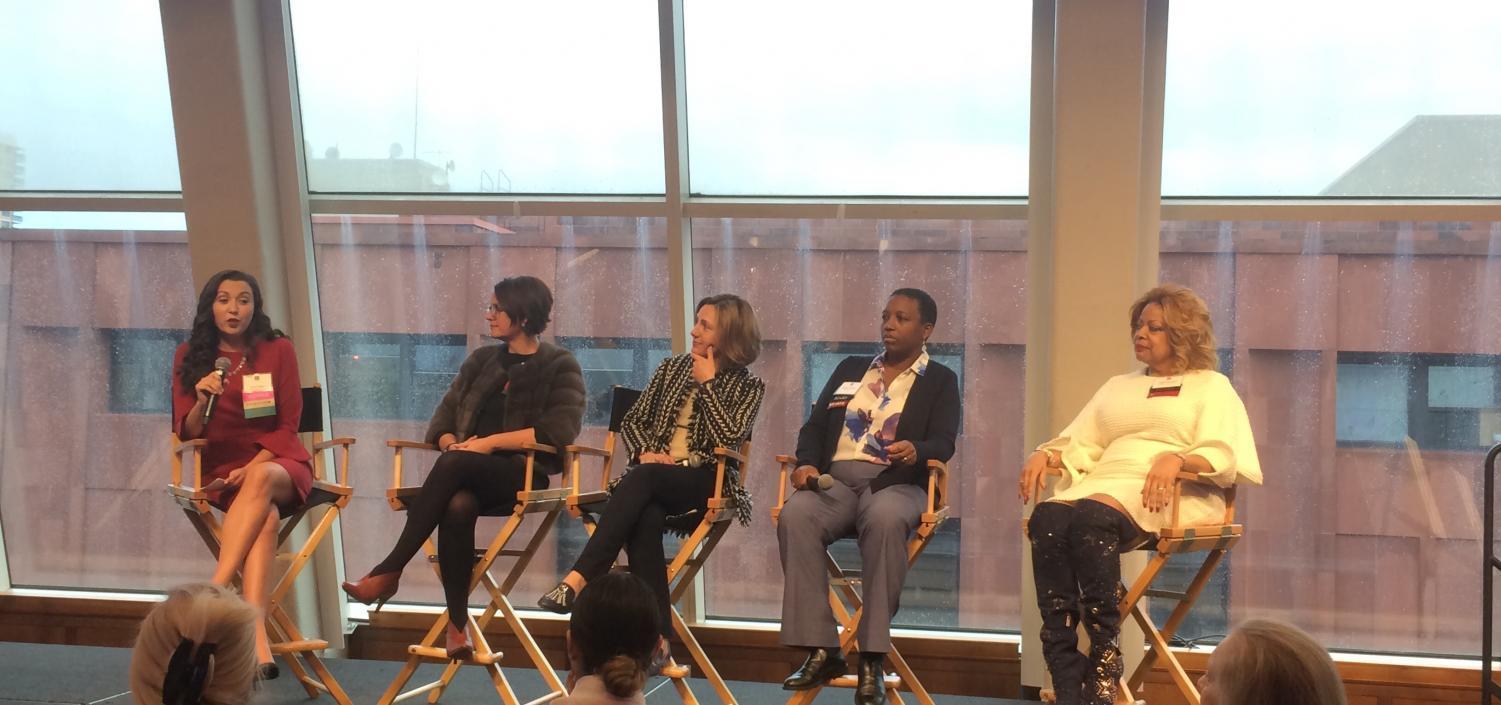 On Nov. 18, New York Women in Communications Inc. held its annual NYWICI Student Communications Career Conference at the Kimmel Center for University Life, bringing in over 30 industry leaders from companies such as HBO, NBC, Hearst, Google, The New York Times and MTV to talk to students about their experience in the field.
The event was hosted by NYU's School of Professional Studies and offered over 10 workshops and panels for attendees to choose from, including "The Many Facets of Careers in Communications," "How to Land the Perfect Internship," "Defining a Personal Brand," "Creating a Killer Elevator Pitch," "Negotiating Your Way to Success," "The Best Answers to Every Interview Question" and the "Guide to Successful Freelance Writing."
After the event kicked off with words from keynote speaker Tiffany Pham, who is the founder and CEO of Mogul, and morning workshops, the afternoon started with a speech from keynote speaker Kelle Jacob, who is the global marketing manager of Victoria Beckham's partnership with Estee Lauder and a previous contestant on America's Next Top Model.
Jacob began her speech by recounting the moment she told her parents that she did not want to go to college.
Without taking risks, Jacob may not have the career she has today. After deciding against college, she went on to run her own online art gallery called Oswald Cleveland in 2003. To get funding for her business she went on to audition for America's Next Top Model. Instead of following the usual format of the show and introducing herself and where she was from, she instead asked to identify herself as "Kelle Jacobs from Oswald Cleveland Galleries."
Jacob's motto is "you learn at every turn," a saying that she said kept her from fearing big career changes. This motivated her to get better resources for Hunter College's library, where she attended after she deciding to attend college later in career, and it encouraged her to challenge traditional corporate culture when she went on to work for Estee Lauder.
"I think it is important to know yourself and to know your shortcomings," Jacob said in her keynote speech. "You have to be very aware. The more aware and honest you are with the true context and true perspective, the better you can make decisions."
After Jacob's speech, a number of afternoon workshops were available for students. Estelle Erasmus, a writing coach and freelance writer for Writer's Digest; Lauren Dugan, a reporter from FOX46 Charlotte WJZY-TV; Jenn Lavelle, a digital content officer from American Jewish World Services; Ashley Schwartz, an associate producer from PeopleNOW at People Magazine; and Justine Re, a traffic reporter for News 12 Westchester, all headed the workshop focussing on successful freelance reporting. Each speaker described their experience in freelance writing, and gave tips on how to get freelance jobs by creating good pitches. Erasmus said a good pitch needs to be timely, provocative or must tie into a celebrity situation. The audience was then divided up into four groups, and the speakers helped each group workshop their own pitch ideas for future jobs.
For the closing panel, Judith Harrison, the senior vice president of diversity and inclusion at Weber Shandwick; Meredith Long, the senior vice president of News, Luxury and Style at Time; Saundra Thomas, the vice president of Community Affairs at WABC-TV; and Kristine Welker, a media executive, answered questions from both panel moderator Lauren Dugan and the audience on their experiences in the industry. Harrison spoke about her experiences as a singer and how she wanted to move away from the entertainment industry due to its culture of  being dominated by men. Welker talked about millennials and how this current communications market is about disruption — from journalism to marketing, the traditional understanding of public relations fields is changing rapidly, and is focussing more on online and international.
"A big trend I see going forward is diversity," Harrison said. "When you look at the population of the world, when you look at the fact we are reaching people of a global level not just marketing to the folks down the block, we need to have people that are representative of all the stakeholders we are trying to reach."
Email Jessica Xing at [email protected]