NYU Lacked Communication During Terror Attack
On the afternoon of Tuesday, Oct. 31, I scrolled through Twitter on my phone and saw there had been a terror attack in Lower Manhattan. After the anguish I felt for the victims and their families, as well as the anger that such a tragedy could occur, my next thought was: why did NYU not alert its students about the attack immediately after it occurred?
That evening, President Andrew Hamilton sent out a memo to the entire university regarding the attacks. Despite that, I couldn't stop thinking about how NYU did nothing to alert its students of the deadliest attack in New York City since Sept. 11, 2001. NYU Public Safety does have an emergency text service linked to all students' phones. Why was it not used?
The next morning, I saw online that there was a shooting at Astor Place, and two people were dead. Again, why did NYU not send texts to all students alerting us of a shooting steps from campus? I walk by Astor Place to class every morning, and I may have encountered the active shooter had I not been at an appointment. We should have been told to avoid the dangerous area.
After the shooting, I saw that NYU had tweeted out an alert telling students to avoid the area. Is tweeting really the most efficient way to reach students in case of an emergency? How many students even have Twitter accounts, let alone check it regularly and follow NYU?
There are reports of a shooting near Astor Place. Police are on the scene. Try to avoid the area, and we'll alert you as details emerge.

— New York University (@nyuniversity) November 1, 2017
After my utter astonishment that NYU Public Safety did nothing to alert students during back-to-back emergencies, I decided to voice my concerns in an email to Marlon Lynch, NYU's Vice President of Global Campus Safety. I received the below response, which I found to be completely ridiculous.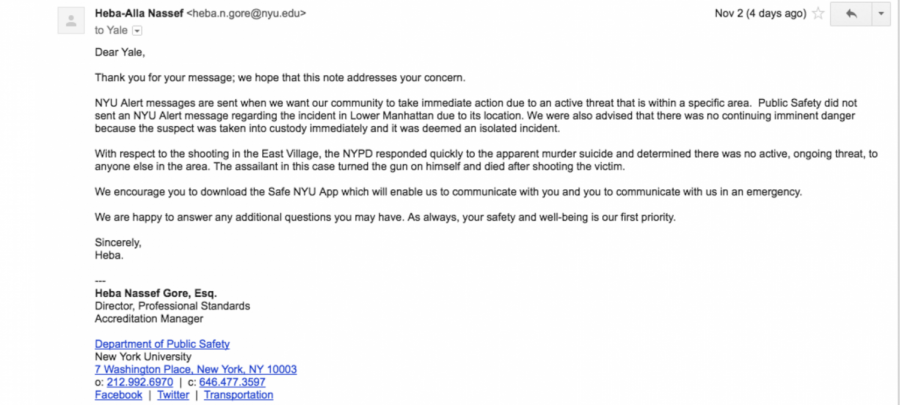 First off, Heba Nassef Gore suggests that NYU deemed it unnecessary to send text alerts to students in both cases because there was "no continuing imminent danger" and there was "no active, ongoing threat, to anyone else in the area." To this I say – what is the harm of alerting students? Is there any reason to not ensure that all students are aware of dangerous situations? Lastly, Gore encouraged me to download the Safe NYU application. Telling students to download an additional app — one which most students probably don't know even existed — requires effort and time. Hey, what about an alert text service sent to all students? Sounds like a good idea, no?
NYU's failure to adequately alert and ensure the well-being of its students following these two instances demonstrates a massive risk to the entire student body. God forbid something should occur on campus. I don't want to find out how NYU will handle it.
Opinions expressed on the editorial pages are not necessarily those of WSN, and our publication of opinions is not an endorsement of them. Email Yale Buchwald at [email protected]