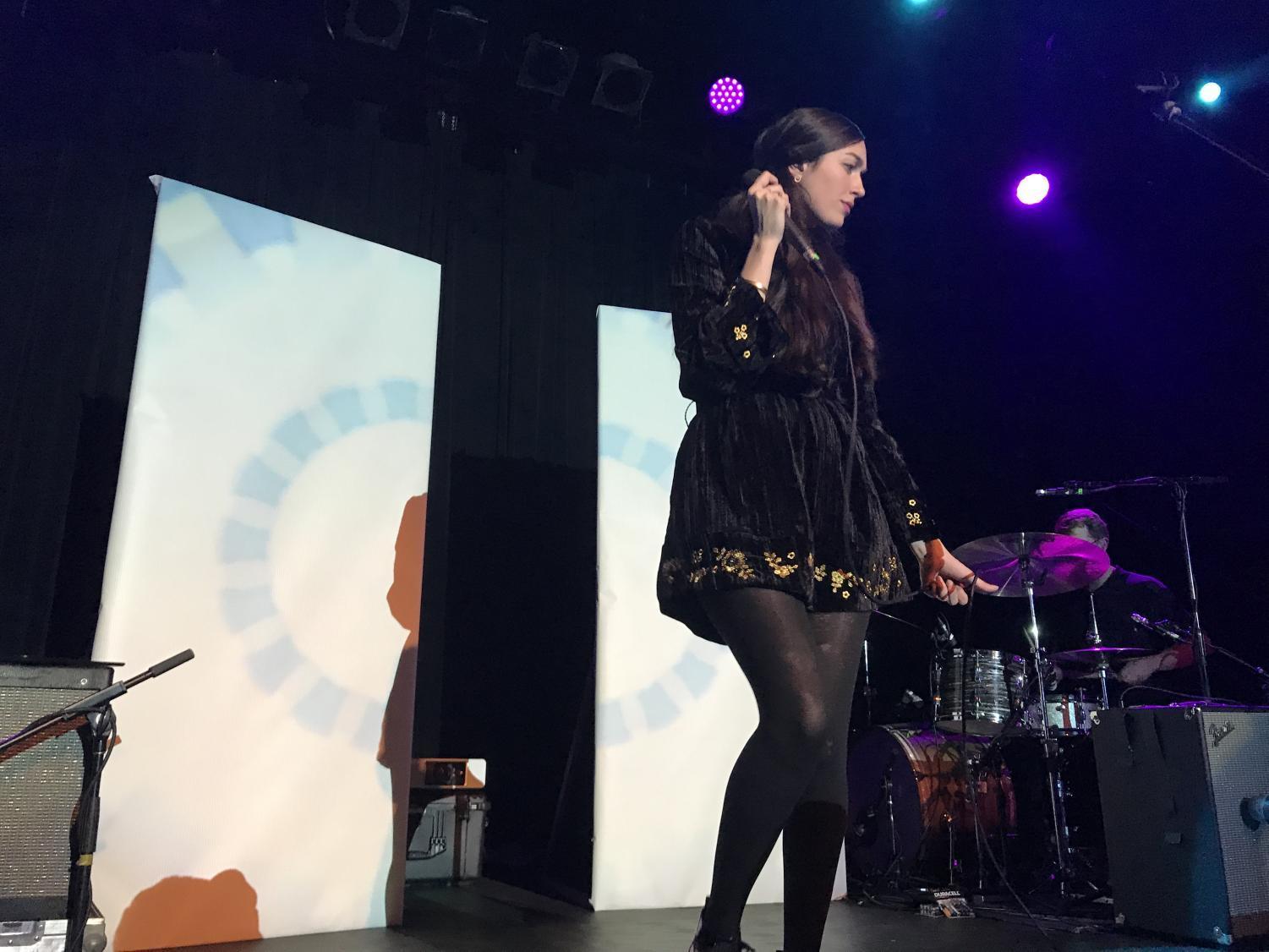 Brooklyn-based indie-pop duo Cults has returned as vibrant and stunning as ever after four years in the dark. The chart-breaking multi-instrumentalists Madeline Follin and Brian Oblivion played an intimate hometown show Tuesday night at the Music Hall of Williamsburg which featured beautifully minimalist, projected visuals and lavish synthesizer arrangements.
The set kicked off with the keyboard-powered lead single off of Cults' latest full-length record of the same name, "Offering." Follin, donning a simple monochromatic dress, delicately tinged with gold trimming, two-stepped across the stage while astral projections bounced off the geometric backdrop of the stage. Following was "Abducted," one of two singles from the band's debut album. The track drew audience members to their feet and closer to the stage to dance in unison as Follin and Oblivion alternated vocals over layers of sparkly instrumentation.
Next up was the lead single, "Always Forever," from the band's 2013 post-breakup album "Static." Folin's dreamy, reverb-heavy vocals were especially accentuated on this song, making for the perfect melody to couple with the psychedelic projections on the screens behind the backing band. Visions of celestial bodies could be seen projected, as well as various hues of light dancing across the walls. The indie-pop outfit continued with a multitude of tracks from its recent and third long play, including the tunes "Clear from Far Away," "Right Words" and "Recovery." However, the pair's most dynamic and soulful oldies received the most love from the audience, namely "Never Heal Myself" and the fan-favorite "You Know What I Mean," which eventually drew the band to bow offstage.
But of course, Cults decided to save the best for last. The opening chimes of "Go Outside" could be heard echoing throughout the venue to the audience's excitement. The buoyant indie-rock anthem drew the crowd further to the stage, each member of the audience singing the cheery refrain and waving his or her arms back and forth in the air. As the band bowed offstage a second and final time, the magnificent visuals faded black and the airy soundscape grew silent. Cults truly deliver an otherworldly performance, as delicate and dreamy as Follin's voice. For any fan of indie music, attending a Cults show as breathtaking and intimate as this one is an absolute must.
A version of this article appeared in the Monday, Oct. 23 print edition. Email Nicole Rosenthal at [email protected]