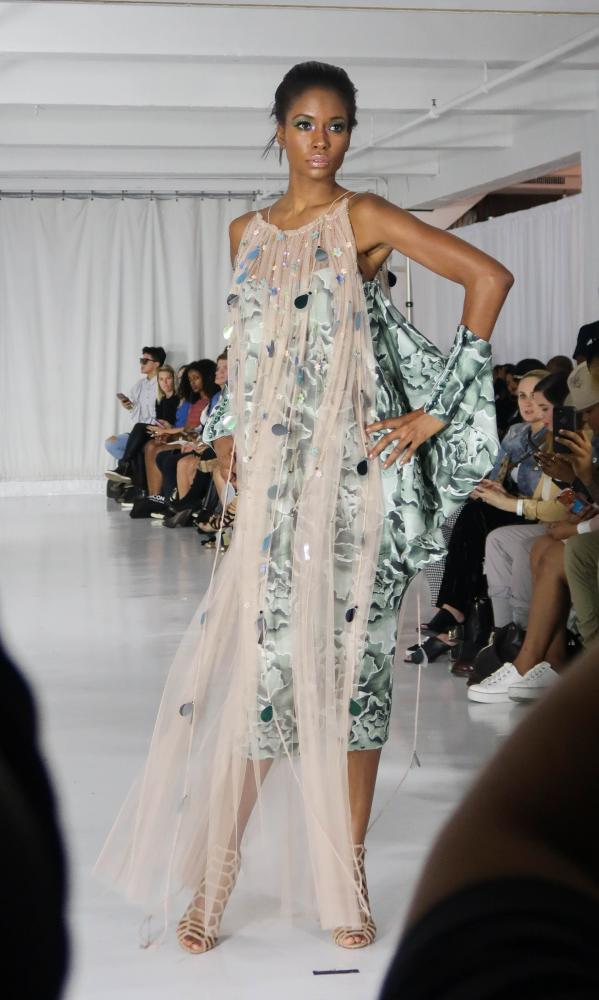 An angel descended onto New York Fashion Week Tuesday evening, and she arrived in a Zula Studios original. A royal blue gown with matching wings — Zula Khramov's newest collection's opening look set the tone for the overall collection, not only because of the dress itself, but because of who was wearing it. Model and down syndrome awareness advocate Madeline Stuart hit the catwalk as the show's small slice of heaven; this notable move incorporated a heightened sense of what it means to be human.
This collection titled "DDD: Divine Destruction & Decay" brought audience members under the sea to a fallen civilization, weathering away from centuries of oblivion. The layered chunky sequins and sea foam color scheme against muted whites and creams cultivated images of former societies that are now submerged by the sea and serve as home to aquatic life forms. The collection seemed to mourn what once was, while also celebrating the divine nature of supporting new life in the wake of such an immense loss.
The brand, self-described as "high quality clothes for the modern woman", is going to have to adjust their mission statement. The androgynous multi-gender pieces were a reflection of Khramov's first stab at menswear. Each look flattered and accentuated the model's' figure without restricting their movement. While the avant garde label may seem intimidating to some, most looks in this collection would undoubtedly put you on the red carpet best dressed list.
Email Alyssa Kelly at [email protected]