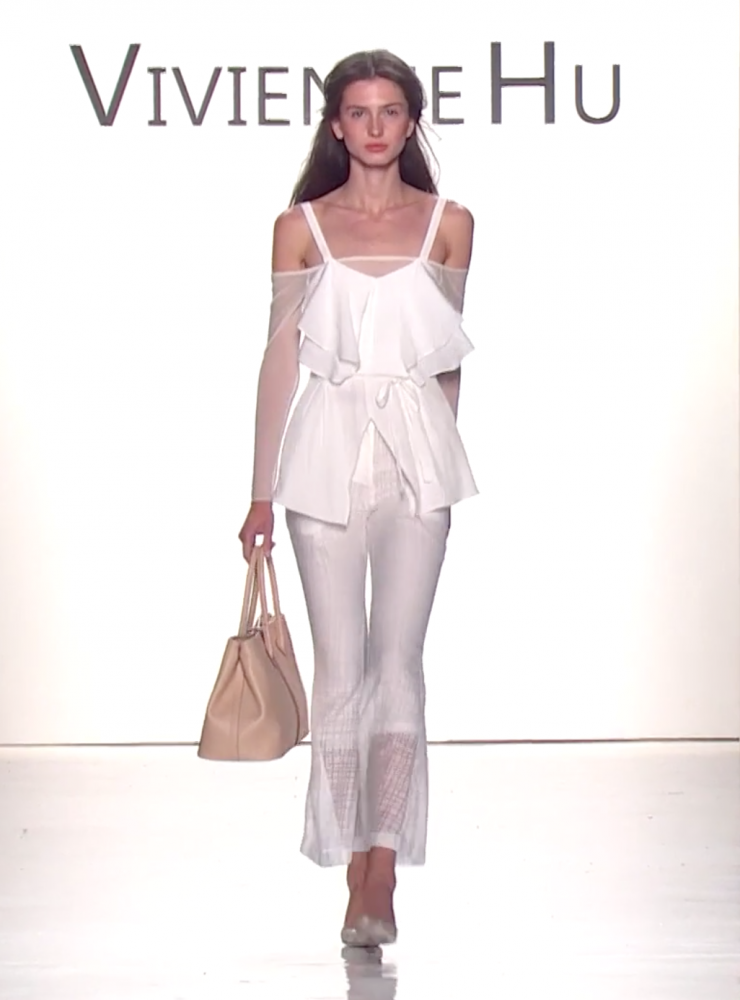 "The basis of inspiration for this collection is from Amman, it is a city in Jordan," designer Vivienne Hu said of her Spring/Summer 2018 collection. The line played with various shades of ivory, much like the colors of the architecture in the ancient city itself. The opening look was a white frilly crop top cut at the chest to resemble the King Abdullah I Mosque. It was paired with silken snow colored pants with a mesh hem that reflected the city's lavish glory.       
Like the ancient city, the collection aimed to parallel primeval with progress.
Stepping out in full bravado, a model donned a large pair of sunglasses and a  pin striped off the shoulder dress. The slits on the sides displayed her killer legs.
"I wanted everyone to see the human capacity for making change," Hu said.
With needle sharp pumps and large black bag, the look certainly set a tenacious attitude. The collection is highly wearable for the feminine professional, which speaks to the designer's former work as an investment banker.
Vivienne Hu's label desires to bridge the gap between personality and professionalism for women who possess a strong sense of independence. Last season, she focused on outerwear inspired by the Manhattan skyline. Her pieces were designed to draw the eyes vertically as if one was staring at a city skyscraper. This season, she brought back the vertical patterns in the form of pencil-thin black and white pin stripes. In fact, her whole collection stuck to those shades.
"I want people to focus on the flowy pieces, to give the impression of a beautiful lady who is free to work," Hu said. "I want people to feel beautiful in their everyday lives."
Vivienne Hu currently accepts pre-season orders and has a store on 107 Mercer Street.
Email Valerina Young at [email protected]