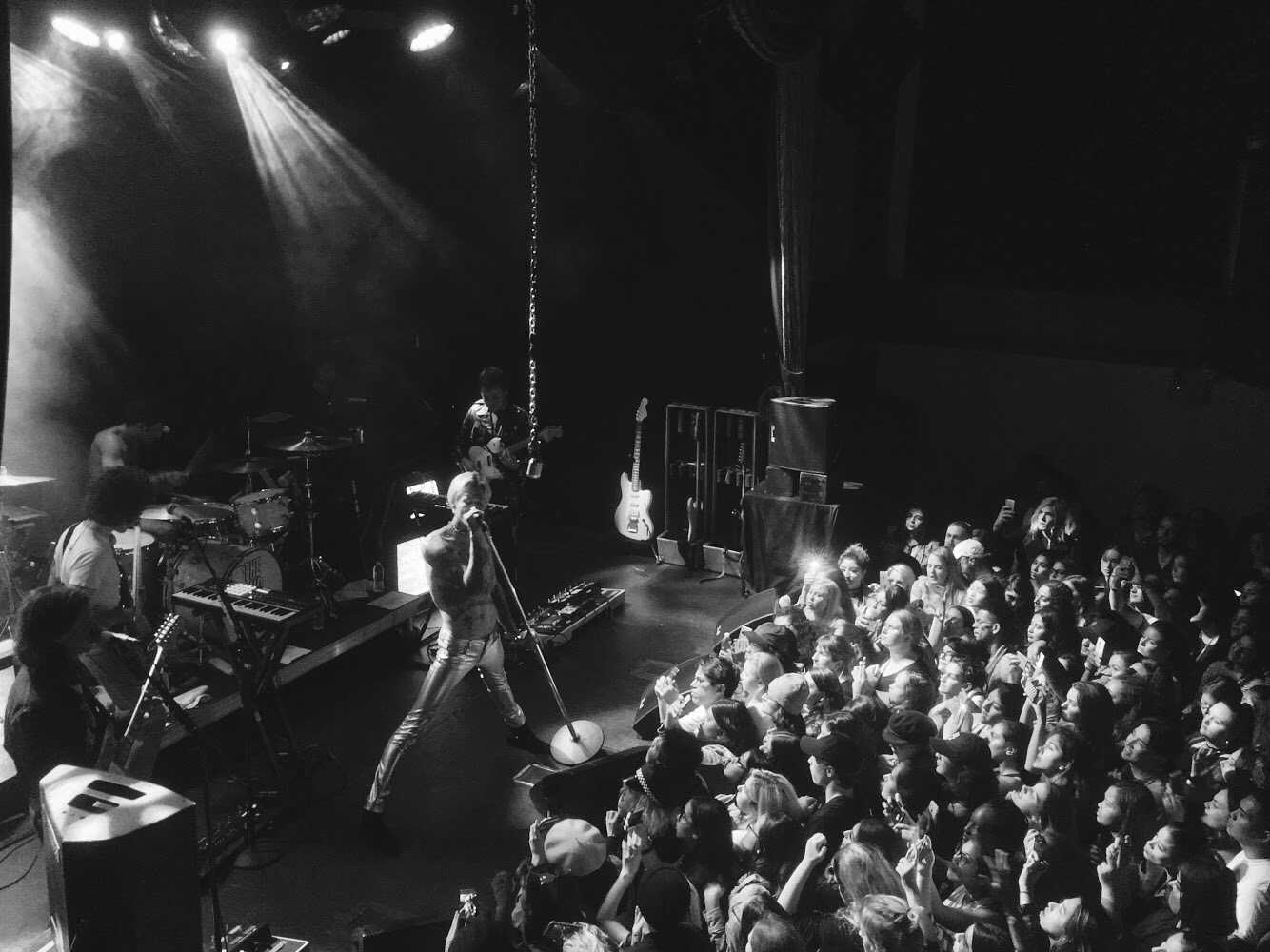 In a black and white haze late Wednesday night, Sept. 6, The Neighbourhood took center stage at The Bowery Ballroom. The ever charismatic frontman, Jesse Rutherford, entered last, wearing only tattoos and pants, living up to his sex-symbol hype.
The band started the night off with their hip-hop-influenced hit, "R.I.P. 2 My Youth." The crowd responded with enthusiasm so palpable the entire floor shook. Rutherford commanded the stage with his signature catwalk, strutting to the edge as fans ran their hands across his bare chest and flashy pants.
The band's rhythm section upheld its experimental hip-pop vibe, while the guitar duo pounded into catchy rock-based riffs. Calling for slow, powerful dancing, the crowd responded to the beat by mirroring the sexual prowess Rutherford delivered with every line.
Rutherford's charming persona showcases his vocal charm in a display reminiscent of Jim Morrison's passionate command, although the similarities end there. The bleached blonde, tattooed musician is a product of California's beautified image with only a small mixture of old-school rock and roll grit. No song better displayed this counterintuitive blend than "Wiped Out!," the titular track of the band's last release from 2015.
As a response to the crowd's early, yet passionate display, Rutherford shook his head and cooed, "When New York is better than LA." He basked in the adoration the fans eagerly gave him and made each fan feel his presence, laying down to face them, grabbing hands and no doubt stealing hearts.
While the band's recorded discography touches heavily on hip-hop, R&B and pop influences, it is the dirty alternative-rock that takes over in their live show. It's a choice that almost instinctively turns the crowd into animals as they claw, push and release their tensions through memorized lyrics and dramatic dancing.
Toward the end of the band's set, they touched upon crowd favorites, such as "Sweater Weather," and a track from their mixtape "#000000 & #ffffff" – titled after the Hex color codes for black and white. This color focus is their dominant aesthetic, uniquely brought on by Rutherford's colorblindness.
The TV screens the band used as props displayed a static for the majority of the show, but Rutherford stopped between songs to divert the crowd's attention to the mostly unremarkable screens. That was until the screens began to display figures moving about, a mysterious picture until the word "HAIR" appeared. The romanticized teaser was abruptly discarded by Rutherford: "New music, you get it."
Until then, catch the Neighbourhood on their few select dates before they retreat into isolation, recovering, before their newest album earns the steady adoration of their fan base and inevitably, the alternative and moody millennial scene.
Email Brandi Powell at [email protected]