Sandwich Politics: Chopped Cheese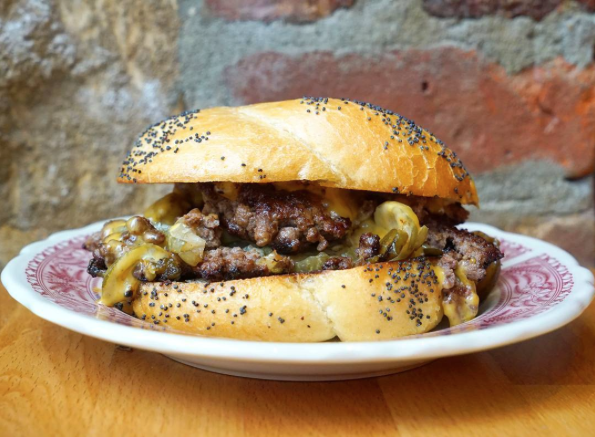 Most major American cities have a signature dish based on the tastes and flavors of the city's local cultures. Miami has the Cuban, Philadelphia has the cheesesteak, Chicago has the Italian Beef and New Orleans has the Po'Boy.
So what does New York, the most populous city in America, have? 
The secret is: it has multiple, but chopped cheese is one that is growing in popularity outside of where it was originally created. Toss ground beef with onions, top with melted cheese, add an array of lettuce, tomatoes and condiments, layer it all on a hero roll and you have a classic chopped cheese sandwich. Quick, easy and delicious. The sandwich's origins are clouded in mystery. Some say it was an attempt at a Philly cheesesteak without the proper ingredients, while others say it was a solution to fitting a cheeseburger onto a hero roll.
Either way, all you have to do to get this New York staple is trek uptown to Harlem or the Bronx, choose amongst the selection of bodegas and pay a hefty price of $4.50 or less. But while the bodegas are still serving up a cheap and fast on-the-go favorite, they seem to be gathering some competition.
If you are not a New York native, you may have never heard of the chopped cheese sandwich — unless you are a die-hard fan of Harlem or Bronx rappers or you have heard about the raging controversy. Media outlets from the New York Times to Refinery29 have commented on the irony of putting a culturally significant culinary staple in higher-end eateries and charging more for it.
Recently, a restaurant opened on the Upper West Side featuring classic New York fare including the chopped cheese sandwich —  and selling it for a solid $11.  One of the owners, Erika Nakamura, justified the decision.
"We're not going to make this sandwich and be billionaires," Nakamura said to the New York Times. "For us, it's a genuine and very innocent admiration of what it is."
While that is a nice sentiment in theory, the name of the restaurant is telling: White Gold.
Of course, in this globalized world, it is nearly impossible to prevent the gentrification of anything, let alone food. It has generally been considered safe to mix and match cultures in culinary fusion. Tisch freshman and Queens native Douglas McHugh shared his solution to this problem.
"The only real way to fight against that would be for someone to get a copyright on the sandwich," McHugh said.
In an age of communication and media, people are bound to discover different cultural traditions — food, dress or anything else. Learning and becoming interested in other people's cultures is about sharing, especially in the culinary sense. And although overpricing the chopped cheese might defeat its original intention, McHugh thinks that things won't change.
"It might suck, but fancier restaurants are going to overprice everything," McHugh said.
In the end, patrons will go where the food is best, no matter the price or the prestige of the venue.
A version of this article appeared in the Monday, April 17 print edition.Email Drew Lederman at [email protected]