New Doc Highlights the Man Who 'Shot!' Rock 'n' Roll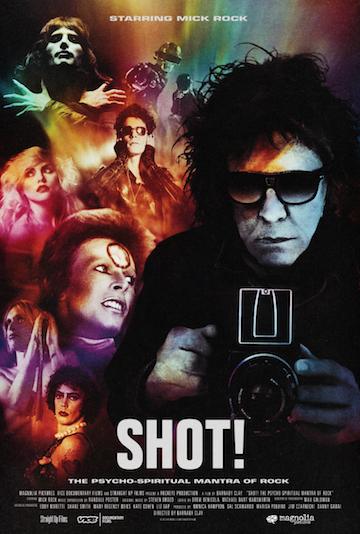 Rock musician Lou Reed's masterful album "Transformer" features an infamous photograph of him on its cover, printed in stark black-and-white. For any music connoisseur, this is a universal and instantly recognizable image — one that matches the excellence of the album's contents. One has to wonder, however, not about the man front of the camera, but the visionary behind it. The new documentary "Shot! The Psycho-Spiritual Mantra of Rock" reveals the effervescent personality and presence of Mick Rock, the leading photographer of the 1970s punk-rock scene, who managed to capture the soul of artists from David Bowie to Iggy Pop with a single shot.
"Shot!" offers a look into the fascinating and somewhat mystical world of the '70s through interviews with Mick Rock, as well as never-heard interviews between Rock and the artists he worked with. Rock, despite receiving a formal education from Cambridge University, was destined to do only one thing — take photographs. Besides his fitting surname, he has the look and personality of a rocker, which allows him to embody the psyche of his subjects. For this reason, he gained the trust of great musicians of that time and thus, was never an outsider.
Rock somehow easily evokes natural reactions from anyone he shoots, which provides his photos with a realness that can even bring Bowie back down to Earth.
"You could be the world's most f—ing boring person off camera," Rock said. "The minute you're in front of my camera, you are totally fascinating."
The documentary, which tells the story both through recollection and fictional interpretation, is centered around Rock's near-death experience in the mid-1990s. The audience sees Rock's body on an operating table, surrounded by his own photographs that are blown up to immense size, scattered throughout the film. It's an image that beautifully portrays the turbulent and hectic '70s, which defined a generation and influenced his art. As Rock recounts his youth, he discusses how living among and befriending musicians like David Bowie and Lou Reed caused his lifestyle to become more wild and dangerous. Eerily, the recurring image of Rock's body reminds the audience that there is an inevitable downfall.
Director Barnaby Clay pays homage to a man who is highly deserving of it. Through colorful imagery, archival photographs and interviews, Clay resurrects a bygone age of music, while also aptly portraying Rock — who was there, though silently — during a time of defiance and freedom.
"Shot!" is a wonderful ode to Mick Rock's creative mind and an era of music that remains unparalleled. Just like '70s, the documentary is fast and cool, weaving together Rock's tales of concerts, drugs and how he became the backbone of a wave of rebellion. Clay, through this film, gives credit to a man who has mainly worked behind the scenes and exhibits a rare talent for photography. As a creative piece, "Shot!" triumphs in recreating the essence of punk-rock and translating it to a visual story about an artist whose legacy will remain immortal.
"Shot! The Psycho-Spiritual Mantra of Rock" opens Friday, April 7 at the Metrograph at 7 Ludlow St.
Email Daniella Nichinson at [email protected]