Two Tandon Professors Win CAREER Awards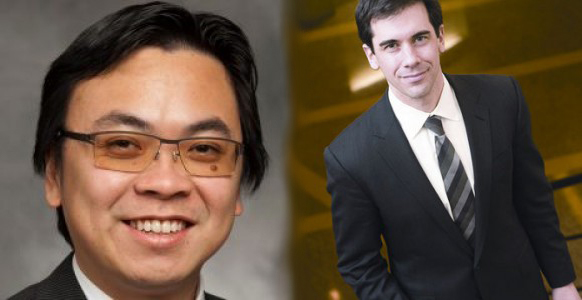 Tandon civil and urban engineering professors Joseph Chow and Constantine Kontokosta have both won National Science Foundation Faculty Early Career Development Awards, also known as CAREER Awards for their work in contributing research to the city. Each professor earned a grant of approximately $500,000 to further their research into the future of cities' energy and transportation needs.
In a press release, NYU Dean of Engineering Katepalli Sreenivasan said that he is proud of the deep work and research Chow and Kontokosta have contributed to improve transportation.
"Even this early in their academic careers, the cutting-edge research of Professors Chow and Kontokosta has contributed significantly to our department of Civil and Urban Engineering even as they are contributing research in areas of great importance to New York City and other metropolitan areas around the world," Sreenivasan said in a press release. "These awards from the NSF will help them improve the lives of countless residents and commuters."
Both Chow and Kontokosta's research have dealt with the rise of big data, or large data sets that review trends. Kontokosta said he will use his grant to build on the work he has done over the past few years. He wants to use data to reduce carbon emissions in buildings.
"My grant is really focused on trying to extract usable information from big data to drive sustainability in cities," Kontokosta said. "If you look at a city like New York, 80 percent of its carbon emissions comes from buildings, so to get to an 80 percent reduction by 2050 that New York has said, it's really going to come from making buildings more efficient."
Kontokosta said that in order to achieve the reduction, people must first understand how the buildings use energy. Then, they can consider how to change behavior to ultimately decrease the amount of energy consumed.
Chow, who leads NYU's Behavioral Urban Informatics, Logistics and Transport Laboratory, said that his expertise is in urban transportation systems. He emphasizes the way in which transit efficiency can be optimized. During his career, Chow said he has shaped California's freight infrastructure and helped increase the amount of electric taxis in Seoul grow.
The BUILT lab that Chow leads conducts research in the area of transportation systems design and modeling. Chow has focused his research on how new business models and technologies could improve urban transit.
"For smart cities to really thrive they'll need smart mobility to thrive," Chow said. "The availability of big data has made it easy for us to reinvent the way we provide mobility to people. One of the challenges now is to leverage that data and the knowledge we gain from that data."
Email Sayer Devlin at [email protected].