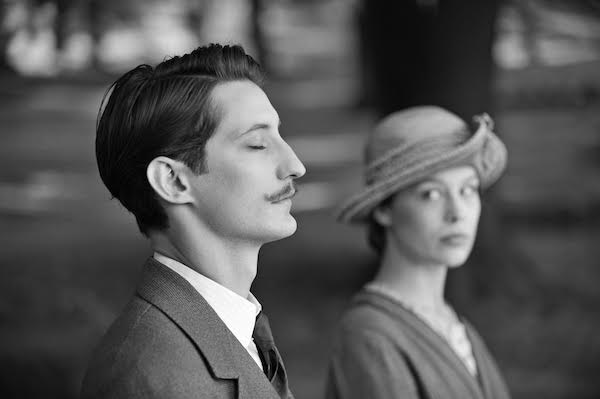 Though the new film "Frantz" does not possess a narrative that is by any means groundbreaking, the composition, production and performances deliver one of the most sincerely pleasurable cinematic experiences in recent memory. This film will particularly speak to college-age viewers with a global perspective, but it can speak volumes to any age.
The film opens shortly after World War I in a small village in Germany. Every day, young Anna (Paula Beer) visits the grave of her fiancee, Frantz, who was killed in the war. One day she discovers that someone else has visited the grave to pay their respects. Anna, who lives with fiancee's parents as their caretaker, meets the stranger, a French man named Adrien (Pierre Niney). Adrien claims to have been Frantz's friend during the war. A sweet and simple yet remarkably complex story follows as drama, romance and comedy are explored in both expected and unexpected ways.

Easily one of the most artful and aesthetically enjoyable films of the year, director Francois Ozon writes and captures a story full of expression and impression. The use of color in the film is marvelous in both significance and execution. A youthful yet soulful score invites the audience into the story from the beginning. The crisp cinematography delivers a unique monotone that is neither distracting nor detrimental, but actually refreshing in its unconventional yet familiar aesthetic.
One of the most noteworthy effects of "Frantz" is its classical ability to evoke feelings of escapism. With today's politically active artists it is easily forgotten that art does not have to speak to something beyond the hearts and minds of its subjects. It is a warm welcome to be taken so deeply into the world of a film. The script reads like a well-written play and feels like a work of art that would come out of the post-war era, though it ends up being a fantastic fusion of old and new. Its visual, thematic and dramatic style smoothly calls back to the classic silver-screen masterpieces while speaking directly to contemporary cinema.
On its surface, the film is an age-old love story but is presented in a way that is vibrant and new. Throughout the film is a tangible, nostalgic love for love, life and cinema. All of the components — visual, narrative, performative and musical — culminate in this modern movie magic that also contains the youthful passion of Romanticism. It is delightful to see in Ozon that the filmmakers of France are not and never intend to sit idly as the world of art builds its pressure around them. They continue to explore film form and the function of art while providing beautiful and intelligent, films like "Frantz."
"Frantz" opened on Wednesday, March 15 at Film Forum at 209 W. Houston St. and Lincoln Plaza Cinema at 1886 Broadway.
Email Tristen Calderon at [email protected]