'Betting on Zero' Details Herbalife's Marketing Scheme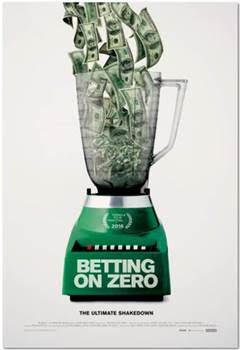 The new documentary "Betting on Zero" brings into the limelight the three-year campaign led by hedge fund manager Bill Ackman to expose what he believed to be a pyramid scheme run by the nutrition products company Herbalife. As its title suggests, writer and director Ted Braun's film begins on the morning of July 22, 2014 when Ackman argues that Herbalife was worth absolutely zero. He plans to expose the company by executing a short position on Herbalife stock shares, so that his fund Pershing Square Capital Management will profit when the stock price tanks to zero. The billionaire investor puts his money where his mouth is, betting over a billion dollars against Herbalife to date.
Established in 1980, Herbalife sells nutritional supplements through a multi-level marketing scheme instead of retail stores. It incentivizes independent distributors to recruit more distributors to sell the products. Company founder Mark Hughes and CEO Michael Johnson promise that through this strategy, Herbalife distributors will make thousands of dollars. But as the story unfolds, this structure proves harmful when there are not enough recruits to sustain the marketing chain.
Rather than being a mere docu-thriller, "Betting on Zero" adopts a more powerful journalistic approach. There are opposing arguments about Herbalife's business model, and Braun does a good job of presenting both sides of the story. Sales pitches by Hughes or Johnson, representing the voices of Herbalife, reverberate throughout the documentary. Their speeches are juxtaposed with interviews with Latino distributors who lost large sums of money —even their savings — while running nutrition clubs to market Herbalife shakes and herbal tea. These are stories about real people and real victims that form the basis of Ackman's allegations.
Ackman's true intentions, however, were doubtful. By waging a public short on an established business that has been around for three decades, it was unclear to some whether he was manipulating Herbalife's stock price.
The film's antagonist is activist and investor magnate Carl Icahn, who bought a ton of Herbalife shares at the same time Ackman was shorting them. As a highlight of the longstanding animosity between the two investors, Icahn mocked Ackman as "one of these little Jewish boys, crying that the world was taking advantage of him." Herbalife stocks spiked over 20 percent in a day after Ackman gave his presentation on July 22, 2014, piling deeper paper losses onto his billion-dollar short.
Shorting Herbalife stocks wasn't just a decision about financial investment. "Betting on Zero" also touches upon the human side of the powerful stakeholders. It quotes Johnson as saying that integrity is an important value to him, even as Ackman is attacking his company. When the hedge fund titan met with the local Latino community in a church, the spotlight turned to a family story of his grandparents emigrating from Europe to earn a new living in America. Despite the different social and economic worlds they live in today, the immigrant backgrounds shared by Ackman's family and the local Latino community are rooted in the same American dream.
On July 15, 2016, the Federal Trade Commission charged Herbalife with four counts of unfair, false and deceptive business practices, also enforcing a $200 million fine and requirement to restructure its business. Johnson stepped down as the company's CEO four months later. The film wraps up at this point, but Ackman's battle against Herbalife is not over — as the film's closing notes, "Pershing Square maintains $1 billion short."
"Betting On Zero" opens in theaters on March 17.
Email Phyllis Lam at [email protected]