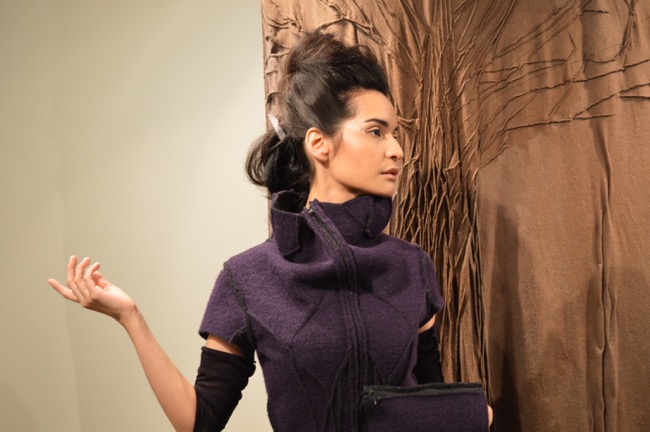 The political climate in America is a hot topic amongst designers at New York Fashion Week. This was no exception with Vilma Mare's down-to-earth Fall/Winter 2017 collection, titled "Creating Beauty That Protects."
This presentation set itself apart from the rush of other fashion shows with its calming atmosphere and intimate setting. "Creating Beauty That Protects" was held in a small studio within the Consulate General of Lithuania. The decorations, although seemingly understated, proved to hold as much meaning as the collection itself. The walls were draped in burnt wool cloth sewn together by Mare. They each contained Lithuanian embellishments symbolizing fertility and beauty.
A big theme for her collection was emphasizing Earth's beauty and what the planet has to offer. Mare, originally from Lithuania, is based out of Hudson, NY. In her artist's statement, Mare explained why her process behind both designing and producing her clothing sets her apart from the other designers.
"This 'being held,' or feeling of protection is frequently missing in our current, aggressive environment so focused purely on individualized capitalistic gain," Mare said.
In keeping with the theme of protection, she dedicated her show to Standing Rock. She placed an archetypal tree stitched in relief out of wool felt in the middle of the room, hanging with Native inspired pendants and sachets that were for sale. The proceeds of which will go directly to the protestors at Standing Rock.
The models in the presentation only added to the simplistic beauty in the room. Four models wearing Mare's collection took turns posing and rotating around the four corners of the room. The other items of clothing, all designed and sewn by Mare herself, were draped on mannequins hanging throughout the room.
While most of the clothes were made of boiled wool, there was some variation within some of the materials, both light and soft. Each of the clothing items were in various Earthy hues, further emphasizing the theme of the show.
In a speech at the end of her presentation, Mare left the audience with a parting statement.
"I ask you each to consider the protection of the following," Mare said. "Your ethnic and cultural identity, because diversity is protection. Your inner thoughts, intellect and creativity are protection. Your love for humanity, peace is protection. Your respect for the Earth, it is our home and can protect us"
Email Michaela Hoffman at [email protected]