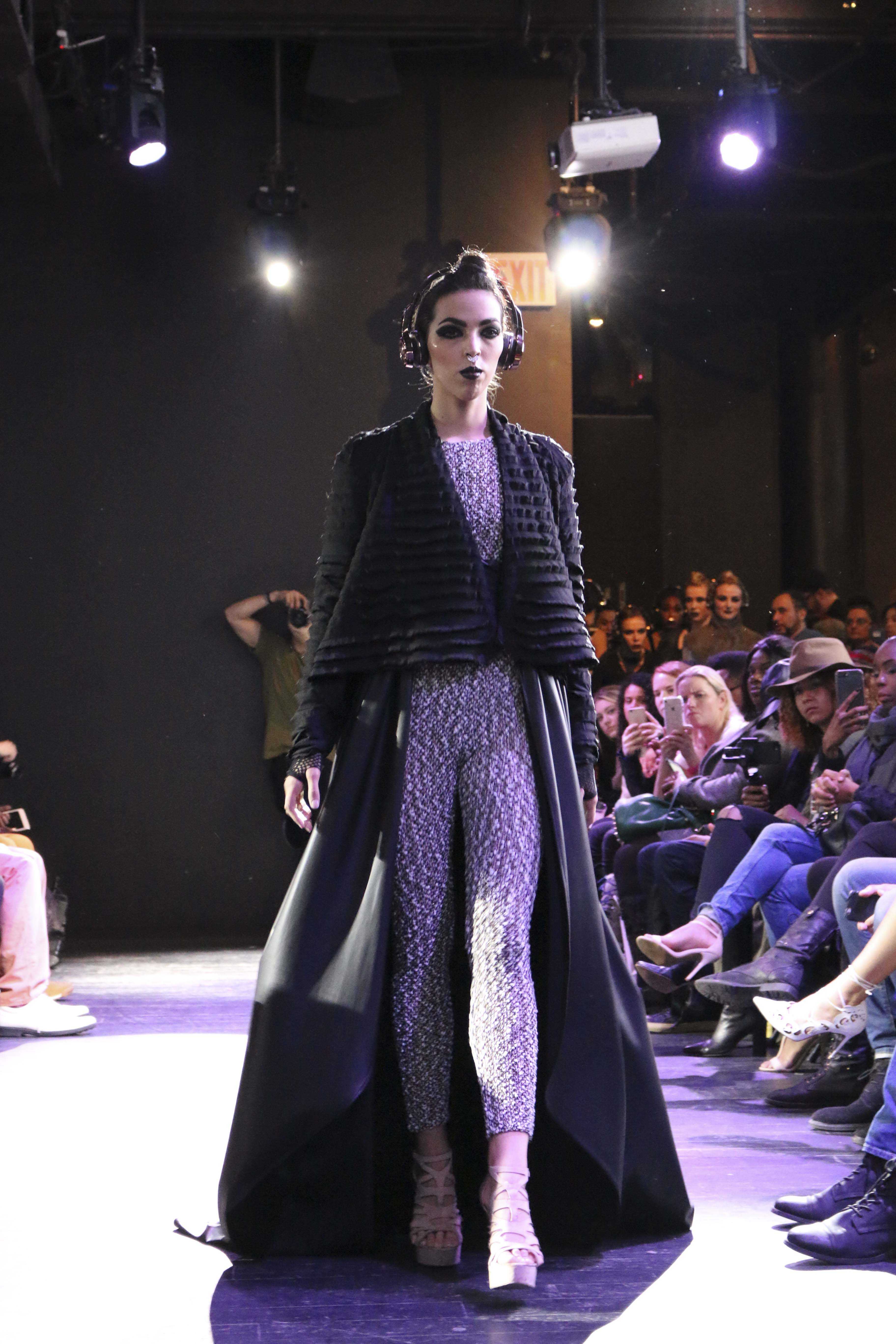 Adolfo Sanchez presented his "F.U. (Freedom & Underground)" collection as part of The Sound of Fashion —  a series of free fashion week shows hosted for the public by electronics company Monster. Turning the event venue, Slate, into a runway for the night, Sanchez presented a collection full of latex, biker jackets, and of course, metallic Monster headphones.
The collection was inspired by the period when the designer discovered his obsession with fashion —  a youth full of underground parties and immersing himself in the club scene. After working for Gucci, Roberto Cavalli and Versace, he moved to Las Vegas and launched his own line in 2005. Looking through his past collections from New York and LA fashion weeks, his heavy goth and Victorian influence carries through, as well as his love for sheer fabrics. With the emphasis of the collection falling on "provocative, daring and yet still tasteful" designs as defined by the show notes, tasteful was where it often fell short.
Sanchez was not afraid of putting his own spin on conventional silhouettes with double-slit mini skirts and cut-out maxi dresses making numerous appearances. While original, the placement of both the slits and the cut-outs was unflattering to the models — the thigh cut-outs on an otherwise pleasant gray maxi dress caused the fabric to stick out as the model moved.
A repeated pitfall of the collection was combining too many statement pieces into one overworked look, when they would have been successful on their own. For the third look, fringe-lined ripped leather pants were paired with a leather corset and an ostrich-feather and fur jacket.
While the collection would have benefited from more edited styling and the use of higher quality fabrics, some aspects did show promise. Hair styling was consistently successful with a modern edge, and the graphic-print trail on a velvet slip dress flowed down the runway with mesmerising movement. The last look, a voluminous black and white dress with stripes of alternating width didn't seem cohesive with the rest of the collection, but would be the most likely to find commercial success.
Email Kamila Daurenova at [email protected]