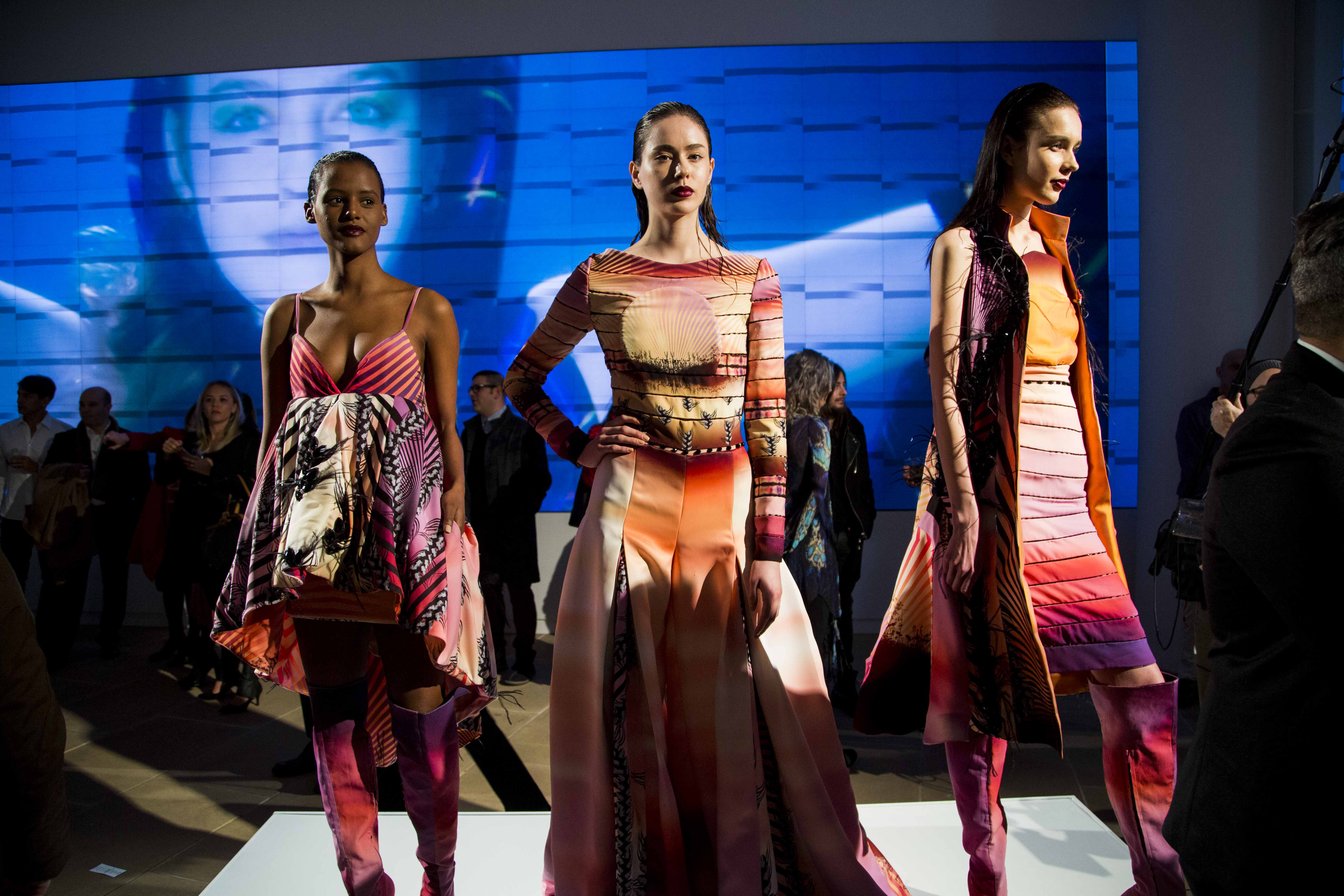 Epson brought back its signature vibrancy and diversity for the third installment of their Digital Couture Project event, held at the IAC Building in the Meatpacking District. While technology is rapidly dominating our world, the fashion industry has to adjust as well. Epson once again proved that they were three steps ahead everyone else by successfully showcasing how digital textile printing can help designers expand their vision for creativity without any boundaries. Built around the theme "Textile Stories," 13 designers from both North and Latin America utilized Epson's textile printing solutions in a one-of-a-kind fashion presentation, showcasing the design possibilities powered by advanced digital imaging technology.
Designers were able to push the boundaries of color and quality with the Epson dye-sublimation and direct-to-fabric printing technology, which also gave the teams extreme versatility. Each designer, from Colombia to the United States, were able to tell their own story through the clothes shown at the event. Each garment was unlike the rest, but the boldness and uniqueness of the patterns and colors on the clothing were somehow able to unify the collections.
Many of the designs were also direct inspirations of elements within the designer's culture. Carlos de Moya, a designer from the Dominican Republic, presented many pieces of clothing with vibrant colors mimicking a sunset. One piece from his collection that stood out was an intricate yellow pant ensemble with side draping, blurring the lines between a dress and a romper. The pant-hybrid also featured bold florals and other geometric patterns.
"A lot of my designs are inspired by the sunset and architecture of the Dominican Republic," de Moya said at the presentation.
Sarah Stevenson, a Canadian designer, drew her inspiration from outside of her own culture.
"I was ultimately inspired by Turkish ceramics," Stevenson said. "My husband and I saw them on our honeymoon."
All three of her models wore white floor length dresses with a delicate floral print concentrated in the middle. The dresses showcased a delicate beauty that was not apparent among the other loud designs in the room. Stevenson found the idea of her models wearing long elegant dresses appealing.
"I liked the long dresses because they showcase the print more," Stevenson said. "I lasered everything myself, so I wanted the dresses to be both formfitting and showcase the beautiful flower prints."
The future of technology and fashion will always change, designers will always have access to new materials and design techniques, and you can always rely on Epson to be at the forefront of that fashion and cultural revolution.
Email Michaela Hoffman at [email protected]