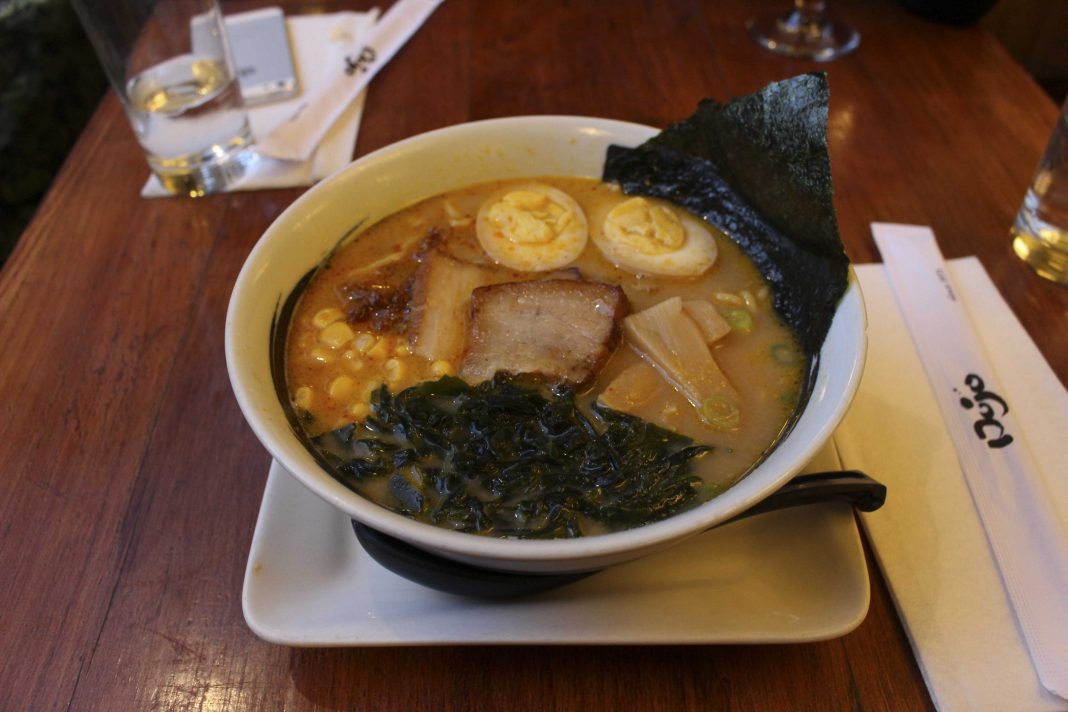 Ramen is a Japanese noodle soup dish and a staple for college students on a budget. Here is a list of the five best ramen spots near campus to keep you warm as the seasons change.
Dojo
14 W. 4th St.
Located on the corner of West Fourth Street and Mercer Street, Dojo is perfect for people who prefer Asian fusion dishes. The ramen bar is located in a separate section and customers often sit against glass panels while enjoying their delicious bowls of goodness. The milky Tonkotsu Ramen is heavenly — and make sure you personalize your order by adding extra toppings.
Mew Men (formerly known as Ramen by Mew)
7 Cornelia St.
With industrial-style decor and booming stereos, this radio-themed restaurant will provide customers with the coziest setting during winter. At Mew Men, there is an option for everyone. The Shoyu-Chintan is a signature ramen served in clear chicken broth with fragrant duck oil that will leave you feeling guilt-free. For the vegetarians, the Veggie-Tantan is an option inspired by the Chinese Sichuan noodle recipe. When three types of miso are combined with sesame paste and smashed peanuts, they create a dish with a distinct flavor and rich texture.
Ramen-Ya
181 W. 4th St.
Located in the heart of Greenwich Village, this is a casual ramen joint best suited for lunch. Ramen-Ya's most popular option is undoubtedly the Musashi Pork Shio Black Ramen. With straight, thin strands of noodles dipped in black garlic oil, seasoned with miso and topped with kikurage mushroom, this bowl is guaranteed to be exquisite.
Ippudo
65 4th Ave.
If you are willing to wait in line, Ippudo never disappoints. Its signature dish, the Akamaru Modern, is essentially thin noodles coated with aromatic garlic oil and soaked in pork broth. Decorated with an assortment of vegetables, this bowl is guaranteed to fill you up. While you're there, make sure you also try the Hirata buns, which are soft steamed buns filled with pork slices, as an appetizer. With a lively and intimate atmosphere, Ippudo is a great location for a group outing.
Zundo-ya
84 E. 10th St.
If you get tired from the ridiculously long line at Ippudo, Zundo-ya is definitely the most suitable alternative. Here, you can customize your own bowl of ramen by picking broth thickness and noodle type. Stay away from the super rich broth, however, or you'll risk a cholesterol overload. Instead, opt for the Ajitama ramen. Its combination of simmered pork belly, soft-boiled egg and seaweed will offer you a taste of authentic Tonkotsu in Manhattan. What's more, every bowl of ramen comes with sesame seeds, takana (spicy pickled cabbage) and ginger.
A version of this article appeared in the Tuesday, Oct. 11 print edition. Email Angela Liao at [email protected]