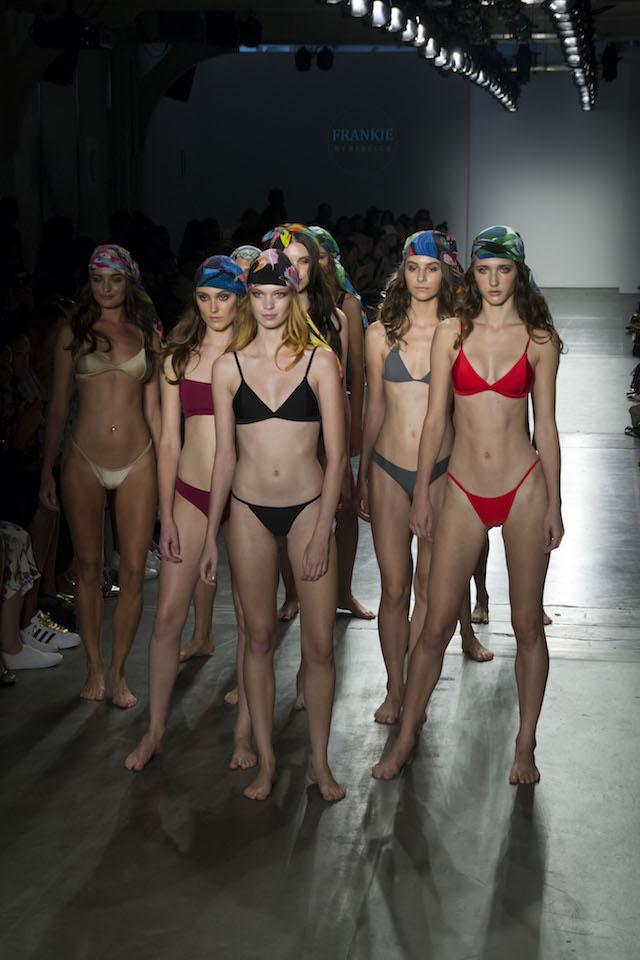 Fashion Palette: Australian Swim/Resort Spring/Summer 2017 was comprised of a range of warm weather styles from Down Under. The show began with Sabo Luxe's feminine silky co-ords, crochet dresses, and velvet slips styled over lace, which paired nicely with slicked-back, center parted buns. Necklines played a key role, in both accessorizing with chokers and high necks coupled with flirty exposed shoulders. The designers, who are sister-in-laws and best friends, designed the show a bit like the street style we've seen this summer: soft, luxe, and sensual.
Next was Bossa's silky pink body-con skirts and dresses. The line was predominantly a consistent dusty rose, with the occasional pop of jewel blue or white, and walked the line between lingerie silks and fashion-forward street wear. Fitted cropped and bra-style tops, a matching duster coat, and a bomber true to the rest of the line finished off the looks. The models' voluminous, wavy hair, paired with sheer blush tones, brought the heat.
Ark Swimwear presented a swim collection featuring clean lines in a palette including red, navy, black, and white, which leant a certain timelessness to the collection. Models walked in discreet tan leather sandals, buns, and large hoop earrings. The two one-pieces shown cut low on the sides, while bottoms favored cheeky styles. The collection is wearable and fun, easily lending itself to the beaches of Sydney.
Frankie by Rebecca, the next swim line, accessorized solid-colored bathing suits in a myriad of hues with bare feet, beachy waves, and distinct, printed head wraps. Striking back-strap detailing and varying bottom types provided interest for the suits. The line featured two provocative one-pieces and a one-shouldered top.
Highlights of Sara Bailes' line included bright tunics, circular handbags, flouncy, almost peplum-style tops, and a velour navy culotte tracksuit. Her clothing was exceedingly wearable, drawing on clean, modern styles that would flatter any woman. A bright purple and pink silky print balanced off the collection. The models wore buns and a range of slide sandals.
Several of Ete Swimwear's ethereal models wore shell headbands, while all strutted their beachy waves to a soft, male singer, contrasting the pulsing music of the preceding shows. The girls wore blue and white printed swimwear and crochet bikinis. The looks seemed inspired by images of goddesses splashing in a shoreline.
Lil And Emm's models wore bondage-style swim pieces with clean lines and shapes, styled with chokers and sandals featuring blue pompoms. Their fun prints and belted, high-waisted bottoms lent a fun twist to the collection, while the architectural one pieces leant visual intrigue across the stomach and chest.
Natalie Colt displayed a host of white, sexy dresses and crop-tops paired with skirts. Her pieces featured gold metal detailing, cut-outs, chokers, which varied from thin metal squares to plush wide bands, and beading. These bold statement pieces, which both highlighted and flattered the female form, won't blend into the crowd.
Finally, Alphabe The Label showed an array of lady-like dresses and skirts with ruffles, which were predominantly present on the ends of lengthy sleeves. The models wore their hair long and wavy, which fit nicely into the image of femininity projected by the clothing. The assemblage was chiefly comprised of light blues, whites, pinks, and floral prints on silky fabric. Dresses were also notable for their sheer side panels and lace.
Email Megan Kasselberg at [email protected]