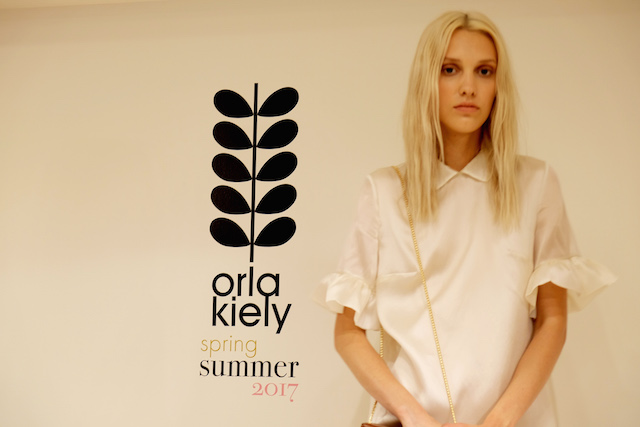 Those of Generation Z may never have the pleasure of informing themselves with Mimi Farina, the late singer-songwriter, activist, younger sister of Joan Baez. However, as the centre of inspiration for Orla Kiely's Spring/Summer 2017 Collection, when viewing the collection it's hard not to feel like you missed out on witnessing someone truly amazing. It is Mimi Farina's effortless beauty, altruism and elegance which sets the foundation for the creative direction behind this Kiely's presentation.
Sweet and natural, the collection gave a clear nod to the 1970s with it's loose sleeves, floral prints and cotton dresses. Hair was rather wispy and makeup were kept natural which allowed for the focus to be on the designs itself. As models swayed from side to side gently swinging their bags, it's natural to slip and begin imagining them in a seventies setting.
Of all the looks and pieces, the dreamy floral magenta pleated wide-legged pants was by far the standout piece. Kiely herself beamed in one of her own designs alongside Yael Stone, one of the stars of Netflix's Orange is the New Black. With this collection, it's easy to feel nostalgic and reminiscent of a time you can only dream of living through.
Email Shirley Cahyadi at [email protected]